'Hollywood' on Netflix: The True Story of Rock Hudson, Unwitting AIDS Pioneer
Rock Hudson (played by Jake Picking) appears in Hollywood as one of the Netflix series' cast of aspiring actors trying to get their start in the movie industry. Unlike Camille Washington (Laura Harrier) and Jack Castello (David Corenswet), Hudson was a real Hollywood actor who, like in the Netflix show, was gay.
WARNING: The following contains minor spoilers for the ending of Hollywood on Netflix
By the end of Hollywood, the actor has made history by holding hands with his boyfriend Archie Coleman (Jeremy Pope) on the red carpet of the 1948 Oscars, opening up opportunities for gay men in the film industry forever.
However, unlike this new version of the character, the real Rock Hudson was not out as a gay man in the 1940s. In reality, the real actor (born Roy Harold Scherer Jr.) did not open up about his sexuality at that time. In fact, in 1955 Hudson would marry a woman in order to shut up rumours about his private life, only for the pair to divorce three years later.
His homosexuality in reality was not publicly known about until 1985, when he was outed by close friend and Tales of the City author Armistead Maupin. This outing came just a few months before the Giant, Pillow Talk and All That Heaven Allows actor died of complications related to AIDS.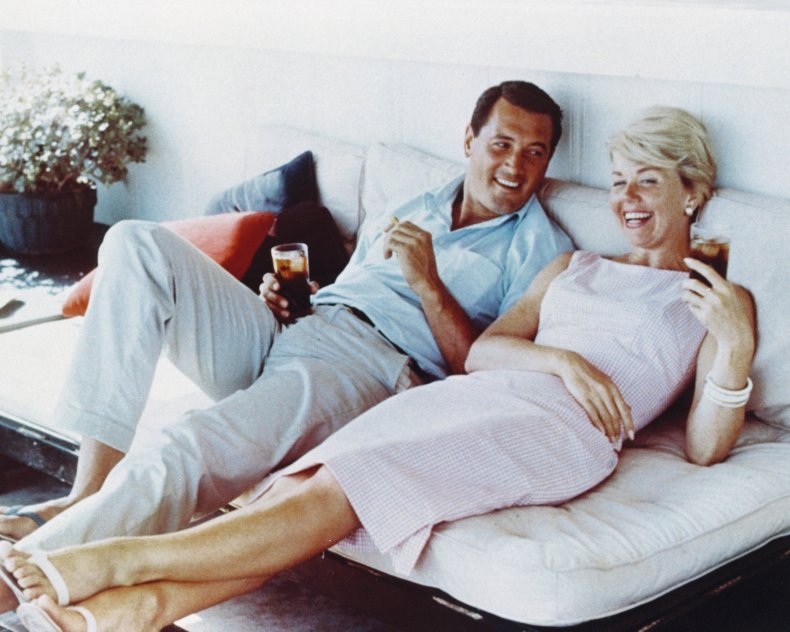 Though there are big changes from the true story of Ruck Hudson in Hollywood, they do keep one element from his real life. His real agent was Henry Willson, portrayed by Jim Parsons in the Netflix show.
Though some of Willson's behaviour has been exaggerated, it has been alleged that the agent was known for coercing his clients (a number of whom were gay) to have sex with him. As Suzanne Finstad wrote in her biography of Natalie Wood: "Some of the would-be actors Willson represented were heterosexual, but a disproportionate number were homosexual, bisexual, or 'co-operated' with Willson 'to get gigs.'"
Though not publicly out as gay in his lifetime, his sexuality was said to be an open secret among his female co-stars, which included Julie Andrews, Elizabeth Taylor and Mia Farrow. His most famous female co-star was Doris Day, with whom he starred alongside in a number of films, most famously 1959's Pillow Talk.
Though never open about his sexuality, Hudson has an important place in LGBTQ+ history. As the first major celebrity to die of AIDS, he brought public attention to a disease when most mainstream publications were not reporting on the way it was ravaging gay communities across the world.
Joan Rivers was quoted in a People Magazine article as saying: "Two years ago, when I hosted a benefit for AIDS, I couldn't get one major star to turn out. ... Rock's admission is a horrendous way to bring AIDS to the attention of the American public, but by doing so, Rock, in his life, has helped millions in the process."
A few days after the death of Hudson, who was a friend of President Ronald Reagan and his wife Nancy, Congress put $220 million towards research to develop a cure for the disease. Hudson himself gave $250,000 just before his death to The Foundation for AIDS Research after it was formed by his doctor as well as his friend Elizabeth Taylor.
Hollywood is streaming now on Netflix.