Hollywood Press Members Feel Victim of Cancel Culture Even as They Oust Philip Berk Over BLM Comments
Hollywood Foreign Press Association (HFPA) members are supporting the recent firing of long-time member and former President Philip Berk while saying that they're struggling to do their jobs in light of the organization's recent controversies.
"It's unfortunate because he has been a big part of the organization—he was very important in the past, but it absolutely had to be done," HFPA member Gabriel Lerman told Newsweek. "I don't think anybody will disagree with that."
Berk, 88, who is an eight-term president and 44-year member of the organization, was expelled two days after emailing an article to his fellow members this past Sunday. An HFPA member described the email as a "copy and pasted" text that included an article and commentary from a conservative publication hinting at alleged improprieties on the part of Black Lives Matter co-founder Patrisse Cullors. The article also called BLM a "racist hate movement" and described its supporters as "race rioters [who] burned buildings and terrorized communities."
Husam Sam Asi, another HFPA member and a presenter/producer for BBC Cinematic, said about the controversial email, "We rejected it—we responded indignantly."
Asi noted Berk's age and said he was out of touch and living in a past time when some people were more bigoted. "Now the world is changing, and that generation is struggling to fit in with new perspectives and thinking, and they are struggling to adapt," he said.
Asi said it was his belief Berk may have passed on sentiments from what he thought was a legitimate news outlet with ideas that matched his own.
Berk's email led to an aggressive attack on him by other HFPA members. The HFPA board sent out an email Tuesday saying that Berk was no longer a member of the organization.
That move came after NBC, the network that telecasts the HFPA's annual Golden Globes telecast, called for his "immediate expulsion." MRC, the parent company of Dick Clark Productions, which produces the broadcast, also demanded Berk's removal.
Newsweek reached Berk by phone but he declined to comment.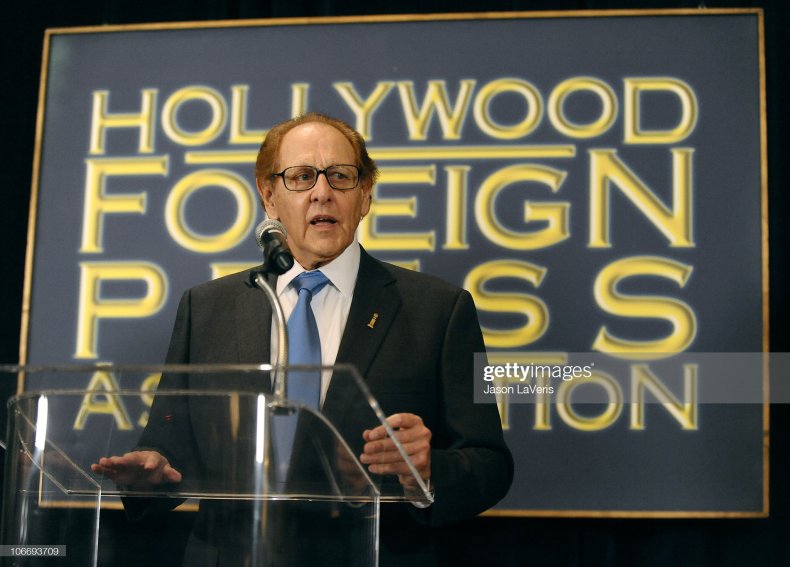 On Tuesday, Berk's ousting and previously reported controversies related to the HFPA led to more fallout.
Shaun Harper, who was hired as a diversity strategist adviser by the organization last month to help with recent controversies surrounding the group, resigned, saying he no longer had confidence he could collaborate with the HFPA. Harper is a professor at the University of Southern California's Marshall School of Business, where he studies racial, gender and LGBTQ issues.
While the HFPA has faced several controversies in the past, including criticism that voters have been wined and dined by productions eligible for awards, the organization has been under scrutiny in recent months after a Los Angeles Times investigation revealed that the 87-person group had no Black members. That led the HFPA board to release a statement saying it was committed to "making necessary changes within our organization and in our industry as a whole."
After criticism that a number of Black actors and Black-led projects were overlooked during this year's 78th Golden Globe Awards, the HFPA came out with a six bullet-pointed "action item" list, which included hiring a diversity and inclusion expert and a commitment to extend outreach to Black and underrepresented professionals.
Still, Tina Tchen, CEO of advocacy group Time's Up, said the HFPA's proposed actions, including finding Black members, were too cosmetic and didn't address a long-term commitment to systemic change.
For his part, Asi said he agrees, but noted that the real problem runs deeper and goes to the very heart of Hollywood and its most powerful players.
"People keep talking about changes to the HFPA, but I want to see changes in the entire industry," said Asi, who is Palestinian and was raised in Israel. He said he's experienced his own share of racism. "Racism is not an HFPA disease—it's a pandemic. If you cancel the HFPA, someone else will take over. If you don't fix the entire system, you will change nothing."
Lerman, who is Argentinian and writes for both Argentina and Spain, said, "This has been such a misconstruction of the facts.... We are entertainment journalists from 40 countries. We are an organization of foreigners in Hollywood."
Lerman noted that the HFPA is made up of a diverse group of journalists representing 40 countries, with 14 who are Asian and seven Africans.
Meanwhile, the controversy has created difficulty for HFPA members in doing their jobs. Some said publicists are encouraging their clients and productions not to engage with HFPA members and to avoid events put on by the organization.
Asi said he ultimately hopes something good comes out of the crisis, not only for the HFPA but for Hollywood in general. "This is an important issue that has been ignored by the entire industry," he said.
Another HFPA member, who wished to remain anonymous, said, "Yes, of course we are not racist. Are you kidding me? We have the most incredible diverse group in the world, with every race and every religion. If we would be racist, we could not live 24 hours together."