As a youth soccer team is gradually evacuated from a flooded cave complex in northern Thailand, Hollywood producers are already eyeing a new box office smash.
Though four boys and their coach are still to be saved, American film crews have reportedly traveled to the rescue site in Chiang Rai to begin work on a movie telling the tale of the Wild Boars team, Australian website news.com.au reported.
The 12 boys, aged from 11 to 16, went missing along with their adult coach on June 23. The world feared the worst as the search operation stretched over nine days, before the missing team was finally discovered stranded in a flooded cave some 2.5 miles from the complex's entrance.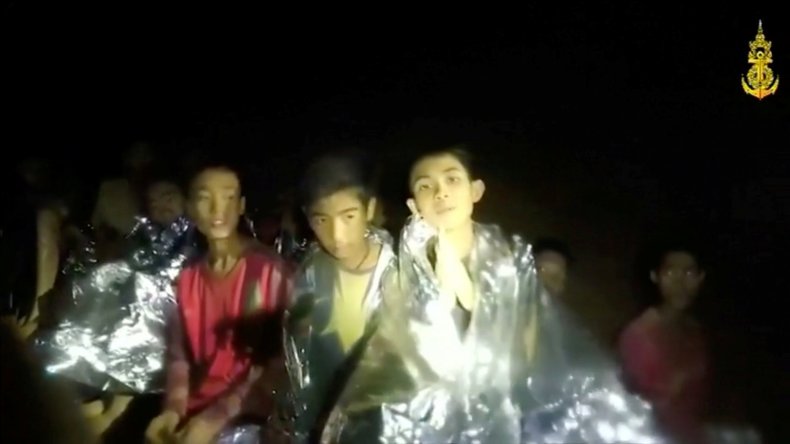 A huge rescue operation is now entering its third day. Eight of the boys—all of whom are in good health—have been rescued so far. Four more, plus the coach, are set to be brought out Tuesday. Those evacuated so far have been taken to hospital in Chiang Rai for treatment and observation.
But while divers risk their lives to get the team out, two Hollywood producers are beginning a project telling the boys's story. The managing partner of the Pure Flix film company, Michael Scott, told the AAP news agency that he sees the flooded cave saga "as a major Hollywood film with A-list stars."
Scott and co-producer Adam Smith have reportedly been conducting interviews around the rescue site, where more than 1,000 Thai personnel have been joined by dozens of international specialists for the operation. They hope to interview the Thai Navy Seal divers and their foreign counterparts, as well as the rescued team members and their families. Once exclusive rights to the story are secured, the company hopes to work with a screenwriter to bring the tale to life.
PureFlix are a Christian film studio, whose most notable work to date is the 2014 film God's Not Dead, starring Dean Cain and Hercules actor Kevin Sorbo.
Though some may consider their actions insensitive or even exploitative, Smith told AAP: "There's going to be other production companies coming in so we have to act pretty quickly."
The rescue has captured the world's attention, and observers everywhere are awaiting the rescue of the final boys. Their route out is treacherous, forcing the boys to navigate narrow and twisting flooded tunnels with extremely limited visibility. Such a journey is a challenge even for trained professionals, let alone young boys taught to dive just days ago. Indeed, a former Thai Navy Seal diver—Saman Kunan—died in the tunnels last week when he ran out of oxygen.
Other than that tragedy, the rescues have gone off without a hitch. Within the next 24 hours, all remaining members of the trapped team could be free, their 17-day ordeal behind them.