Hollywood on Netflix takes a lot of liberties with historical facts, but one of its most outlandish elements is based on a real place. In Episode 1 of the Ryan Murphy show, Jack Costello (played by David Corenswet) starts work at The Golden Tip, a gas station owned by the sleazy Ernie (Dylan McDermott). However, gas is not the only thing Jack has to pump there, as he soon becomes a gigolo for those wanting to go to "Dreamland."
Amazingly, this gas station brothel is partly based on a real place from the 1940s that, according to its one-time attendant Scotty Bowers, was frequented by clients like Spencer Tracy, Katherine Hepburn and Vivien Leigh.
Bowers worked at a gas station where, according to William J. Mann in his biography on Hepburn, "on any given night, fifteen to twenty cars might have been lined up outside Scotty's gas station, but their drivers were nowhere to be seen."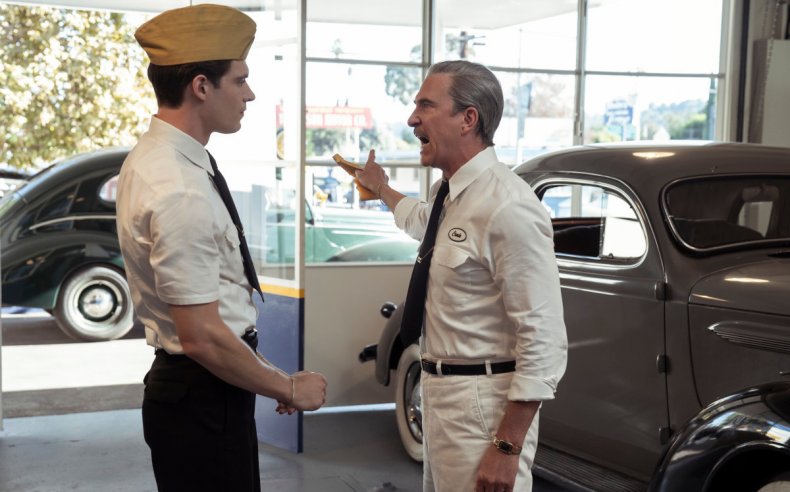 As in the Netflix series, Bowers claimed that clients would have their sexual needs met in a series of trailers placed behind the station.
Bowers, who died in October 2019 aged 94, only started sharing stories about Scotty's in his late '80s. At the time of his death, Matt Tyrnauer, who made a documentary about Bowers, said of him to The Hollywood Reporter: "Scotty was a central figure in the gay underground of Hollywood and served as a trusted protector of his friends' and associates' lives when they had no alternative but to live in the shadows."
In 1946, Bowers began work at the Richfield Oil gas station at 5777 Hollywood Blvd, a plot of land that is now a fire station. The job was just pumping gas until he was asked by Mrs. Miniver actor Walter Pidgeon to join him in his car. Pidgeon shared details of his lover with his star friends, leading to Bowers becoming a male madam to the stars at the gas station and later as a bartender.
The sex worker also claimed that he had a number of starry notches on his own bedpost. In his memoir, he claimed to have slept with male and female stars including Cary Grant, Bette Davis, Charles Laughton, Elsa Lanchester and FBI director J. Edgar Hoover—as well as Vivien Leigh and director George Cukor, both of whom are characters in Episode 3 of Hollywood.
He also said that he arranged orgies for composer Cole Porter, who makes a brief appearance in Episode 1 of Netflix's Hollywood. Some of these claims have confusingly been both disputed and confirmed by various people.
When Bowers received a citation from the City of West Hollywood in 2018, it was said of him, "It's been said with a wink that Scotty Bowers helped put the 'wood' in Hollywood from the 1940s to the 1980s."
Other Hollywood stars are thought to have turned to sex work to make ends meet while waiting for their stars to rise. In David Bret's biography of Gone With the Wind star Clark Gable, for example, he alleges that the star was "gay for pay," while other biographies of the star describe him as a "stage gigolo" who had a number of affairs with rich older women.
Hollywood is streaming now on Netflix.