'Hollywood' Release Date, Cast, Trailer, Plot: All You Need to Know About Ryan Murphy's Netflix Series
Netflix has released the trailer for Hollywood, the second show to come out of its deal with super-producer Ryan Murphy. Due to be released in May, the show has a plot set in the golden age of Hollywood and has a cast led by Darren Criss, David Corenswet and Jeremy Pope.
When is Hollywood out on Netflix?
The Ryan Murphy series has a scheduled Netflix release date of Friday, May 1, when all seven episodes of the show will be released at once. Like most of Netflix's original series, the show is expected to be released at one minute past midnight PDT, with release time in other countries dependant on time zone difference.
Who is in the cast of Hollywood?
Murphy's previous shows such as American Horror Story, Pose and Netflix series The Politician have seen the producer reusing the same actors across multiple shows. Hollywood is no exception to this, with the cast including Darren Criss of Glee and American Crime Story, David Corenswet of The Politician, Dylan McDermott of American Horror Story and The Politician as well as Patti LuPone of Pose and American Horror Story.
Also included in the cast is Jim Parsons playing a closeted movie producer, with the actor fresh off of working with Murphy in his adaptation of stage play The Boys in the Band. The wider cast includes Queen Latifah, Samara Weaving, Rob Reiner and Mira Sorvino, plus Holland Taylor, the noted actor whose partner is frequent Murphy collaborator Sarah Paulson.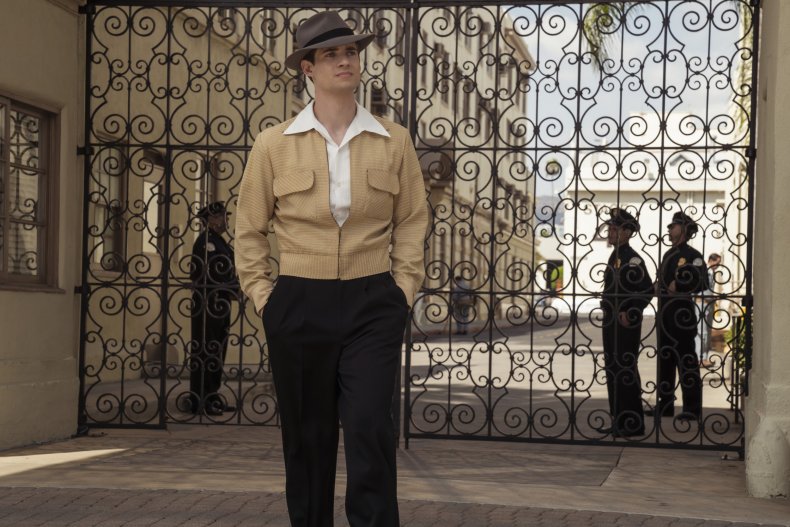 Among the leads, the trailer shows that Corenswet plays a gas station attendant moonlighting as a gigolo, Criss plays a bi-racial director, while newcomer Jeremy Pope, fresh off of two Tony nominations in the same year, plays an aspiring writer and black gay man who has to deal with prejudice because of his race and sexuality.
Though the show is a fictional tale of Hollywood's golden age, it does see actors playing a number of real people, including first major Asian woman movie star Anna May Wong (played by Michelle Krusiec), closeted actor Rock Hudson (Jake Picking) and Gone With the Wind stars Vivien Leigh (Katie McGuinness) and Hattie McDaniel (Julia Pace Mitchell).
What is Hollywood about?
The official Netflix synopsis reads: "A new limited series from Ryan Murphy and Ian Brennan, Hollywood follows a group of aspiring actors and filmmakers in post-World War II Hollywood as they try to make it in Tinseltown—no matter the cost. Each character offers a unique glimpse behind the gilded curtain of Hollywood's Golden Age, spotlighting the unfair systems and biases across race, gender and sexuality that continue to this day. Provocative and incisive, Hollywood exposes and examines decades-old power dynamics, and what the entertainment landscape might look like if they had been dismantled."
In Murphy's what-if take on Hollywood, Rock Hudson is not a closeted actor but an out gay man who is one of the town's big power players, while Hattie McDaniel is able to break out from playing maids after her Oscar-winning role in Gone With the Wind–something that real Hollywood never allowed her to do.
Hollywood is released on May 1 on Netflix.