Hollywood Satanic Rituals Will Soon Be Exposed: Donald Trump Jr.
Sam Smith's performance of "Unholy" is proof that the Hollywood music scene is ripe with satanic rituals, according to Donald Trump Jr.
The 65th Grammy Awards took place Sunday, honoring several top names in the music industry. Sam Smith and Kim Petras, who both appear on the smash hit "Unholy," won the Grammy for Best Pop Duo/Group Performance. Smith has won four Grammy awards, but the two made history, with Smith being the first nonbinary artist to win a Grammy and Petras being the first openly transgender woman to win.
The pair topped off the night with a performance of "Unholy" in which Smith donned a hat equipped with devil horns, Petras danced in a cage and red lights bathed the stage.
Trump Jr. felt the performance held deeper meaning. He first compared the performance to satanic rituals and then adopted COVID-19-heavy rhetoric in a 2-minute video circulating on Twitter.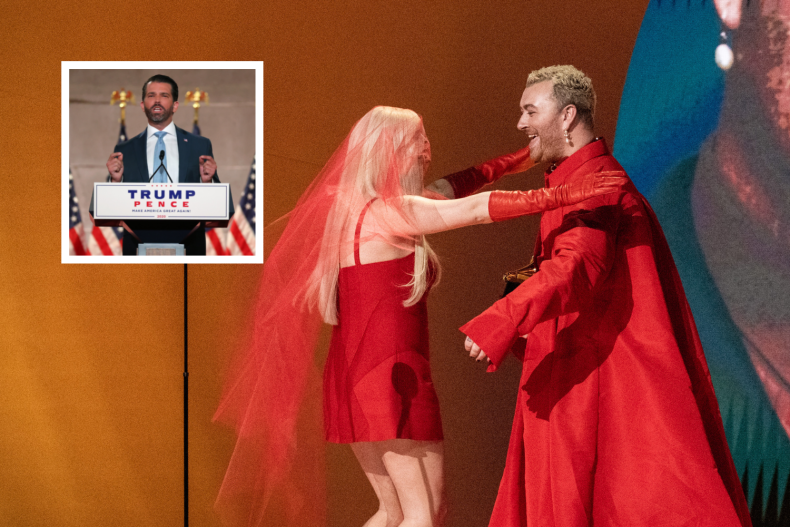 In the video, Trump Jr. said Smith's performance was reminiscent of a satanic ritual. The video has been viewed more than 700,000 times. He went on to say that Hollywood was in partnership with pharmaceutical companies like Pfizer, one of the companies that created a COVID-19 vaccine. Pfizer sponsored the Grammys.
"You can't make this stuff up anymore," Trump Jr. said. "The next conspiracy theory to go down the drain is Hollywood, the music industry, totally not into the satanic rituals, despite all of the symbolism, despite all of the coincidence with said symbolism. It never ends.
"Maybe it's art, but why is it always this kind of art? Why is it never, like, regular art?" Trump Jr. added.
Trump Jr. then said sarcastically that he's sure there's "nothing" to the symbolism in Smith's performance.
"Just like there wasn't anything to the Wuhan lab leak theory and every other conspiracy that's out there," he said. "They literally cannot help themselves."
Trump Jr. said Hollywood is controlling culture by threading the satanic symbolism into performances watched by children.
"They're all in on it," he said. "They're going to crush everything we hold near and dear in America. Our morality, our decency, our religion, our freedom, and they're going to replace it with this crap."
Ron Filipkowski, a Democrat and defense attorney, shared a clip of Trump Jr.'s video on Twitter.
"Junior says the Sam Smith performance proves that right-wingers were right that Hollywood and the music industry are all Satan worshippers," Filipkowski tweeted with the video.
Trump Jr. isn't the only conservative concerned with the performance. Many other Republicans, including Senator Ted Cruz of Texas and podcaster Liz Wheeler, also commented that it was unnerving.
Newsweek reached out to the Trump Organization for comment.