A non-profit Jewish organization is working with dozens of survivors to put pressure on Mark Zuckerberg to ban Holocaust denial from the platform.
The Conference on Jewish Material Claims Against Germany (Claims Conference) has launched what it calls the first ever Holocaust Survivor-driven digital campaign to appeal to Zuckerberg to follow Facebook's own hate speech guidelines and ban all Holocaust denial posts.
As part of the #NoDenyingIt campaign, Claims Conference will be uploading daily videos from Holocaust survivors around the world making personal appeals to Zuckerberg.
Among the Holocaust survivors who have already posted an appeal to Zuckerberg are Eva Schloss, stepsister of famed diarist Anne Frank.
"I was born in Vienna and had to flee from the Nazis. I ended up in Holland where I was arrested with my whole family and sent to Auschwitz death camp," Schloss says. "There, only my mother and I survived. I lost all my family, many, many family members. There is no denying it. Remove Holocaust denial from Facebook."
Roman Kent, Chairman of the American Gathering of Jewish Holocaust Survivors who was at several concentration camps including Auschwitz, Mertzbachtal and Dornau, also features in the campaign.
"Most of my family was murdered, as well as many of my friends," Kent said. "Mark, you are obviously a smart young man, you must know that Holocaust denial is nothing short of hate dialogue. Please remove those denial and hateful posts from Facebook. You have a moral obligation to do so."
Claims Conference said they already have around 50 survivors lined up to post videos as part of their daily campaign. The messages will be uploaded onto social media sites such as Facebook, Twitter, and Instagram, which is also owned by Facebook.
Facebook does remove posts and even bans pages or profiles if they violate their community standards, which include direct attacks on people based on race, ethnicity, or religious affiliation.
Speaking to Newsweek, Greg Schneider, executive vice president of the Claims Conference, noted how in countries such as Germany, where Holocaust denial is illegal, Facebook has successfully removed offending posts.
Schneider is now questioning why the social media site does not enforce similar rules in the U.S., despite agencies such as the United Nations and the U.S. State Department declaring that the denial or minimizing of the Holocaust are acts of anti-Semitism and therefore considered hate speech.
"Facebook is the largest megaphone on the planet. So you're giving hatemongers the largest platform to spew their hate and their filth," Schneider said.
"While there's been Holocaust denial for decades, it's only in the recent past with the advent of Facebook and other social media platforms that they have access to billions of people.
"We cannot understand why Facebook is abdicating from any responsibility, why they're turning their backs on the Holocaust survivors."
Schneider said Claims Conference has tried to get Zuckerberg to meet with Holocaust survivors to discuss the issue of denial posts for years to no avail.
Gideon Taylor, president of Claims Conference, said the age of the remaining Holocaust survivors means and there is added "frustration and urgency" in their cause to get denial of the atrocity which killed six million Jews classified as hate speech on Facebook.
"There needs to be enough voices that people telling Facebook what they're doing by allowing Holocaust denial is so dangerous for history and dangerous for society," Taylor told Newsweek.
"Facebook is not just a blackboard in which anyone can come write whatever they want and walk away. Facebook dominates the public discourse.
"And if the dominant voices in public discourse are allowing hate speech to proliferate, it denies the chance to understand and explain the Holocaust to make sure that won't happen again."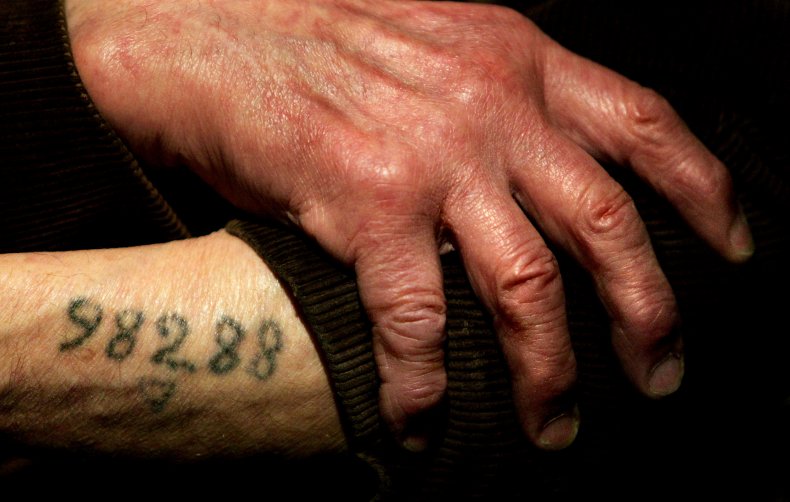 In December 2018, Claims Conference published a poll which revealed that one third of Americans think "substantially less" than six million Jews were murdered in the Holocaust.
The poll also found that 58 percent of Americans believe something like the Holocaust could happen again in this country, with nearly half unable to name a single Nazi concentration camp.
In 2018, Zuckerberg was asked by the Recode Decode podcast why Holocaust denial is not removed from the site for breaching harassment guidelines.
Zuckerberg said Facebook does not take down things just for being wrong and he does not believe Holocaust deniers are "intentionally getting it wrong."
In a follow-up statement, Zuckerberg said: "Holocaust denial is deeply offensive, and I absolutely didn't intend to defend the intent of people who deny that.
"Our goal with fake news is not to prevent anyone from saying something untrue—but to stop fake news and misinformation spreading across our services.
"And of course if a post crossed line into advocating for violence or hate against a particular group, it would be removed. These issues are very challenging but I believe that often the best way to fight offensive bad speech is with good speech."
In a statement to Newsweek, a Facebook spokesperson said: "We take down any post that celebrates, defends, or attempts to justify the Holocaust. The same goes for any content that mocks Holocaust victims, accuses victims of lying about the atrocities, spews hate, or advocates for violence against Jewish people in any way.
"In countries where it is against the law, such as Germany, France and Poland, we will also take steps to restrict access in accordance with the law.
"We know many people strongly disagree with our position – and we respect that. It's really important for us to engage on these issues and hear from people to understand their concerns.
"We have a team that is dedicated to developing and reviewing our policies and we welcome collaboration with industry, experts and other groups to ensure we're getting it right."