Holocaust Survivor Eva Mozes Kor Says She Barely Survived 'Demeaning' TSA Search
Updated | A Holocaust survivor claims she was subjected to a "very demeaning body search" by Transportation Security Administration (TSA) agents after visiting Albuquerque, New Mexico.
Eva Mozes Kor, who survived Auschwitz with her twin sister, Miriam, tweeted on Sunday that she had to suffer through an intrusive body search before boarding a plane. The 84-year-old Indiana resident said the body search ruined her experience following a lecture about surviving the Holocaust.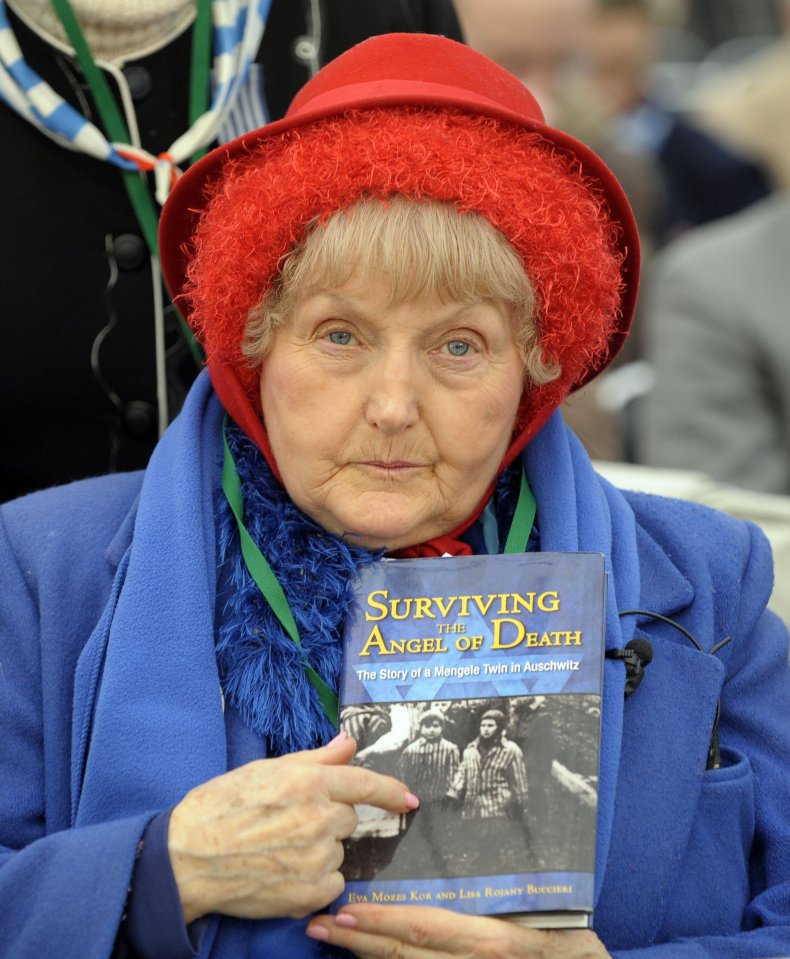 "Another very demeaning body search by the TSA-there has to be some way that at age 84 I can get some clearance by the POWERS of Government from this procedure. As I lecture about surviving Auschwitz I barely survive the TSA body search. I detest it. That ruined my experience," Kor tweeted.
The Holocaust survivor spoke to New Mexico teachers at the National Museum of Nuclear Science and History on Saturday about undergoing inhumane scientific experiments at the hands of Nazi doctor Josef Mengele, the Associated Press reported.
It is unclear whether Kor's TSA search occurred at the Albuquerque International Sunport airport.
In a statement to Newsweek, TSA national press secretary Matthew Leas said, "TSA has contacted the passenger to learn more about the details of her recent travel experience. TSA is committed to ensuring the security of travelers, while treating all with dignity and respect."
Kor and her Jewish family were removed from their home in Romania and sent to the Auschwitz concentration camp when she was a young girl. She and her twin sister were subjected to inhumane experiments by Mengele but managed to survive. The girls were orphans following their liberation from the camp, the according to AP.
Kor has shared her Holocaust story her entire life and has become a renowned activist who established the CANDLES Holocaust Museum in Terre Haute, Indiana. (CANDLES stands for Children of Auschwitz Nazi Deadly Lab Experiments Survivors.)
As an adult, she married and moved to Terre Haute but has continued to travel the world sharing her story of suffering and forgiveness. "I discovered the cure from victimhood," Kor said while discussing the upcoming release of a documentary film about her life. "Should I keep that to myself?"
Eva, which is set to premiere April 5 in Indianapolis and April 14 in Terre Haute, profiles Holocaust survivor, who learned to forgive her Nazi torturers in order to self-heal. According to the AP, the documentary was produced by Ted Green Films, Mika Brown and Indianapolis PBS affiliate WFYI.
On Monday, Kor tweeted her appreciation for messages of support following the body search and said the TSA had been in contact. "Thank you everybody for caring about me and my stress left from Mengele's experiments," she wrote. "I have been contacted by TSA to help me, and they are working with me to solve this problem."
Kor continued, "I fly tomorrow for Los Angeles to lecture. This problem will be solved-thank you very much!"
This story has been updated to include a statement from the TSA.