Holocaust-Era 'Jewish Star' Toddler Dress Sold at Gymboree Sparks Outrage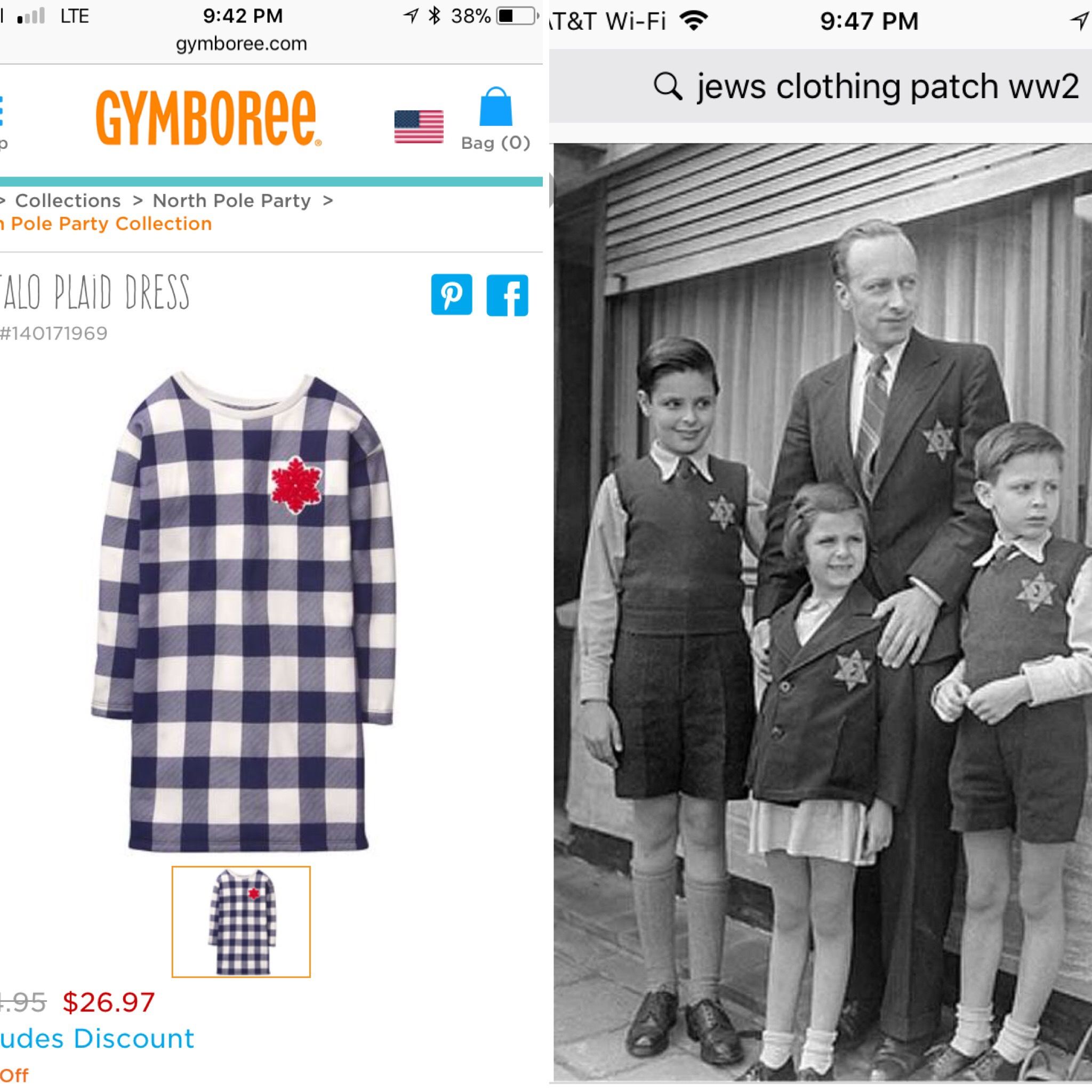 It's 2017. Shouldn't companies know by now that it's a really, really bad idea to sell clothing that looks like it was inspired by the Holocaust? During World War II, six million Jews were brutally murdered by the Nazi regime—gassed, shot, hung, starved, beaten. But the saga of Holocaust fashion disasters continues, this time at the children's clothing company Gymboree, which has come under fire for a blue-and-white plaid toddler dress available on its website, with a six-point red snowflake on the chest that's reminiscent of a Jewish star.
During the Holocaust, Jews age 6 and older were forced to wear a yellow badge with the Star of David on their chest, and the word "Jew" written inside in German or the local language. The badges made it easier for Nazis to identify Jews, segregate them from their communities and facilitate deportation to concentration camps.
Last Thursday, Sophie Cohen was watching television with her husband while looking for holiday dresses online for their 2- and 3-year-old daughters. When she clicked over to Gymboree's website, she paused on the dress in question, which was on sale for $26.97. "I was like, what is wrong with this dress?" Cohen, who lives in Owings Mills, Maryland, told Newsweek. "This image flashed in my mind of the Jewish star patches that people wore in the Holocaust. I was like, I know this is supposed to be a snowflake, but it isn't. It's red. Snowflakes aren't red! The placement of it didn't sit right with me. The resemblance!"
She posted a screenshot on Facebook alongside a black-and-white photo of a Jewish family wearing Star of David badges on their chests. She wrote in her post: "I don't consider myself to be someone who is easily offended but I was looking at the Gymboree website looking for holiday dresses for my kids and ran across this dress. I suddenly got a pit in my stomach. I think this image speaks for itself. #neverforget #notok."
Newsweek subscription offers >
The next morning, Cohen called Gymboree's customer service, and a representative suggested she email the company. She did, and soon after, the dress was pulled off the website. "But I never got a response from the company at all. I never got a phone call or email back," said Cohen, a stay-at-home mom who used to work in human resources at a corporate financial company. "Today, we like to assume racism and prejudice doesn't exist anymore, but sometimes they're sugar-coated—in children's clothes. The Holocaust isn't some random little factoid. My kids happen to go a Jewish Day School, but we're extremely reformed. I can't imagine seeing a child in that dress."
As of Sunday, the "Buffalo Plaid Dress" was no longer available on Gymboree's website, according to comments left on Cohen's Facebook post. A search on Gymboree's website Monday afternoon confirmed the dress was no longer available.
Gymboree isn't the first clothing line to face a fashion scandal relating to the Holocaust. Earlier this month, HalloweenCostumes.com pulled its Anne Frank costume for girls. In August, Miu Miu was criticized for a plaid dress featuring a five-point yellow star on the upper left side of the chest, the name John inscribed inside. In February 2015, The Anti-Defamation League (ADL) wrote a letter to the president and CEO of Urban Outfitters, pressing the company to remove a tapestry from stores that was "eerily reminiscent" of the uniforms that Nazis forced gay male prisoners to wear in concentration camps. A few years before that, Urban Outfitters sold a yellow T-shirt with a six-point star on the front pocket. In 2014, Zara came out with its "Sheriff" shirt, a blue-and-white striped top with a six-point yellow star above the left breast. Critics called it a "Holocaust uniform." Back in 2007, the company yanked a handbag off shelves after realizing the design included bright green swastikas next to flowers and bicycles.
Gymboree has not responded to Newsweek's requests for comment. The company was purchased by Bain Capital in 2010, the private equity firm founded by onetime presidential hopeful Mitt Romney. In July, Gymboree announced it was filing for bankruptcy and closing hundreds of stores.
Cohen does not believe Gymboree's dress was designed "maliciously," but as she put it, "there's no excuse for the ignorance around this. People on corporate levels at companies, you assume they're well-educated. Where is the checks and balances system? Maybe they don't have enough diversity at their company! Maybe they need to increase their diversity so someone could have gone, 'Wait a minute, this may be a problem for some people, and here's why.' People say 'Never forget' for a reason."
Holocaust-Era 'Jewish Star' Toddler Dress Sold at Gymboree Sparks Outrage | Culture