Holocaust Memorial in Portland, Oregon, Vandalized With Swastika Graffiti
Vandalism hit a Holocaust memorial in Portland, Oregon, where police said they found spray-painted anti-Semitic symbols on the memorial and throughout the neighborhood Sunday morning.
Swastikas among other graffiti desecrated the Oregon Holocaust Memorial in Washington Park as the Portland Police Bureau currently investigate the incident.
"The damage to the Oregon Holocaust Memorial is heartbreaking, and it's particularly painful that it happened during Jewish American Heritage Month. I denounce hate crimes, anti-Semitism, and white supremacy," Portland's Mayor Ted Wheeler wrote on Twitter Monday.
Police said no arrests have been made yet and as of now, there are no suspects.
"As officers investigated they found similar graffiti on street signs and concrete barriers in the neighborhood," police said.
The vandalism was done with white spray paint and included the neo-Nazi numeral symbol "1488," according to photos reviewed by The Oregonian/OregonLive.
The Anti Defamation League (ADL) characterizes "1488" as a white supremacist hate symbol.
The number 14 represents the "14 Words" slogan which states "We must secure the existence of our people and a future for white children," according to ADL. "88" stands for "Heil Hitler" since the letter "h" is eighth in the alphabet.
"Together, the numbers form a general endorsement of white supremacy and its beliefs. As such, they are ubiquitous within the white supremacist movement—as graffiti, in graphics and tattoos, even in screen names and e-mail addresses," ADL said online.
"Prayers of protection and love for the Jewish community and other groups in Portland who are affected/targeted by this. No tolerance for nazis no fascism," Facebook user Jade Souza wrote on Portland Police's page Monday.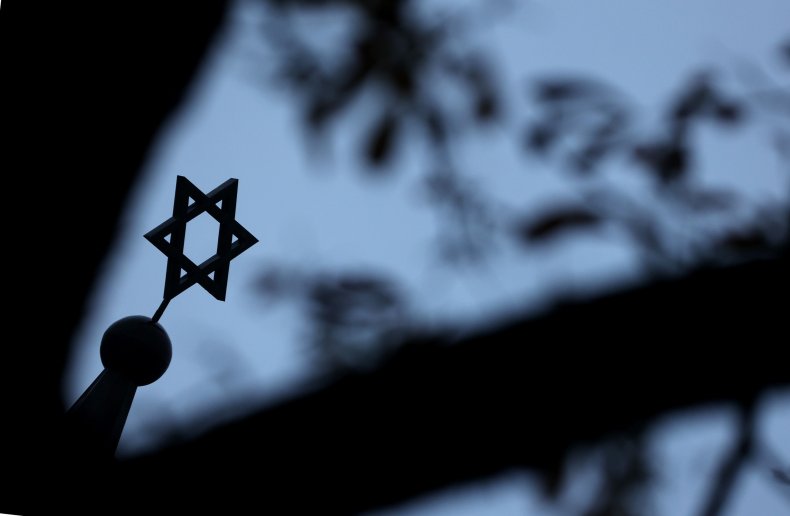 Portland Parks & Recreation was notified of the vandalism by police around two hours after they originally responded to the report, said spokesman Mark Ross, OregonLive said.
Ross added that maintenance crews were eventually able to remove the graffiti from the memorial.
A spokesman for Wheeler, James Middaugh, pointed to the mayor's tweet when Newsweek asked for his comment on the vandalism.
Middaugh said that there have been other instances of anti-Semitic graffiti in Portland.
"Most recently a local restaurant called Shalom Y'All was tagged with anti-Semitic graffiti too," he said, referring to an incident in January.
The Oregon Holocaust Memorial was established in 2004, the memorial's webpage said.
A soil vault panel at the end of the memorial's wall contains soil and ash from Nazi concentration camps of Chelmno, Treblinka, Sobibor, Belzec, Majdanek, and Auschwitz-Birkenau.
The memorial's wall holds names of those who died in the camps and details names of the victims' surviving relatives who reside in Oregon and South Western Washington.
In 2016, a swastika was spray-painted on a statue of former Portland Mayor Vera Katz, the Portland Business Journal first reported.
Police urged anyone with information about the graffiti, including video evidence, to reference case 21-117659 and email crimetips@portlandoregon.gov. Its press release mentioned that anonymous tips can be forwarded to Crime Stoppers of Oregon.
The organization offers cash rewards of up to $2,500 for information that leads to an arrest in any unsolved felony crime.
Newsweek reached out to Portland Police for comment but did not hear back in time for publication.