Holocaust Museum Criticizes Putin's Saying Ukraine Needs to Be 'Denazified'
The United States Holocaust Memorial Museum condemned Russia's invasion of Ukraine Thursday and said that Russian President Vladimir Putin was exploiting Holocaust history as a "pretext for war."
The museum's criticism came after Putin, in announcing his attack, said that Russia "will strive for the demilitarization and denazification of Ukraine." Since Putin declared the "special military operation" Russian forces have reportedly taken control of the Chernobyl nuclear power plant, launched missile attacks, and at least 40 Ukraine troops have been killed.
In a statement, the Holocaust Memorial Museum said it condemns the "outrageous attack on Ukraine" and said it "is deeply concerned about threats to civilians and loss of life."
"In justifying this attack, Vladimir Putin has misrepresented and misappropriated Holocaust history by claiming falsely that democratic Ukraine needs to be 'denazified,'" the Holocaust Memorial Museum stated.
"Equally groundless and egregious are his claims that Ukrainian authorities are committing 'genocide' as a justification for the invasion of Ukraine," the museum added.
According to the BBC, Putin has claimed that Russian-speaking residents in Ukraine's Donbas region have been the victims of a "genocide," but there is no evidence of this.
The museum's chairman, Ambassador Stuart Eizenstat, noted that the organization "stands with the Ukrainian people, including the thousands of Holocaust survivors still living in the country."
"These survivors are remnants of one of Europe's largest pre-war Jewish populations that was almost completely decimated by the Germans in World War II. Having suffered terribly as victims of both Nazism and Communism, Ukrainians today are seeking to fulfill their democratic aspirations," Eizenstat said in a statement.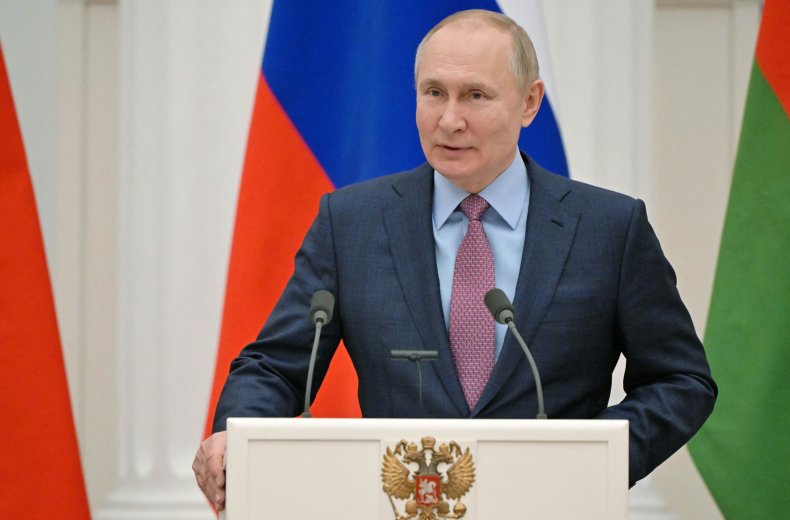 The Auschwitz Memorial also condemned Russia's invasion of Ukraine on Thursday.
In a statement posted to Twitter, the memorial, which preserves the site of the former German Nazi Auschwitz concentration camp, said: "As we stand at the Auschwitz-Birkenau Memorial, it is impossible to remain silent while, once again, innocent people are being killed purely because of insane pseudo-imperial megalomania."
"At this moment, the free and democratic world must show if it has learned its lesson from the passivity of the 1930s. Today, it is clear that any symptom of indifference is a sign of complicity," the memorial added.
Speaking to the Russian public before the attacks on Thursday, Ukrainian President Volodymyr Zelenskyy, who is Jewish, blasted the accusations that his country is linked to Nazism.
"You are told we are Nazis. But could a people who lost more than 8 million lives in the battle against Nazism support Nazism?" Zelenskyy said, according to Politico Europe.