What If the Nazis Won? Rare Book Suggests Hitler's Plans for North American Holocaust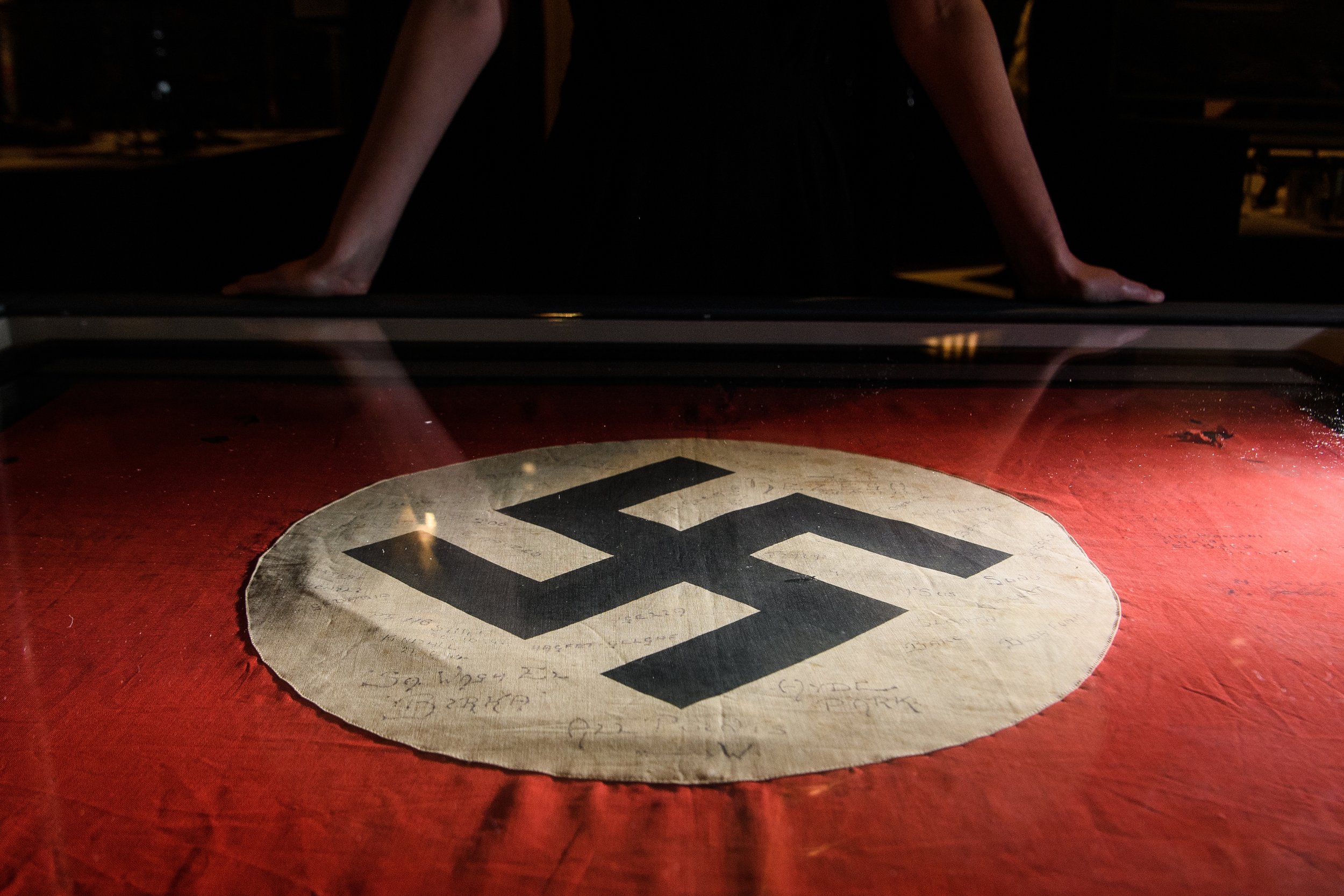 The Canadian national library has acquired a rare book that may have served as a blueprint for the proposed Nazi extension of the Holocaust to North America.
The document—once part of Adolf Hitler's personal library—was published in 1944 and goes into chilling detail about Jewish communities across the U.S. and Canada, which may well have been used to implement roundups and genocide if the Nazis had triumphed in World War II.
According to CBC, the book—titled Statistics, Media, and Organizations of Jewry in the United States and Canada and authored by researcher and linguist Heinz Kloss—was acquired by the Library and Archives Canada (LAC).
Kloss lived in the U.S. in 1936 and 1937, and used his connections with American researchers and Nazi sympathizers to create his 137-page book, CBC explained.
The book includes details of Jewish communities in large North American cities such as New York and Montreal, but also smaller groups scattered across the continent, the BBC reported.
Rebecca Margolis, the president of the Association for Canadian Jewish Studies, told the agency the book is an "invaluable report" which goes some way to justifying "the fears felt so acutely and expressed by so many Canadian Jews" during the conflict.
The copy purchased by LAC is one of just a few that remain, The Guardian noted. It was bought from a private collector in the U.S.—who previously acquired the book from a Holocaust survivor—for $4,500 in June and will go on public display at LAC this weekend to mark International Holocaust Remembrance Day.
Michael Kent, a curator at LAC, told the newspaper the book "demonstrates that the Holocaust wasn't a European event—it was an event that didn't have the opportunity to spread out of Europe." He added: "It reminds us that conflicts and human tragedies that seemed far away could find their way to North America." (The Nazi presence, along with their anti-Jewish policies, actually extended beyond Europe, into North Africa, the Middle East, the Balkans, and the Caucasus.)
Experts believe the book was kept in Hitler's library at his luxurious villa in the famous Alpine resort of Berchtesgaden, where the Nazi leader spent many vacations. It was likely removed from the property by Allied soldiers or civilian officials after the town was captured in May 1945.
Though Nazi Germany never had any significant presence on the North American continent, the establishment of an automated weather station in the Canadian province of Newfoundland and Labrador and reported U-boat forays up the St. Lawrence River and along the East Coast illustrate the Third Reich's global ambition.
The acquisition comes just after the release of a new Holocaust education study, which found that more than half of Canadian adults did not know that 6 million Jews were killed during the Holocaust.