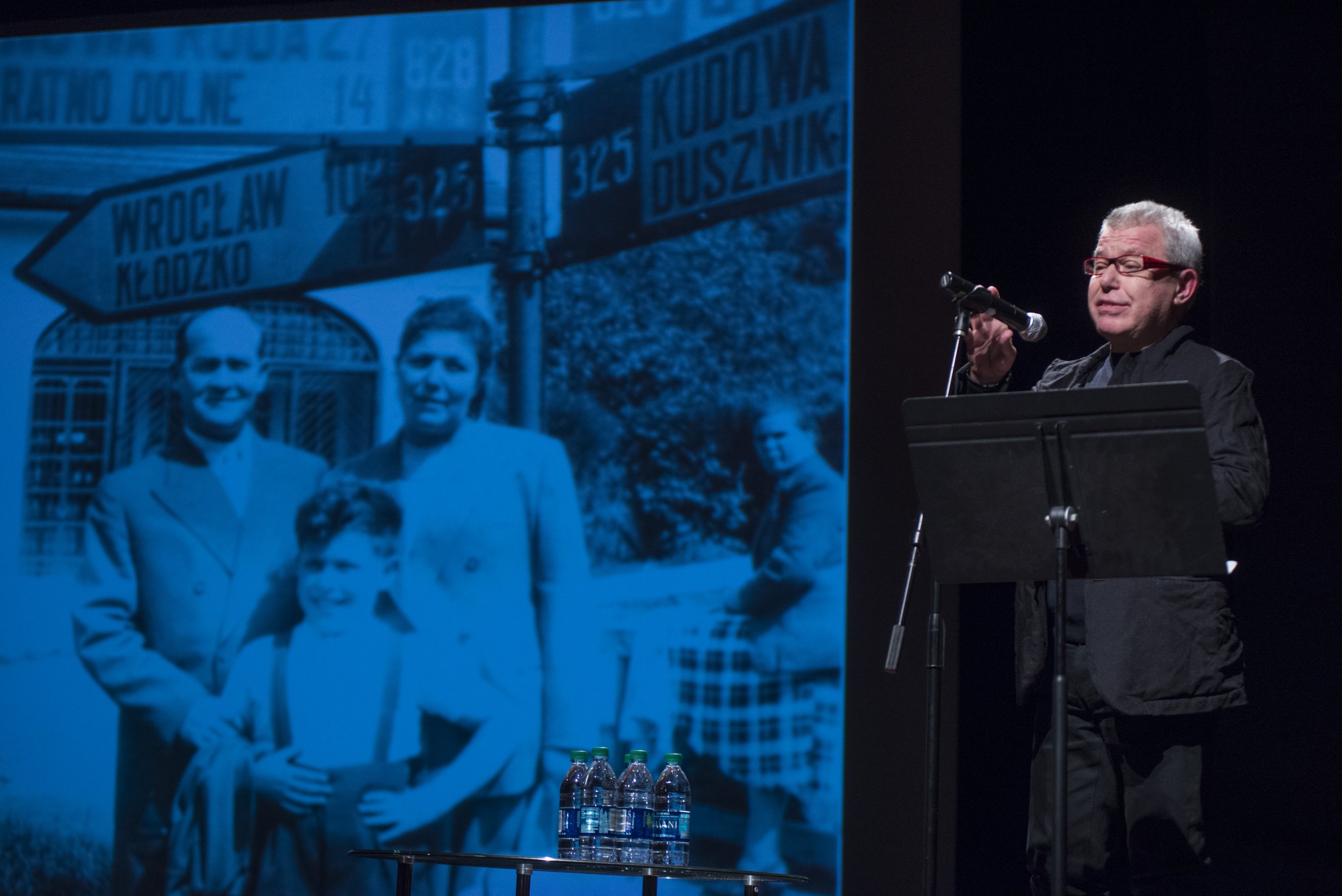 When there are no more survivors, there will still be children and grandchildren of survivors. When those who witnessed the Holocaust, who experienced it with their bodies and minds, can no longer share their stories, the second and third generations will be the closest links to the genocide. In some families, that time has already come; in others, it is inevitable.
"We are at the last moment of those people being able to tell their stories," says Esther Safran-Foer, executive director and CEO of Sixth & I, and the daughter of Holocaust survivors. A member of the second generation, she says it's "time to find our voice."
This year, the Museum of Jewish Heritage in New York City will mark International Holocaust Remembrance Day—the anniversary of the liberation of Auschwitz by the Soviets on January 27, 1945—with "Stories of Regeneration from the Second Generation." The storytelling event features children and grandchildren speaking about their experiences with Holocaust survivors and the memories they've inherited.
"This is a legacy that is being passed down from one generation to the next," says Elissa Schein, deputy director of the museum. It's the second time the museum has held the event, and Schein says "Stories of Regeneration" will become an annual gathering. Eventually, she hopes to create an archive of descendants' stories. "We need to...empower the relatives and the children and the grandchildren to continue to talk about the generation that came before them," she says.
But the purpose of the event is not to retell the stories of the survivors. Instead, the children and grandchildren will share their own stories and convey how the Holocaust affected them and their families. "I really feel that in the telling of your own story," Schein says, "something bigger comes to light."
The son of two survivors, Rabbi Joseph Potasnik remembers the old photographs that used to sit on a dresser in his childhood home. He asked about the photos, but his parents offered a vague reply: They were family members. It was only when he was about to leave for college that he learned the photos were of his parents' children from first marriages who had been killed during the Holocaust. "I grew up in a home where I was loved by people who lost so much," he says. The photos "became a reminder," he says. "They were my family who didn't make it," and "I had to do something...to perpetuate someone's memory."
Potasnik's was not the only home of survivors where the past lingered. It's important to share post-war stories of struggle, resilience and rebuilding, says Amichai Lau-Lavie, spiritual leader of Lab/Shul, who is poised to host the event for the second time on Wednesday.
"Some of the stories that struck me from last year," he tells Newsweek, were about "different ways...we cope with stress and trauma and conflict." It's wise not just to give descendants tools to cope with stress and trauma, he adds, but also to encourage them to share their stories. And he'll try, once again, to "achieve balance between seriousness and somberness, and yet access and immediacy and maybe even humor."
In her story last February, Belgian-born psychoanalyst Esther Perel made the audience laugh as she explained how her parents and their survivor friends talked over cards about who was gassed and who was not as though discussing the weather.
On Wednesday, Potasnik, Safran Foer and four others will take the stage. Among them: Sarah Golabek Goldman, a JD-MBA student at Yale. She built her story around the moment she found part of her great great grandmother's gravestone at a Jewish cemetery destroyed by the Nazis in Poland. She was spending the summer teaching English and traveling to villages and towns her family had lived before the war. The next summer, she returned to help restore a cemetery with Polish schoolchildren and to make the film Finding Leah Tickotsky, about her search for family roots and more broadly about Polish-Jewish relations. "Honestly I wish it was survivors who were telling their stories today and tomorrow and in the years to come," she says. But for those who will never have the opportunity to meet a survivor at home or at school, as Golabek-Goldman did at her Jewish day school, she feels responsible for passing on the stories to ensure the conversation continues.
The stories from next generations are not just about the past, or even just about the memory and legacy of the Holocaust as an isolated event. The other big question, Lau-Lavie says, is about "the moral and ethical questions we take with us... How to translate this stark legacy into courage and real moral behavior."
As a child of survivors, Potasnik feels a responsibility not only to tell the stories his parents and other relatives can no longer tell, but also be an activist for other vulnerable groups who are targeted as Jews were eight decades ago.
Schein agrees. "We see genocide continuing in the world and the similar stories with different protagonists," she says. "I think that the world has given us so many situations where this history hasn't become ancient history. It's still very much alive."