Pittsburgh Synagogue Shooting: Holocaust Survivor Judah Samet Cheats Death by Turning Up Late
An 80-year-old Holocaust survivor described how he managed to avoid a likely death by arriving at Pittsburgh's Tree of Life synagogue four minutes late.
Judah Samet said he witnessed the man accused of killing 11 people engaging in a shootout with police after he drove up to the synagogue around 9:49 a.m.—four minutes after services started.
"Somebody knocked on my [car] window," Samet told Forward. "There was this guy. Very calm and respectful. [He] told me, you better back up, there is an active shooting going on in your synagogue."
Samet said he turned around and saw a police officer "popping his head out from behind a wall" and shooting at someone. It was then Samet saw a man firing an assault weapon.
"He was shooting towards the cop, who was about four feet away from me," Samet said. "I saw smoking coming out of his muzzle."
Samet, who was born in Hungary and spent his 8th birthday at the Bergen-Belsen concentration camp in Germany, has been a member of the Tree of Life congregation for the past 55 years, according to Forward.
He said he knew nearly all of the 11 victims murdered by suspected gunman Robert Bowers.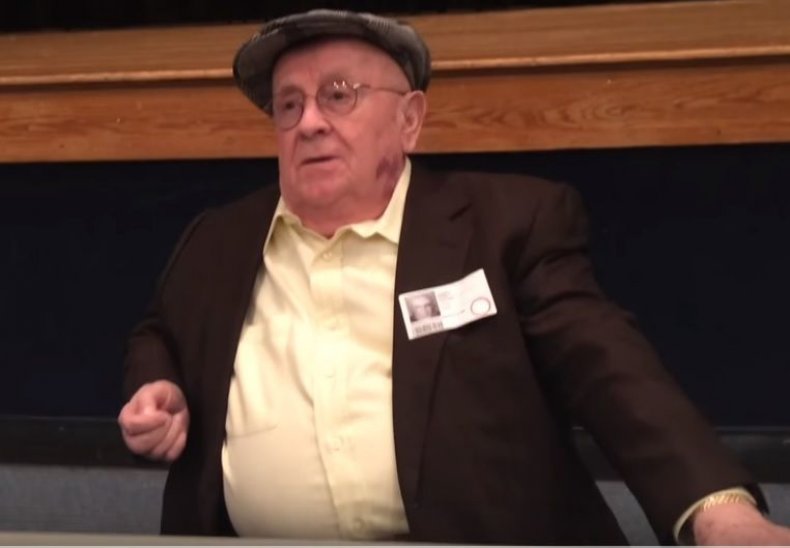 Speaking about 97-year-old Rose Mallinger, the oldest of the victims, Samet said she and her daughter would always sit behind him during services.
"If I was inside the synagogue, I would be in the line of fire," he said.
"I survived the second time yesterday," he added to The Washington Post.
Samet has talked about his experience of living in a Nazi concentration camp at schools and places of worship, having once been reluctant to do so.
"I used to say, 'I can't look back,'" Samet told The Washington Post. "But then, about seven or eight years ago, I looked around and noticed that most survivors were in their 90s, and that pretty soon there wouldn't be anyone else in Pittsburgh to talk."
During the shooting, the gunman is alleged to have shouted "All Jews must die."
The Holocaust survivor said "[it is] almost like, 'Here we go again.'
"We're now more than 70 years away from it, and here it happens all over again."
Bowers is due to appear in court and was charged with 11 state counts of criminal homicide, six counts of aggravated assault and 13 counts of ethnic intimidation, as well as 29 federal charges, including obstructing the free exercise of religious beliefs resulting in death.