Holocaust Survivor Accuses Joe Rogan of 'Promoting Hate' in Viral Video
A Holocaust survivor has hit out at Joe Rogan for sharing a video that appears to draw parallels between the atrocities witnessed during the Second World War and the idea of introducing mandatory proof-of-vaccination against COVID-19.
The video, which was posted to the podcaster's Instagram, features footage from the Holocaust accompanied by a voiceover of Rogan condemning the idea of making vaccination proof a requirement.
A caption accompanying the clip reads: "FREEDOM. It's the most important thing we have. It's what makes this place special. It's rare, and it's fragile. Protect it at all costs."
The video has come in for criticism from author Gidon Lev who addressed Rogan directly in a two-part TikTok video where he said he was "absolutely not promoting freedom" and instead accused the comedian of "promoting hate."
In the videos, posted to the account @thetrueadventures which he shares with his partner and fellow writer Julie Gray, Lev condemns Rogan's use of Holocaust imagery in the clip.
"I am an 86-year-old-survivor of the Holocaust and saw your video on American freedom and the COVID-19 vaccine," he says.
"It included images of the Holocaust and of Adolf Hitler, the monster who murdered my father, 26 members of my family, and 6 million Jews and others in gas chambers, in ditches, in firing squads, and even in gas trucks."
"You want to speak about freedom?" he asks as the video continues. "You are absolutely not promoting freedom, but promoting hate, antisemitism, and possibly even more violence and constant hate."
Lev adds: "You should apologize to us all, remove the video immediately. It is disgusting and thoughtless and careless and I am shocked by your lack of sensitivity. You want to speak about freedom? Come and speak to me."
The videos can be viewed here and here.
The two videos have been viewed more than 680,000 times on TikTok.
According to Rogan's original Instagram post, the audio of Rogan speaking on the subject of proof-of-vaccination was taken from episode number 1,693 of his podcast The Joe Rogan Experience where the guest was Evan Hafer, while the clip itself was created by Samuel Rivera Films.
The video does include historical footage of Nazi officers, Hitler, white Star of David armbands and the Jewish ghettos in Europe.
Rogan can be heard on the clip saying: "As soon as you give politicians power, any kind of power that didn't exist previously, if they can figure out a way to force you into carrying something that lets you enter businesses or lets you do this or lets businesses open, historically, they are not gonna give that power up.
"They find new reasons to use it. We have to protect those freedoms at all cost, whether you agree with people's choices or not, because it is the foundation that this country was founded on: freedom."
He adds: "It is the literal structure that allows this country to be so f****** amazing. Anything that comes along that can inhibit your freedom is, by definition, anti-American."
Born in Carlsbad in 1935 in what was then Czechoslovakia, in 1941 Lev and his parents were taken to the Theresienstadt (or Terezin) concentration camp 50 kilometers (a little over 30 miles) north of Prague.
Gidon Lev lived in the concentration camp from the age of 6 to 10. When he was liberated in 1945, he was among the 92 surviving children from around15,000 who were in or transported through Terezin.
While his mother survived, his father was sent to Auschwitz when he died during the death march that took place when the camp was evacuated before the imminent arrival of Allied forces. His grandparents, who spent time in Terezin, Auschwitz and the Warsaw Ghetto, also died.
Having spent time in Toronto, Canada and Israel, Lev subsequently co-authored the book The True Adventures of Gidon Lev: Rascal Holocaust Survivor Optimist with Gray.
Lev told Newsweek he was "horrified that once again, people were using the symbols of the Holocaust, as as a way of saying that they are fighting for freedom when those are symbols of the exact opposite.
"Social media companies should do a great deal more to stop this from happening, maybe they are just unaware or simply don't care. I don't understand. Antisemitism is a disease that already existed for centuries in different forms. The Second World War and the Holocaust were the apex of antisemitic expression and we paid for it."
Gray said: "Social media needs to be a lot more involved with hate speech and the co-opting of not just the symbols, but the antisemitism that is very much alive today.
"I know Rogan did not produce the video, but his voiceover is with it. So we have to assume that he has endorsed it because he put it on his Instagram and it has his voice. He allowed these images, and there's quite a number of Holocaust images in that video."
She urged Rogan to take note of the responsibility that comes with having a big following online.
"What Rogan did amplified the comparisons to the Holocaust that so many people are making today about vaccine mandates. We're on social media trying to educate about Holocaust education but it's hard to fight with social media platforms that seem to just allow these kinds of things."
Gray confirmed that they have yet to receive a response from Rogan.
"Do I think we're going to hear from him? No, but I wish we would because honestly, I think this was really careless and reckless," she said.
"It's a dog whistle for people who do have these beliefs. So he really took a huge misstep, and it would be great for him to make a statement about it."
Lev added: " He may not be an outright supporter of it. But the fact that he allowed it to be used on his program is totally insensitive and unforgivable."
In a recent video, Lev and Gray highlighted that the event organizers for one of Rogan's stand-up shows in Madison Square made it a requirement for anyone attending to provide proof of vaccination or a negative COVID test.
"It's very hypocritical, that's what it is," Lev said.
Gray added: "We know these are the rules of Madison Square Garden but he could have chosen a different venue. Before today, New Jersey did not have vaccination mandates on venues like that, so he didn't have to do it at Madison Square Garden.
"He did have a choice. We just thought it was so rich, especially as his emphasis in his video is on the word freedom, freedom, freedom, freedom, freedom."
Newsweek has contacted Rogan for comment.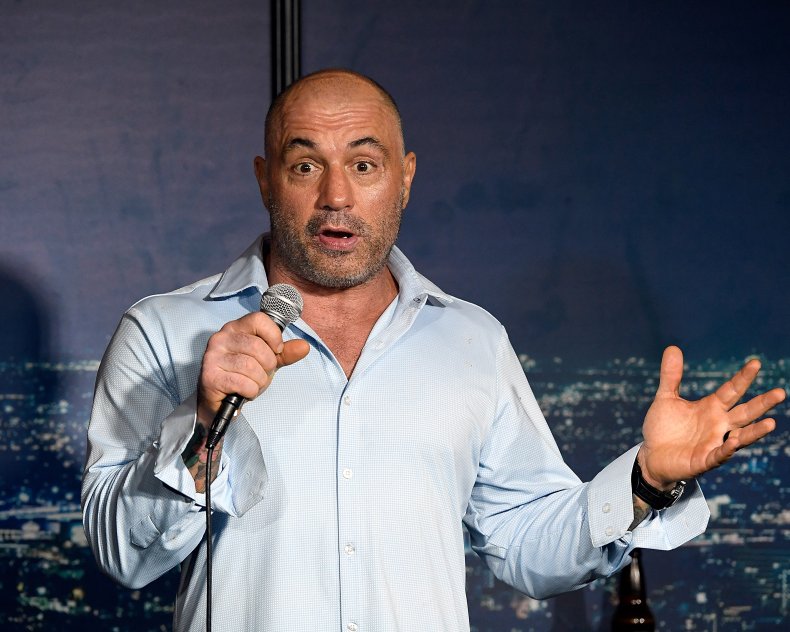 UPDATE 10/4/21, 12:08 a.m. ET: This article was updated to include video and comment from Lev and Gray.