Holocaust Survivor Killed in LA Hit-and-run, Police Offering $50,000 Reward for Information
Los Angeles police are searching for a driver who was involved in the fatal hit-and-run of a 91-year-old Holocaust survivor.
The victim, identified as Gennady Bolotsky, died after being struck by a vehicle on Magnolia Boulevard at Wilkinson Avenue while walking his dog at around 5:35 a.m. on June 17.
Surveillance footage released by the police shows a white truck hitting the elderly man, before fleeing the scene.
"Drivers are reminded that if they become involved in a collision, they should stop, notify emergency services, and remain at the scene to identify themselves," an LAPD spokesperson said in a statement.
Emergency services attended the scene and took Bolotsky to a local hospital, where he later died from his injuries.
The victim's family are now urging whoever was responsible to come forward.
"We wish you had a human soul to stop or call and not leave him lying on the ground," granddaughter Adriana Bolotsky said, reports KABC.
"He was supposed to live to 100 or more. At 91, he had more energy than a person half his life," his son Michael Bolotsky added.
"This parasite of the society shouldn't be in this society, shouldn't be on the streets. So please help us to put him where he belongs."
His family said Gennady Bolotsky had previously been hit by a car at the same intersection around 15 years ago and survived. His granddaughter voiced frustration at how unsafe the section of road is where her father was killed.
"Monday night after it happened, we went to the scene and not one car stopped. I could've been hit," Adriana Bolotsky said. "I saw cars zoom past me and I could have been hit, and I was standing, literally, over his blood."
According to Fox 11, Bolotsky was born in 1928 and came to the U.S. having survived the Holocaust, escaping Nazi-occupied Ukraine.
The LAPD said a reward of up to $50,000 is available for anyone who provides information leading to the offender's identification, apprehension, and conviction or resolution through a civil compromise. Police have not released further any details about the suspect or the truck.
Anyone with information about this collision is asked to contact Valley Traffic Division Detectives, Officer Fredo at (818) 644-8029 or Officer Reyes at (818) 644-8032. Anyone wishing to remain anonymous should call the LA Regional Crime Stoppers at 1-800-222-TIPS (800-222-8477) or go directly to www.lacrimestoppers.org.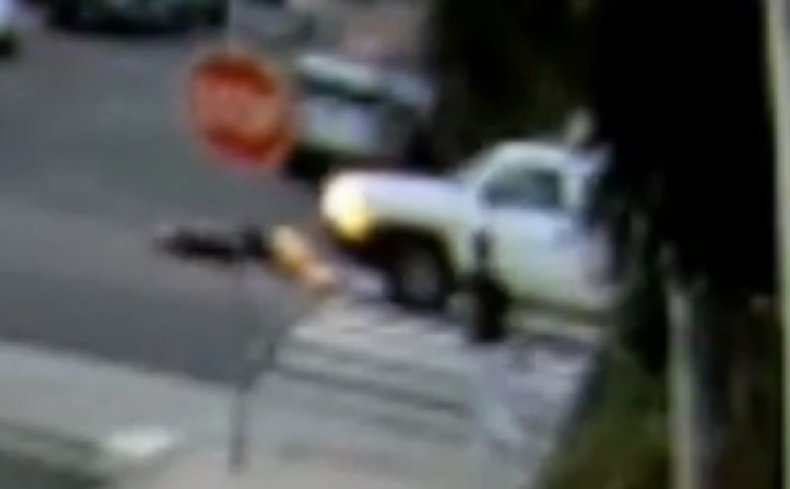 Holocaust Survivor Killed in LA Hit-and-run, Police Offering $50,000 Reward for Information | U.S.