A Southern California man was arrested Wednesday for allegedly starting the massive Holy Fire that scorched 13 cabins and forced thousands of residents to flee their homes. The man, who claims to be a "sovereign citizen," allegedly telegraphed his plans in a missive to the local fire chief weeks before.
Sovereign citizens live under a belief system that the original legal system or "common law" was usurped by admiralty law, the law of the sea and international commerce.
"Under common law, or so they believe, the sovereigns would be free men," according to the Southern Poverty Law Center.
Forrest Clark, 51, of Trabuco Canyon, California, is being held in lieu of $1 million bail and faces life in prison if convicted on charges, including multiple arson charges, threatening to terrorize, and resisting arrest, the National Forest Service released in a statement.
Since it was kindled on Monday, the Holy Fire has consumed 18,137 acres in the Cleveland National Forest—and it's still only 5 percent contained.
The accused fire starter's arraignment was postponed from Thursday to Friday because of his alleged refusal to abandon his jail cell, Orange County Sheriff's Department officials confirmed.
"Yesterday, he refused to leave his cell to be arraigned," sheriff's spokeswoman Carrie Braun told Newsweek, noting that Clark has the option to remain in his jail cell because it doesn't harm him or any officers, which is their top priority. "Our policy is we don't force inmates to go to court if they are unwilling."
It was unclear if Clark had retained an attorney.
Clark's cabin was one of only two that didn't get burned to smithereens, Michael Milligan, chief of the Holy Jim Volunteer Fire Department, told Newsweek after an unending night battling the flames. "Everything from his log cabin and north up the canyon was destroyed," he said.
The speed and intensity of the flames jolted firefighters.
"The fire was spread so widely and so hot everybody going up the mountain had to come down after a half-mile," Milligan said. "They couldn't do anything because the entire cluster of canyons were burning."
Clark was known to sometimes rip off windows or other parts to shoddily construct his hunting-style log cabin, Milligan said. He also sparred for years with his gay neighbor, whom he would castigate and often yell passages from the Bible to shame him, Milligan said. Just two weeks prior to the Holy fire, Clark apparently wanted to have words with the Holy Jim Fire chief himself.
"He came to the house and wanted to talk to me," Milligan said. "I told him to go away and said 'I don't want anything to do with you.'"
Milligan said that after delivering a curse-filled dress-down, saying "shalom" and storming off, Clark then sent him a vicious text message, which he said read: "This whole place is going to burn like you planned."
The fire chief acknowledged that in his 50 years battling wildfires, he's always been planning for anything, but was clueless about Clark's meaning. But he took the threat seriously and alerted authorities at multiple agencies.
The fire chief stressed that he believed the accused arsonist is extremely cunning.
"He is very intelligent, calculating and manipulative," he said. "He knows what he's doing."
The chief said that Clark has a gift for finding ways to appease anybody he's quarreling with by "focusing on them" and pinpoints ways to win their sympathy. In the end, "[Clark] diffuses the problem."
"If he blows up and yells and screams he'll stop and look at the person and then start quoting the Bible, and the person will feel sorry for him," Milligan said.
Orange County sheriff's deputies put Clark on a psychiatric hold on July 23, after fielding a call for a report of "erratic behavior" by Clark. Deputies also attempted to scout for Clark on August 2 but were unable to pinpoint his whereabouts, Braun confirmed.
For years, Clark was known around the log cabin forest community as a devout member of the Seventh-Day Adventist Church who clutched a blue three-ring binder like a get-out-of-jail free card to prove he was a sovereign citizen, part of a fringe subculture that frowns on paying taxes and cherrypicks which laws to follow or disobey.
"I'm telling investigators to grab that blue binder because he always carried it with him to show people that he had notarized Orange County records that designate him as a sovereign individual," said Milligan.
J.G. Berger, a research fellow with VOX-Pol, an academic research network on Violent Online Political Extremism, said that the act of starting fires isn't necessarily in the sovereign citizens' playbook.
"Generally speaking, sovereign citizen ideology wouldn't call for an adherent to set a fire like this," Berger told Newsweek. "But sovereign beliefs can vary a lot from one adherent to another."
If Clark committed the arson for political or ideological motives, Berger said, "this might be considered terrorism."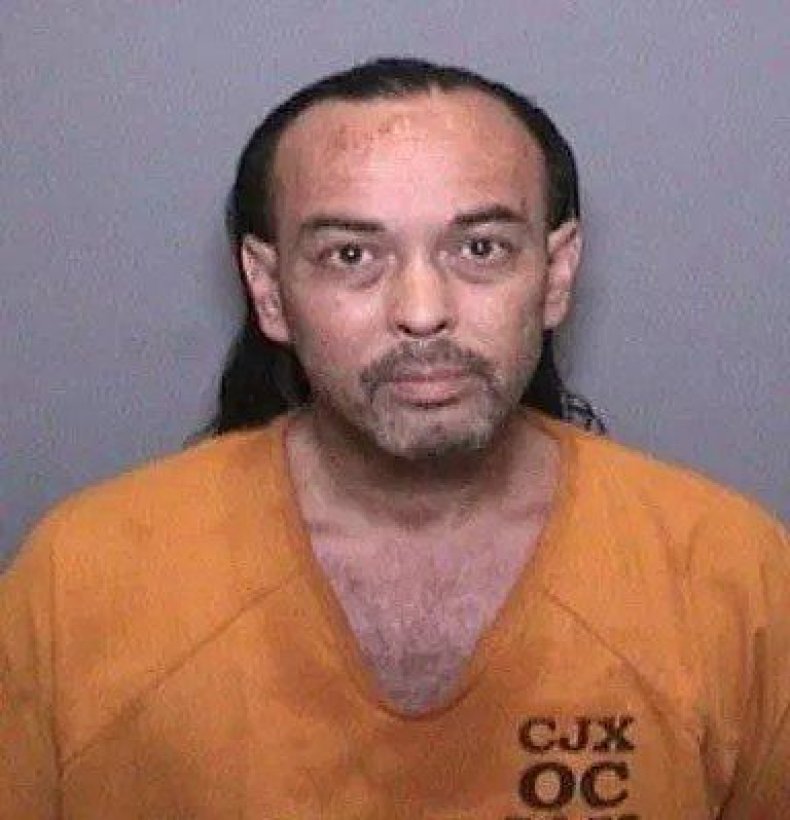 However, he cautioned that it was "too soon to really say that with any certainty."
Some posts on a Facebook page that appears to be Clark's reviewed by Newsweek run the gamut from the sovereign citizen signing campaign and Illuminati conspiracy theories to devoted love for his mom.
At one point last year, he dropped an eerie post as fires raged in Northern California alluding to Agenda 21, which may have been in reference to a United Nations' 1992 resolution to inspire nations to curb resources and conserve open spaces to instead concentrate growth in dense populations.
Clark managed to become a constant menace around town and was known for pilfering peoples' car registration stickers to replenish his expired one, Milligan confirmed.
"He was arrested after stealing the annual sticker off license plates and ticketed once and then he was arrested," Milligan remembered. "He tried to convince the deputy he was sovereign, told him 'I can't go to jail.'"
Newsweek's Alexandra Hutzler contributed to this report.