Holy Fire Flood Watch: California Burn Areas Hit By Rain, Prompting Evacuations in Orange County, Riverside County
Some parts of California burned by this summer's Holy Fire were ordered to evacuate on Thursday after severe rain hit the region. Mandatory evacuation orders were issued for Orange County and Riverside County, the Los Angeles Times reported.
The Holy Fire burned some 23,000 acres in Southern California after sparking on August 6th, according to the National Wildfire Coordinating Group.
Mandatory evacuations were ordered on Thursday for Amorose, Alberhill, Glen Ivy A, Glen Ivy B, Glen Eden, Grace, Horsethief A, Laguna A, Matri, McVicker A, Rice, and Withrow A, Cal Fire announced.
"MUST GO NOW," Cal Fire tweeted.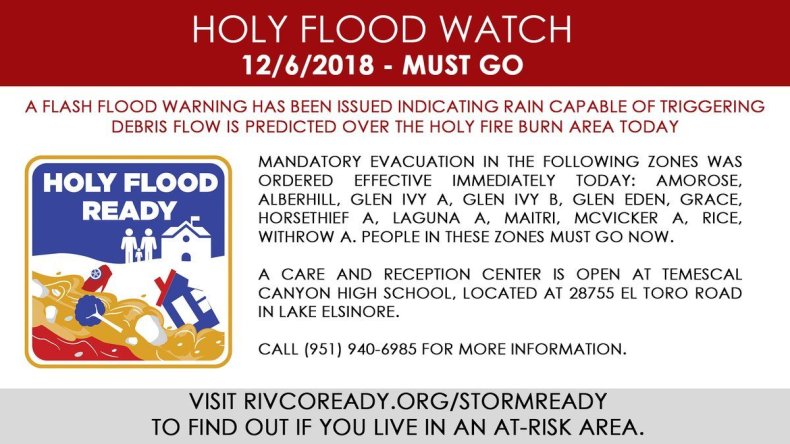 Road closures were in effect at Trabuco Canyon at Rose Canyon and Trabuco Canyon at Plano Trabuco, the Orange County Sheriff's Office said. Interstate 5 between Los Angeles and the San Joaquin Valley was also shut down.
Some areas being evacuated on Thursday were evacuated last week during a storm, according to CBS Los Angeles. The storm caused damage to some homes.
The rain pummeling the region on Thursday caused a Southwest Airlines plane to skid off the runway during a landing in Burbank. There were no reports of fatalities or significant injuries as a result of the incident.
At least one person was killed in a traffic accident during severe weather, AccuWeather reported. Photos out of California showed mudslides covering areas previously burned by wildfire.