Holy Fire Update: Blaze Grows to 18,137 Acres in Cleveland National Forest
The Holy fire burning in California has grown to 18,137 acres as of Friday morning with only 5 percent containment, fire officials said.
"#HolyFire morning update: 18,137 acres and 5% contained. For those wondering about containment, the hand/containment line grows as the fire grows. We continue to actively engage, but cannot get ahead of the fire," the Cleveland National Fire department tweeted on Friday.
The Holy Fire blazing in Cleveland National Forest in California ignited on Monday. As of Wednesday, the fire remained 5 percent contained, according to fire officials. More than 21,000 people were evacuated from 7,500 homes on Friday, KTLA reported.
The fire burned down 12 structures on Monday when it first began, according to the news station. There are 86 fire engines, 28 crews, 14 helicopters, 14 dozers, and eight water tenders battling the blaze, authorities said.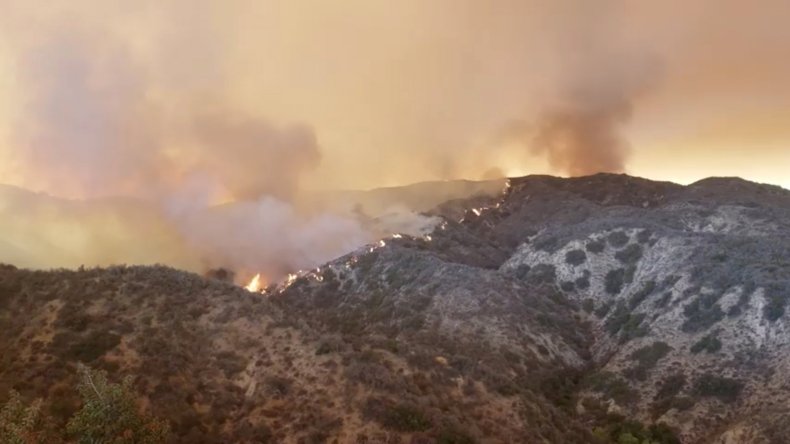 California Governor Jerry Brown declared a state of emergency for the Holy Fire on Thursday, KABC-TV reported.
The fire was allegedly ignited by Forrest Gordon Clark, 51, who was booked into Orange County Jail on Wednesday. Clark is facing two counts of felony arson, one count of felony threat to terrorize and one count of misdemeanor resisting arrest, officials confirmed to KABC-TV. He is currently being held on $1 million bail.
Clark allegedly sent a text message to a fire chief that read "This place is going to burn" two weeks ago, CNN reported. The 51-year-old reportedly owns the only home in the area that was not destroyed by the fire, The Orange County Register reported. Clark refused to make his appearance in court on Thursday on Thursday and his arraignment has been rescheduled for Friday, The Sacramento Bee reported.
Mandatory evacuations are now in place for residents living on the mountainside of Lake Street and southwest of Grand Ave to Ortega Highway, authorities said. Other areas under mandatory evacuations include Trabuco Canyon Recreation Residence Tracts, Blue Jay and Falcon Campgrounds, Holy Jim, Rice Canyon, McVicker Canyon, Rancho Capistrano, Glen Eden Canyon, Sycamore Creek and Horsethief Canyon.
Dozens of wildfires continue to rage on in California. There are currently 4,000 firefighters battling the Mendocino Complex Fires since July 27, which became the largest fire in California history this week. The Carr Fire, which sparked on July 23, is also continuing its blaze on through the state and has burned 181,496 acres as of Friday, according to CalFire. The fire has killed seven people and is 51 percent contained as of Wednesday.