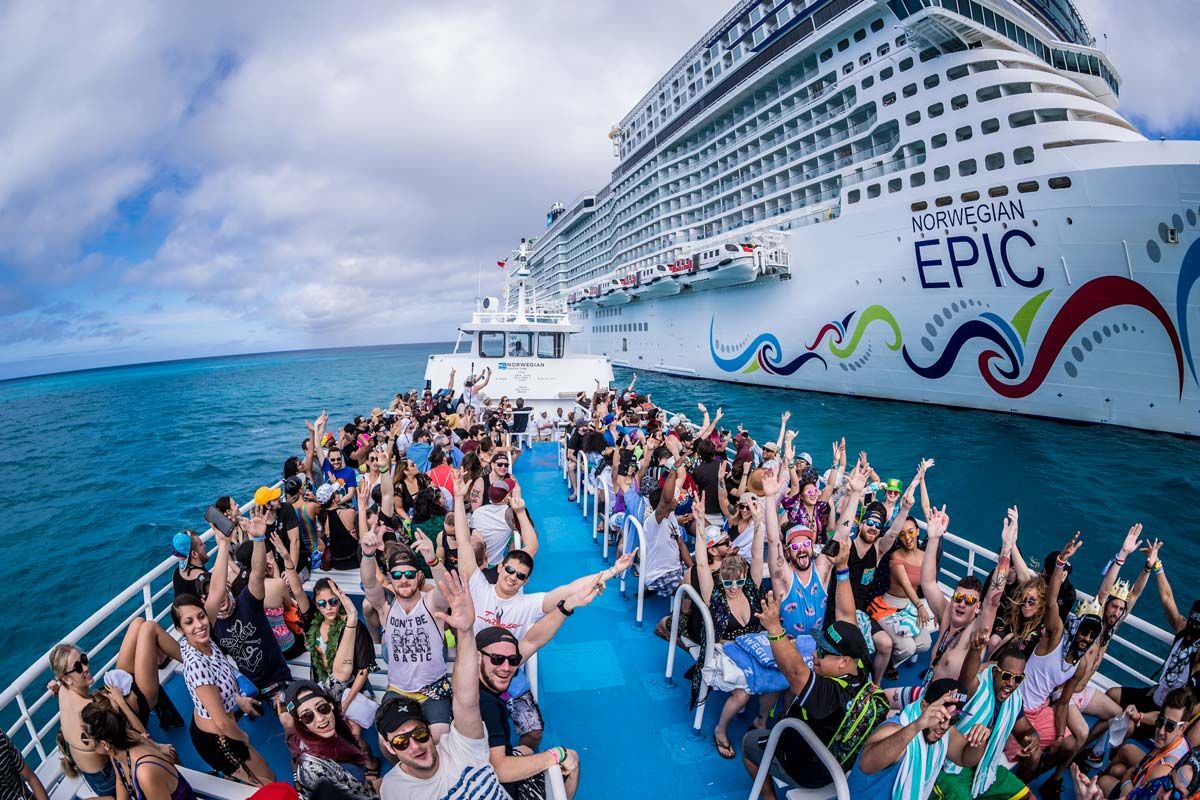 A electronic dance music themed party cruise once again came to a sudden end for some passengers, who police say attempted to smuggle drugs on board for the trip.
According to its website, the experience on the Norwegian Epic vessel —officially titled "Holy Ship!"—is running in two portions, one from January 5-9 and another from January 9-12.
Read more: Florida woman, 86, beat husband, 89, to death with walking stick
More than a dozen arrests were made last Saturday as the ship was set to embark from Port Canaveral, Florida, the Florida Today newspaper reported. Brevard County Sheriff's Office, which worked with the Customs and Border Patrol, posted the suspects' mugshots online.
Charges included possession of controlled substances without prescription, possession with intent to sell and possession of drug paraphernalia equipment, inmate records showed.
One suspect, David Tran, 32, hid cocaine inside hairbrushes in his suitcase and another, named as Trenton Hays, 24, was overheard by officers talking of selling drugs, Florida Today reported.
The website of the "Holy Ship!" trip warns the organizers enforce a "zero tolerance" policy. But that didn't stop the dozens of customers who tried to smuggle drugs on board last year either. The same time 12 months ago, dozens of arrests were made in relation to similar offences.
WKMG News 6 (ClickOrlando) reported at the time that two dozen people passengers had been detained on drug possession charges after being caught by agents during security checks. "A lot of the drugs are used in a rave scene," police said. The substances siezed included MDMA and ecstasy.
The Norwegian Cruise Line told Fox News: "We have a zero tolerance policy when it comes to prohibited items aboard our ships, within our terminals, or at our destinations.
"Along with the organizers of the event, we are cooperating fully with local law enforcement to ensure the welfare of all guests attending the festival," it continued. "The event has been an incredibly popular and meaningful music experience for thousands over the years, and it is unfortunate that the actions of a select few reflect poorly on such a beloved festival."
Indeed, the anti-narcotics policy is clearly listed on the party cruise website.
"You will be embarking Holy Ship! in Port Canaveral and passing through security run by Customs and Border Protection, a division of Homeland Security," it warns.
"Your person and your luggage can and will be searched. Forget about your right to privacy, you are passing through a port where all local and federal laws apply and are strictly enforced.
"Every person and each piece of luggage will be inspected by dogs trained to detect explosives and contraband. Anyone found to be violating the law and/or in possession of illegal substances...will be arrested and banned from all future events."
Suspects detained on the day of the cruise launch included: Kenneth Allen, 34, Trenton Hays, 24, Krisstopher Trevino, 32, Eric Follmer, 33, Michael Mcgraw, 23, Brittany Soriano, 28, David-quoc Tran, 32, Kameronn Ganga, 23, David Raygorodsky, 28, Sarah Lauzon, 21, Eddy Lai, 33, Mark Siy, 33, Elizabeth Brady, 33 and David Pham, 32.