President Donald Trump had made cameos as himself in several films, but perhaps his most memorable is in Home Alone 2: Lost In New York.
Trump's brief appearance in the 1992 comedy sequel sees him direct protagonist Kevin McCallister, played by Macaulay Culkin, to the lobby of the Plaza Hotel in New York City.
Now, eagle-eyed Twitter users have reported that the Wikipedia page for the film was briefly amended after Trump was impeached this week.
"On December 18th, 2019 Donald Trump became the first cast member of Home Alone 2: Lost in New York to be impeached by the U.S. House of Representatives," the Wikipedia entry for the film briefly read, according to a screenshot posted on Twitter by Sarah Kendzior.
"Briefly spotted on the Wikipedia entry for "Home Alone 2"," she wrote alongside the screenshot. It wasn't immediately clear when the sentence was added to the film's Wikipedia page, but it had been removed from by Saturday. Wikipedia and the White House have been contacted for comment.
Twitter users were quickly to joke about the edit, with one commenting: "Glad Home Alone 2 keeps its Wikipedia site up to date." Another added: "Sometimes I love the internet."
Home Alone 2: Lost In New York follows Kevin McCallister's adventures in New York City after he accidentally boards the wrong plane and ends up separated from his family and runs into the bandits who tried to burgle his family home the previous year.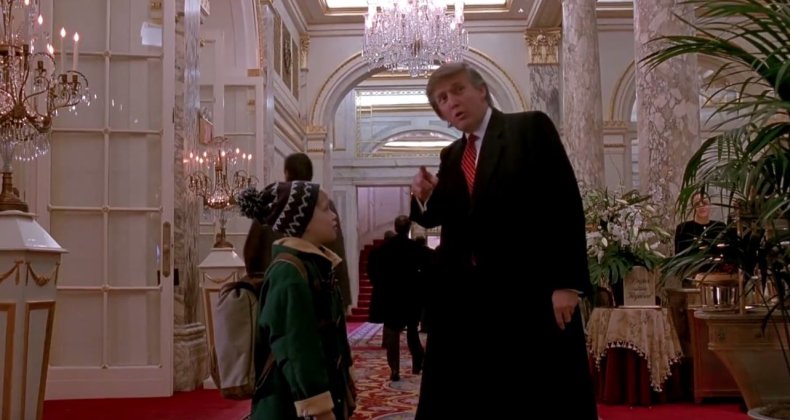 Using his father's credit card, he makes a reservation to stay at the Plaza Hotel and encounters Trump there. "Excuse me, where's the lobby?" Kevin asks Trump. Trump replies: "Down the hall and to the left."
Trump reportedly demanded a role in the 1992 film in exchange for filming in the Plaza Hotel, which he owned at the time.
Hollywood actor Matt Damon told The Hollywood Reporter in 2017 that Trump typically demanded roles in films in return for filming in buildings he owned—but claimed most directors later cut the scenes featuring Trump.
"The deal was that if you wanted to shoot in one of his buildings, you had to write him in a part," Damon said. "You waste a little time so that you can get the permit, and then you can cut the scene out. But I guess in Home Alone 2 they left it in."
The House of Representatives took the historic step to impeach a president for just the third time in U.S. history this week. Trump was impeached for abuse of power and obstruction of Congress and is expected to face a trial in the Senate in the New Year.