I'll never forget my first nursing home placement in Ohio. As I entered the facility, I was hit with the smell of feces and a screaming ventilator alarm that no one answered. I knew I was not in a safe space, and that I would not last long there. That was 20 years ago, and I've been in and out of nursing facilities ever since.
I was diagnosed with multiple sclerosis in 1991. As my MS has progressed, home care aides have helped me cook, wash dishes and get safely into and out of the bathtub. Sometimes I also need assistance with daily household chores and maintaining my personal hygiene. They help me with that as well.
Reliable home care makes all the difference to me. It means I can choose to live at home, instead of in a facility, and feel secure in my well-being and my independence. It also allows me to pursue and fulfill my vocations as a teacher, activist and writer and be part of my community.
The Biden administration has a plan that would invest $400 billion in the home care industry and allow many more Americans to choose to remain at home as well. The funds will increase caregivers' wages, enhance their training and give them the right to choose to form a union. It would improve the industry, which is a good thing. I believe people who work in home care should thrive and be able to care for their own families, and this funding will help do that.
It's not just a desire to maintain my autonomy that has me rooting for higher pay and better work conditions for home workers. It's actually a question of survival for me: My life expectancy is shorter in a nursing facility than it is in my own home.
The coronavirus pandemic offers just the latest and most unsettling example of how being able to receive care and support at home can be a life-and-death matter for someone with my disability.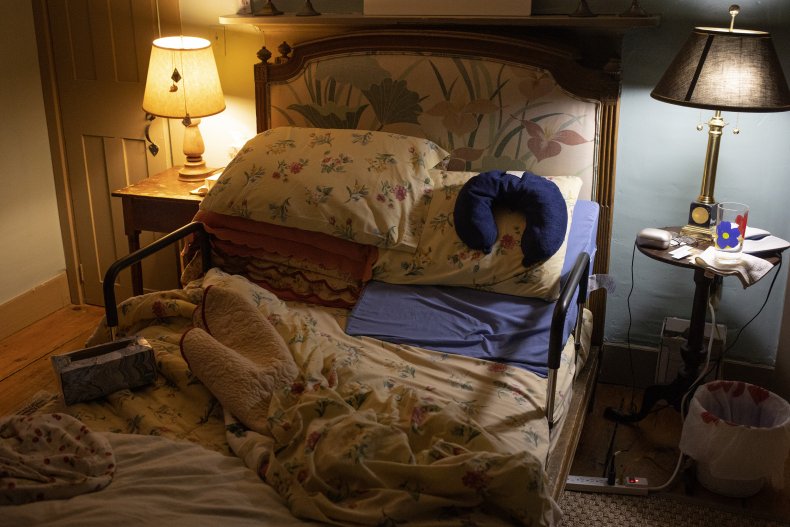 I was discharged from my most recent stay at a nursing home just a few weeks before the start of the pandemic. Between February and May of last year, one in 10 residents at that facility died. I don't know what the current fatality figures are and I've been too heartbroken to check. It's deeply unsettling to know that I might have been among the casualties.
I've lived in several different states and have had a chance to experience home care services in different parts of the country but one constant remains: Home care is challenging to secure everywhere.
Earlier this year, I moved to Georgia from California to be closer to family. I had to start the process all over again of finding a home care worker. It took several months to find someone. In the interim, I had to be hospitalized for part of the time. I was placed in a rehab center at another point. Then a few months later, my home care aide suddenly said they couldn't go on doing the work anymore and quit. I don't know if it was the low pay, the lack of paid sick time or vacation days, the lack of affordable health care or the unpaid commuting expenses. But really, it could be any and all of the above, right?
When my health allows it, I advocate for home care workers by trying to get them the respect, pay and benefits they deserve. As a member of the nonprofit group Hand in Hand: The Domestic Employers Network, I've fought for legislation in California that would improve working conditions for caregivers. Now we have to work to improve the care industry on the national level.
When some people talk about the cost of home care, they focus solely on dollars and the conversation becomes theoretical and abstract. But that ignores the human cost—both to the caregivers and the people they take care of.
When there is a shortage of home care workers, people in our communities disappear into facilities, just like I did. But home care is not just about keeping people in their homes, it's about ensuring we all have a chance to really thrive and be deeply rooted in our communities.
Members of Congress must take action to solve the problem of high turnover by supporting the Biden care plan and making these positions family-sustaining jobs. Addressing the home care industry's turnover problem would make it much more likely that someone like me would be able to find and keep consistent, high, quality care when needed.
Elaine Shelly is a writer, teacher and a member of Hand in Hand: The Domestic Employer Network.
The views expressed in this article are the writer's own.