Home Depot Facing Boycott Calls After Donating to Some Jan. 6 Apologists
Home Depot is facing calls for a boycott following a report that the company donated thousands of dollars each to dozens of January 6 apologists and Republican politicians who voted to overturn the 2020 election results, according to a group calling itself a nonpartisan watchdog.
More than 15 months have passed since the U.S. Capitol riot of January 6, 2021, in which hundreds of people stormed the Capitol Building in Washington, D.C. More than 300 people have been accused of taking part in the riot, and the events have sparked an ongoing House investigation into former President Donald Trump, his family, his businesses and his allies.
Directly after the insurrection, the Senate held a vote to certify the 2020 presidential election results, with 147 Republican lawmakers objecting, claiming wide-scale voter fraud claims pushed by Trump.
The center-left watchdog group Accountable.US compiled data revealing that Home Depot made $360,000 in donations to at least 60 recipients, many of whom were lawmakers that objected to the election's results.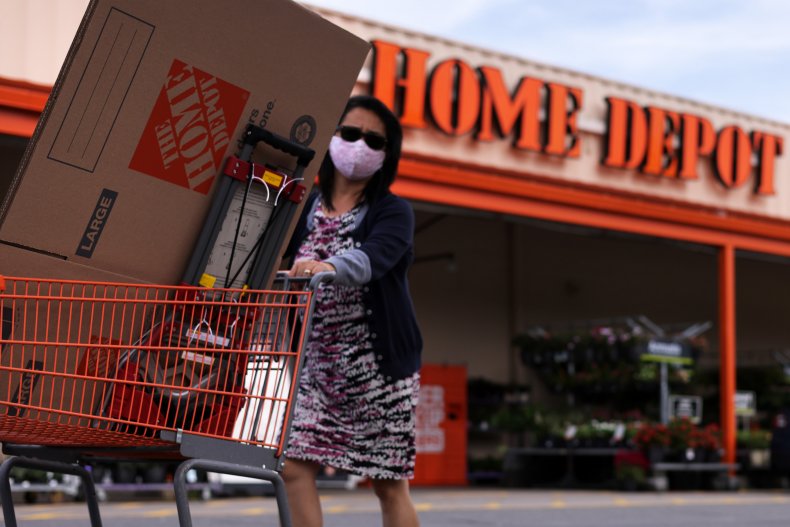 Now, calls to boycott Home Depot have made Lowe's a trending topic on Twitter.
Many spoke out on social media, with one user tweeting, "Home Depot is now the biggest corporate donor to Trump's & GOP's 2020 election deniers. Shop Lowes which has a loyal American president and organization."
Another Twitter user wrote, "I need a large purchase from Home Depot or Lowes. Which one is less trumpy?"
Another replied, "I don't shop at Home Depot because they donate to an a**hole. I go to Lowe's because they give me a military Discount. It's not much money it's the respect matters most."
In a statement to Newsweek, a spokesperson for Home Depot said, "Our associate-funded PAC supports candidates on both sides of the aisle who champion pro-business, pro-retail positions that create jobs and economic growth. For example, our associate-funded PAC is also one of the largest donors to members of the New Democrat Caucus and the Congressional Black Caucus."
In a recent Vice article, the publication reported that several Fortune 500 companies besides Home Depot also donated money to Republicans who voted against the election results. Deere & Company, which manufactures large agricultural equipment, reportedly donated more than $800,000 to lawmakers in March.
American Bankers Association PAC (BANKPAC) was listed as the second largest donor in the Accountable.US report, having donated $327,500, followed by the Boeing aerospace company and the National Beer Wholesalers Association Political Action Committee.
Many companies have been called out for their donations over the last year. Toyota was challenged last June for continuing to donate to Republicans who voted against the election.
The Japanese car manufacturer reportedly donated $55,000 in 2021 to 37 Republicans who objected to certifying the results and defended itself, saying, "Toyota supports candidates based on their position on issues that are important to the auto industry and the company. We do not believe it is appropriate to judge members of Congress solely based on their votes on the electoral certification."
Newsweek reached out to Home Depot for additional comment.