Home Depot, Georgia's Largest Company, Steers Clear of Election Law Fight
The Home Depot, which is based out of Atlanta and employs more than 400,000 associates as Georgia's largest company, has not directly addressed the state's new controversial voting law.
The bill, SB202, was signed into law by Governor Brian Kemp on March 25 and has been publicly denounced by other major Atlanta based companies such as Coca-Cola and Delta Air Lines.
"We believe that all elections should be accessible, fair and secure and support broad voter participation. We'll continue to work to ensure our associates, both in Georgia and across the country, have the information and resources to vote," Stephen Holmes, a spokesman for The Home Depot said in a statement to Newsweek.
"For example, we promoted voter participation in the last election through our internal Get Out The Vote initiative, confirming 15,500 voter registrations among our associates. In addition, we matched more than 1,800 associates with local opportunities to volunteer at polling locations across the country, including 600 technology worker volunteers in Atlanta to support complex technology issues and cybersecurity related to the election," Holmes added. "We also donated 9,200 plexiglass dividers across Georgia to help meet poll station safety requirements."
Holmes noted that the provided statement has been Home Depot's response when asked if the company plans to react or issue a statement in direct response to Georgia's voter law.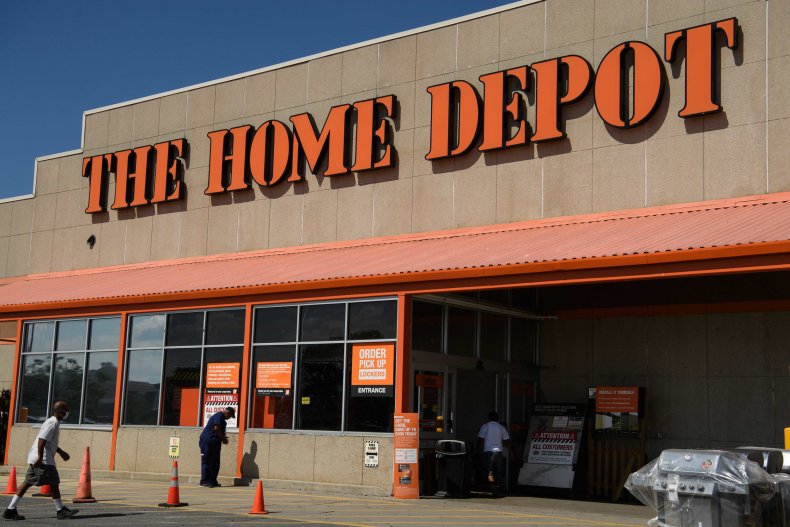 On Thursday, Georgia Bishop Reginald Thomas Jackson of the African Methodist Episcopal Church and other state religious leaders announced a national boycott of Coca-Cola, Delta Airlines and Home Depot planned to take effect on April 7, according to the Atlanta Journal-Constitution (AJC).
Although the CEO's of Delta Air Lines and Coca-Cola, Ed Bastian and James Quincey, directly denounced the election reform law prior to the announced boycott plans, it is clear that Jackson and other faith leaders are demanding more to be done from corporations.
Jackson said he hoped to speak with the CEOs of Delta Air Lines and Home Depot and that he spoke with Quincey on Zoom on Wednesday and that they plan to talk more, according to the Journal-Constitution. He also said that companies can avoid calls to boycott by stating their opposition to the new law, by demanding other state legislatures to not introduce restrictive voting bills and for corporate leaders to express their opposition and deny financial support to candidates and parties that support restrictive voting legislation.
Entrepreneur Arthur Blank, who co-founded Home Depot with Bernard Marcus in 1978, currently owns the Mercedes-Benz stadium under his company AMB Sports & Entertainment (AMBSE), which is home to the Atlanta Falcons and Atlanta United. He issued a statement regarding Georgia's new law through the Mercedes-Benz stadium's Twitter on Tuesday.
"Every voice and every vote matters and should be heard through our Democratic process in Georgia. The right to vote is simply sacred," Blank said. "We should be working to make voting easier, not harder for every eligible citizen."
He added that the leadership of AMBSE, which falls under his larger company AMB Group LLC and the Arthur M. Blank Family Foundation, conveyed the ideals in his statement to Georgia state officials in recent weeks and that his businesses and family foundation will support advancing voting access for not just Georgia citizens but also national citizens.
It remains to be seen whether Home Depot CEO, Craig Menear, and the company itself will take more action and directly respond to the controversial nature of Georgia's election reform law that has outraged not only Georgia citizens, but the citizens of the nation.