Is Home Depot Open Today? 4th of July Weekend Hours
Home Depot will be open on July 4, so your DIY projects and home decorating will not have to pause over the holiday weekend. Plus, there are deals to be had to help get your garden in order ahead of your celebrations.
While Home Depot is closed on Thanksgiving and Christmas, it is open for every other holiday, including Independence Day. Home Depot is generally open from 6 a.m. until 8 p.m., but stores may be operating with reduced hours over the holiday, depending on location, so check with your local store for its hours.
Home Depot July 4 Deals
If you're hoping to head to Home Depot for some last-minute July 4 shopping, the store has some deals on everything you'd need for an Independence Day celebration.
Home Depot has a sale on grills, with up to $100 off on brands including Weber, Royal Gourmet, Coleman, Vision Grills, and more.
Garden materials and decorations, plus power tools and lawnmowers are also on sale, for any last-minute garden maintenance needed before the big celebration.
There are also deals to be had on outdoor furniture including tables, chairs, couches, and sun umbrellas, so you can get your garden ready for a (safe, socially-distanced) July 4 barbecue.
If you're struggling to organize a July 4 get together with your family and friends—if permitted by your state to do so and with ensuring everyone follows safety precautions—Home Depot has a guide that may help.
Home Depot's How to Host a Backyard Garden Party guide is full of ideas and inspiration for hosting an outdoor party, from laying the table, creating the perfect lighting, setting up a grill, and playing music outdoors.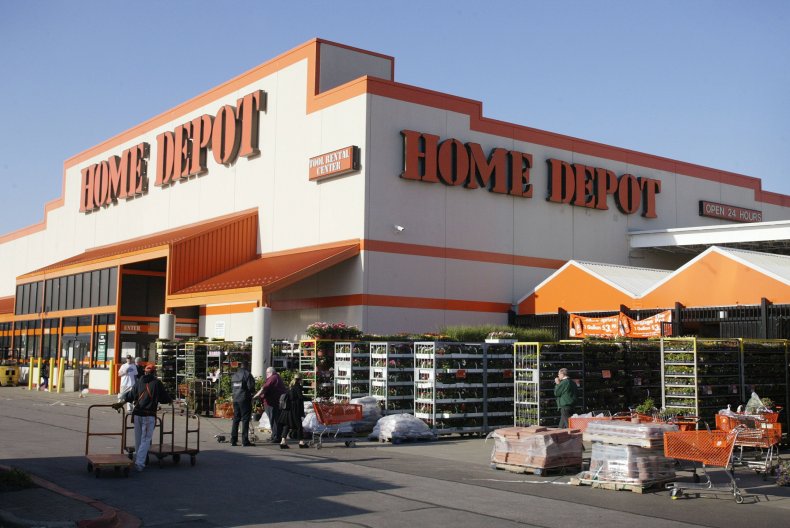 Home Depot Health and Safety Guidelines
To comply with safety guidelines during the coronavirus crisis, Home Depot is limiting the number of customers allowed to enter the store and has eliminated major promotions. The store is also encouraging social distancing with floor markings, signs, and plexiglass shields.
Home Depot is providing face coverings to its employees, who are also asked to use thermometers before reporting to work.
Home Depot has also adjusted its operations recently to encourage its shoppers not to enter its stores. The store is offering expanded, free curbside pickup at most stores, which can be arranged online. Additionally, Home Depot has expanded its delivery options for customers shopping online.
The DIY-store chain is also limiting services and installations to those that are essential for maintenance and repair needs. To find your local Home Depot store and enquire about their holiday hours, head to the Home Depot website.
Newsweek has affiliate partnerships. If you make a purchase using our links, we may earn a share of the sale.