Home Depot to Pay Highest Penalty Ever For Failing to Follow Lead Paint Regulations
Home Depot is set to pay $20.75 million after reaching a settlement for allegedly violating rules concerning lead paint safety.
The Department of Justice (DOJ) and the Environmental Protection Agency (EPA) announced the settlement, the largest ever under the Toxic Substances Control Act of 1976, on Thursday. In addition to the monetary penalty, the company will also be required to conduct "a comprehensive, corporate-wide program" to verify that contractors and firms it hires in the future are trained and certified to conduct work under lead paint safety guidelines.
"Today's settlement will significantly reduce children's exposure to lead paint hazards," Susan Bodine, assistant administrator for the EPA's Office of Enforcement and Compliance Assurance, said in a statement. "Home Depot will implement system-wide changes to ensure that contractors who perform work in homes constructed before 1978 are EPA-certified and follow lead-safe practices. EPA expects all renovation companies to ensure their contractors follow these critical laws that protect public health."
Newer homes are not affected since lead paint was banned for residential use in 1978. However, renovations or repairs in homes built before then can pose considerable health risks because lead chips or dust can be produced by disturbing the paint if safety guidelines are not followed. Lead poisoning is particularly dangerous to children, potentially causing serious development disabilities in those exposed. In extreme cases, seizures or death can occur.
A Home Depot spokesperson told Newsweek that the EPA contacted the company about the issue around five years ago. Home Depot immediately implemented a safety program, including an online portal to help contractors follow EPA rules and submit documentation, while also contacting customers believed to be affected.
"These instances do not represent our high standards and expectations," the spokesperson said. "When we found out about this, we moved quickly to contact all customers who might have been impacted and we significantly strengthened our lead safety systems and approach."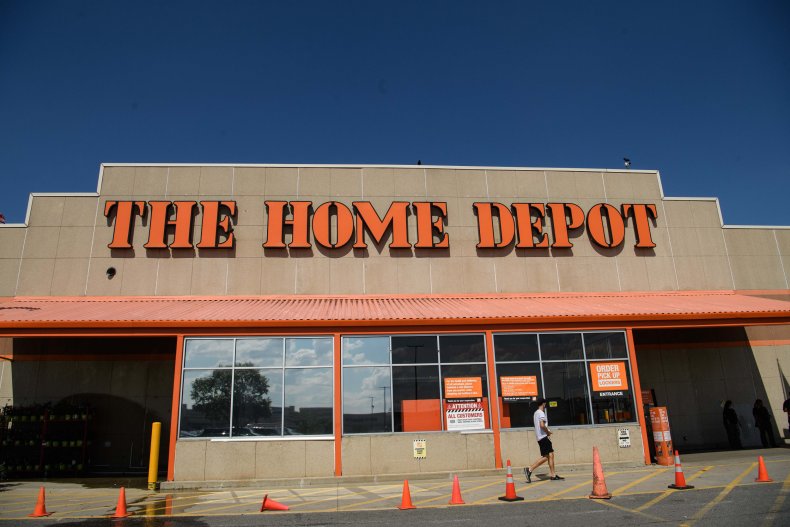 The EPA said that the alleged violations were discovered after receiving complaints from five Home Depot customers, all living in separate states. Some of the firms hired by Home Depot to work on the customers' homes did not follow safe work practices, maintain adequate records or provide customers with mandatory EPA pamphlets on lead paint safety. A subsequent review discovered that additional contractors and firms hired by the company throughout the country did not have the required training and certification to work in older homes.
"These were serious violations. The stiff penalty Home Depot will pay reflects the importance of using certified firms and contractors in older home renovations," said Jonathan D. Brightbill, principal deputy assistant attorney general of DOJ's Environment and Natural Resources Division. "Contractors hired for most work in homes built prior to 1978, when lead based paint was in widespread use, must be certified. These contractors have the training to recognize and prevent the hazards that can be created when lead paint is disturbed."
Out of the $20.75 million settlement, Utah will receive $750,000, Massachusetts will get $732,000 and $50,000 will go to Rhode Island. All three states had joined the government in taking legal action against Home Depot.