'Home Game' on Netflix: The Brutal History of Florence's Calcio Storico
Home Game is Netflix's latest hit documentary, each episode of which features another weird and/or violent sport played in a different area of the world. The first episode of the series focuses on calcio storico, a form of football played in Florence, Italy that the streaming service describes as "rugby meets mixed martial arts."
Calcio storico ("historical football" in English) is a game whose history dates back from the 16th century. The game was once widely played, with even various Popes taking part. Though some historians believe the game originated on Florence's Piazza Santa Croce, it was played all over the city, including on a frozen river on at least two occasions when the river Arno froze over.
Though the game dates back at least 500 years, it may have an even more storied history. Some have speculated that the game is a version of the Ancient Roman game of harpastrum, another violent ball game that itself might be adapted from the Greek game episkyros, which was played at least as far back as the 4th century BCE.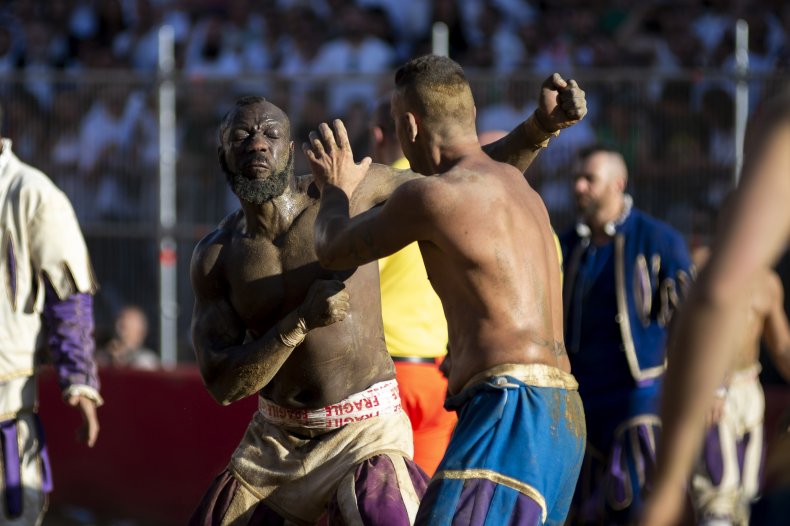 In modern times, the game is played in June, with the finals played on June 24, the feast day of St. John the Baptist. The city has four teams, each representing a neighborhood of Florence: The Azzurri (Blues) of Santa Croce, the Rossi (Reds) of Santa Maria Novella, the Bianchi (Whites) of Santo Spirito and the Verdi (Greens) of San Giovanni.
The rules are as follows: Each team has 27 players, whose job it is to make their way past all of the players in the other team and score a "caccia" by throwing the leather ball into the rival team's trough. The game lasts 50 minutes and is played in deep sand, which prevents anyone from moving too fast. Calcio storico is played by players in a version of historical costume.
The fact that the game is also known as giuoco del calcio fiorentino or "Florentine kicking game" gives viewers some idea of what to expect from the violent brawl/ball game. Though there are rules set to prevent injuries, like a rule that means that multiple team members cannot attack a single player, a number of martial arts are allowed to be used in the process of scoring a "caccia."
Though it has been a long time since the game has caused an actual death, some of the nastier injuries have put people in the hospital for months, and National Geographic noted that one player ended up having to have their spleen removed after playing. And though there are rules against mass brawls, this does not always stop them from happening: In 2007, a fight got so bad that 50 of the 54 players ended up in court and the sport was banned for a year.
Home Game is streaming now on Netflix.
'Home Game' on Netflix: The Brutal History of Florence's Calcio Storico | Culture