The successful (and at times controversial) return of Roseanne has TV fans thinking how best to resurrect other favorite working-class sitcoms of the 1990s. And, of course, at the top of that list is Home Improvement.
Roseanne is back on TV, nearly 20 years since the first run of the show went off the air in 1998. So Tim Allen's classic comedy, which aired on ABC from 1991-1999, seems primed for a revival, too. And if Home Improvement were to actually come back, it would follow Roseanne's lead and give one of its main characters a turn to the right—that is, if comedian Joe Mande had any influence on the script.
A fantasy reboot script written by Mande was shared on Twitter Monday by Patton Oswalt. In the episode, billed as the pilot, the comedian depicts none other than Jonathan Taylor Thomas's character Randy Taylor as a member of the alt-right.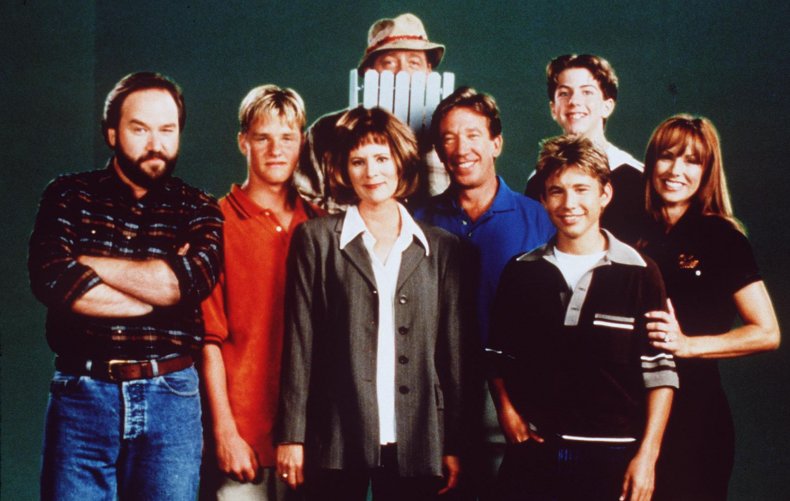 The script features a scene in which Tim Taylor (Allen) finds his middle son, Randy, gearing up for some white nationalist revelry at an upcoming rally. The Tool Man walks in on Randy assembling a tiki torch in the garage as he's trying to memorize "14 words" for the rally: "We must secure the existence of our children and a future for white children."
In typical dad-joke fashion, Tim responds to his son's white supremacist speech with some musing about Rally's cheeseburgers, after which Randy coyly explains he isn't referring to a fast food joint. "Didn't mom tell you? I'm alt-right now," Randy says.
In the script, Tim appears to be pleased with his son's newfound motivation to make America great again and tells Randy he's "proud" of him for "believing in something."
The return of Roseanne found big ratings as viewers found Roseanne Connor emulating her creator, Roseanne Barr, and her right-wing, President Donald Trump-loving tendencies. That success has spurred chatter about whether a trend of old all-white-cast TV shows featuring Trump supporters is in the offing.
But if Home Improvement were to return, it would seem unlikely for Randy to become the show's resident white nationalist. (Our money's on Randy's meathead older brother, Brad.)
When the show originally aired, Randy seemed to be heading down the liberal path. Not only was his character uninterested in the hypermasculine, alpha-male, doofus rhetoric more common to Tim; Randy was also more artistically inclined than his brothers Brad (Zachery Ty Bryan) and Mark (Taran Noah Smith), appearing in school plays during his younger years and writing for the student newspaper about issues such as environmentalism and political corruption. And lest we forget, Randy nearly denounced his religion in a Season 7 episode that aired in 1997, which was a major problem for Tim.
Needless to say, the lack of shared interests between Tim and Randy was the cause of much strife in the Taylor household—and sitcom hijinks for viewers.
But considering Thomas's character was only 15 and still in high school when Home Improvement ended, there's always a possibility college and life events could have influenced him to radically alter his politics.
Mande did not respond to Newsweek's request for comment about his Home Improvement spec script.