'I'm Converting a Double Decker London Bus Into A Home'
Before I bought a double decker London bus, I completed another unusual property project. My dad has a caravan park and we had an old caravan and an old shipping container, so I created a container house where I stuck them together; it was a botch job really! On the outside it looked really awful, but when you walked through the door the interior was absolutely gorgeous. I knocked all the walls down and converted it into a one bedroom apartment with a black kitchen, wooden worktops and a beautiful bathroom.
It was situated in a woodland area on my dad's land in north Wales, but the local council didn't like that and it was so old and thrown together, that moving it around would have caused it to deteriorate. So I left that space and moved back in with my mom and thought about what type of property I could work on next. I was looking at windmill houses and Victorian homes with a lot of character. I found one house nearby that has a dungeon style basement. I even knocked on the door and asked to look around. I'm friends with the owners now, we chat all the time.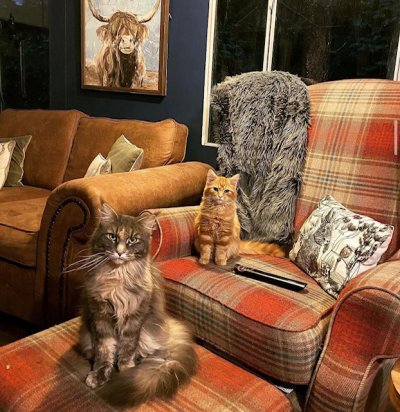 Then, at the beginning of 2021, my partner was scrolling through TikTok and saw a double decker bus that had already been converted. He showed it to me, and I decided that was what I was going to do next. I don't think he quite believed me!
From there, I started searching for buses. I'm a delivery driver so I knew of a vehicle garage close to me that had quite a few double decker buses. I popped in to see if they had any for sale, and they rang me a couple of days later saying they had a double decker London bus I could look at. I bought it in April for a bargain price of $4,360 (£3,250). It only had one tiny leak where I think a branch had hit the top corner; inside was immaculate.
I found a place to keep it during renovations for just $135 (£100) a month rent, and my first task was removing all the seats and lights. There were lots of poles everywhere and everything was old, so there were strange star-shaped screws which were a nightmare to remove and took a while, but my partner would pop over and help because he worked at a building next door to where it was situated. We got the seats taken away by scrappers and then we jet-washed the entire bus, inside and out. I was shocked by the amount of filth that came out; seeing the dirt flow down the stairs was horrible.
I was in a couple of Facebook groups for double decker bus conversions and I spoke to a guy who suggested putting solar panels on the bus. He came and did all the work installing them for about $2,700 (£2,000).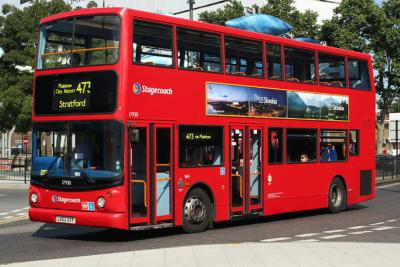 Upstairs, we discovered the floors were uneven because of the seats, so a friend came and put wooden boards on top with expanding foam underneath, to level out the floor. Then I had to start thinking about insulation. I bought loads of 25mm insulation boards with foil on them and I drilled them into the wall. It was a big job, and afterwards I realized we still needed to put the electric wiring in, so I had to find a way to work around that.
At the beginning of October, I moved the bus to a prettier space a bit closer to my mom's home. It's more of a forest area, hidden off a main road and we can connect to mains here, so my electrician has come in to update the bus so it can be powered by both solar and electricity.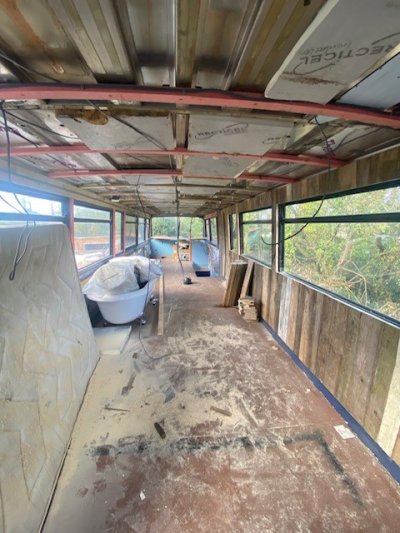 We've saved a lot of money by reusing wood my dad had leftover from other projects; a lot of it is being used for the interior walls. I've also ordered an eco-friendly woodburner stove which we're installing in the next few weeks. The space is going to start coming together really soon.
Some of the design of the interior is based around reusing parts of my container house. I'll use the same black kitchen and wooden countertops along one side of the first floor of the bus. Then, on the other side I will have a cupboard housing the batteries and then a toilet and shower. It's going to be a very open plan space. The shower will almost be in the lounge area with a glass screen. I think it will look cool, and if it doesn't, I can change it.
At the back of the first floor there will be a long sofa and a table. The ceilings downstairs are a lot higher, so I was thinking of making a table on rope that you can wind up so it sits on the ceiling. You only sit at the table for an hour of the day so I don't see the point in there being a table there all the time.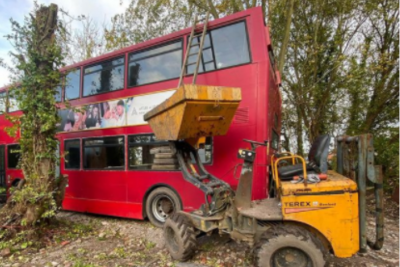 Upstairs will have a seating area at the front to make use of the large window there, and there will be lots of wardrobe space and the boiler from my last project. We'll have a freestanding bath in the middle of the room, then a partition wall so we have some space for storage, and then the bed. The rest will be open plan, and I have three cats and a dog, so I want the bed to be quite hidden away and cosy.
My dad and I did the plumbing for my container house project ourselves, so connecting water will be really simple, except the boiler which I will get someone else to do. The land we are on now had a cottage on it previously and still has all the water and sewage systems, we just need to connect them, but if I found that we were on the road more than we were parked, I would then install a water tank into the bus.
I've spent about $5,400 (£4,000) on top of the cost of the bus so far, but I think altogether I'll spend about $20,000 (£15,000). If I had to buy everything I'm using from the container house again, it would still only cost about $27,000 (£20,000) in total.
I met my partner in November 2020, and in January 2021 I told him that I wanted to start an OnlyFans. He was really supportive and normalized it all. I try to make $1,350 (£1,000) a month from OnlyFans so it's like earning a normal salary, and all the money goes straight into the bus renovation, so I don't feel like I actually have a lot of money! I can't wait to get to the stage where I stop spending money on the bus and can start enjoying it.
I'm living at my mom's now and I want to be living in the bus permanently by Christmas. It's nice to know that I will have options. If I don't like where I'm living, I can just go somewhere else for a year. I do think I thrive off creating or renovating weird, quirky homes. I'd love to buy an American school bus in the future and convert it to make travelling a bit easier. You can't take a double decker bus everywhere because of the height restrictions.
Even when I've completed converting this bus, I think I'm going to do it again, perhaps just to sell to someone else. This project has opened my eyes to different opportunities.
Hayley Rowson is converting a double decker London bus into a home. You can follow her on Instagram @londonbushome or TikTok @hayleyrowson.
All views expressed in this article are the author's own.
As told to Jenny Haward.