'At Home With Olaf': How to Watch the 'Frozen' Inspired Shorts For Your Stir-Crazy Kids
While a lot of Disney movies are now sequestered behind the Disney Plus streaming service paywall, a new series of shorts starring the snowman Olaf is bringing the Frozen universe to anyone with access to YouTube.
Created by Disney supervising animator d and voice actor Josh Gad, At Home with Olaf puts the living snowman in the same isolation as its viewers, many of whom are sheltering in place in response to the ongoing coronavirus epidemic.
You can watch the first episode of At Home with Olaf, "Fun With Snow," right here:
In "Fun With Snow" Olaf is busy chucking snowballs and keeping himself amused when a miniature "snowgie" shows up and accidentally gets his head tossed instead. Don't worry, it all works out—At Home with Olaf isn't about the same high stakes as Frozen or its sequel.
For anyone who has been literally frozen for the past decade, Olaf first appeared in Disney's 2013 movie Frozen. As a child, Princess Elsa of Arendelle (Idina Menzel) used her magical ice powers to bring a snowman to life for her and her sister Anna (Kristen Bell) to play with. As an adult, Elsa accidentally freezes all of Arendelle. While searching for her sister, to urge her to restore summer to the kingdom, Anna comes across Olaf, who has been returned to anthropomorphized life by the ongoing magical winter. Olaf journeys with Anna and Elsa back to the kingdom and continues to be a part of their lives in the 2019 sequel, Frozen II.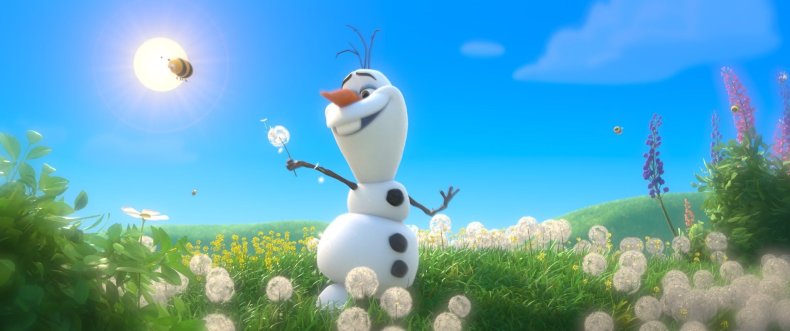 Using existing character models and backgrounds, Osmond is animating the new shorts while working from home, while Gad is contributing the new voice work, also from home.
At Home with Olaf is part of a plethora of small releases from the animation giant, which Disney is advertising on social media using the hashtag #DisneyMagicMoments. The bite-sized projects include Disney movie-inspired video call backgrounds, virtual rides of the "It's a Small World" amusement park attraction, celebrity kids' book readings and drawing tutorial from Disney animators, including where Osmond teaches how to draw Olaf.
Disney is describing the shorts as an "all-new original Disney Animation digital series." More entries in At Home with Olaf are expected, and will be released to the Walt Disney Animation Studios YouTube channel.
New episodes of At Home with Olaf will be released every day this week.