'I Was Homecoming Queen 28 Years Ago—I Just Married the Homecoming King'
Greg and I both went to Montclair State University in New Jersey, but we didn't really know each other. He was a fraternity boy and I was a sorority girl so we went to the same parties, but I had a boyfriend and he was dating my best friend from high school, so it wasn't in the stars for us. Also, he was a sweetheart and a nice guy, but a real party animal.
I remember that our senior year homecoming in 1992 was the first time I actually noticed he was cute. The night before homecoming the finalists for king and queen had been announced so the next morning we rode in a parade in convertibles doing a "royal wave" to everyone as we passed. I remember looking back, because Greg was in the car behind ours, and thinking, "he's pretty cute!" But I left it at that.
When they announced homecoming king and queen, Greg and I won, but we were crowned on opposite sides of the announcer on the 50-yard line at the football stadium. We then celebrated with our own friends that night and really just went our separate ways. I didn't see Greg again for 27 years.
I think after college, he and I both conformed to society's expectation that you have to get married and have kids at a certain age. So by 2016, Greg was in New Jersey, married with five kids, and I was in New York, married with two kids. But I think neither of us were with the right people and so we both ended up divorcing our partners that same year.
After you get divorced, many people feel they have to get back "out there" again and so we were both actively dating. But by February 2019, I was almost at the point of giving up dating altogether. I was approaching 48, looking for a guy who could be a good role model for my two sons, and I just wasn't coming across that.
One night, I was out with my girlfriends and I'd had a few glasses of wine. When I got home I took out my phone and started swiping through a dating app right before bed. I was swiping and I came across Greg, but I didn't recognize it was the same Greg from college because he had a goatee in his pictures.
Luckily, his profile pictures didn't include a gym picture or a bathroom selfie, and there were no pictures with an ex-girlfriend's face blurred out. But there were pictures where he was surrounded by children—at first I wondered if he was a school teacher! But, of course, it was his five kids in the photos. I think other women might have been put off, but to me it was endearing.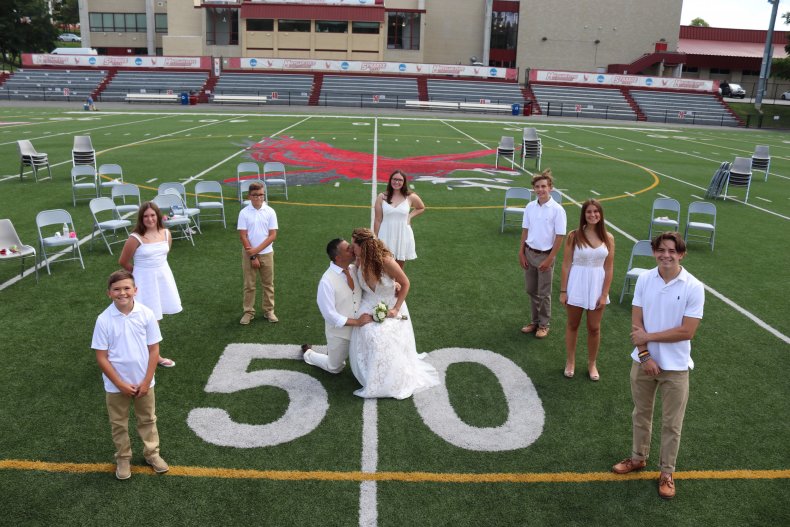 The moment Greg saw we had matched, he reached out to our mutual friend Phil from college and asked whether the Janet he had matched with was the same Janet from college. Phil told him it was me, and that he should, "go and get his queen!" That was when Greg remembered we had been crowned homecoming king and queen all those years ago.
He reached out to me on Facebook messenger separately and that night we ended up going to a bar, sitting in a booth and just talking all night. It was like no time had passed and we were catching up in the college cafeteria—we just hit it off so naturally. We wanted to know everything about each other, but there wasn't enough time. The chemistry—it's corny to say—but it was just magical.
Greg walked me to my car at the end of the date, opened the door for me and said he'd like to see me again. Then he leaned in and kissed me and it just felt so right. I do get emotional when I think about that, because it feels as though finally the universe put me with the person I was supposed to be with.
Greg is super romantic and he actually went on Facebook afterwards and wrote about our first date. It's very out of character for him to be so public, but he wrote about how he had to share that the homecoming king and queen of '92 had got together for a date. Our college friends all thought it was great, they couldn't believe we had reunited.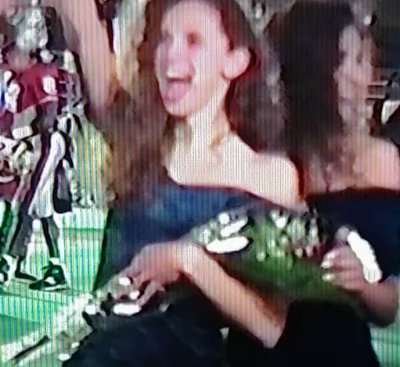 He also said he was hoping I'd give him a chance for date number two. We went out again and he posted again about our second date, which was so cute. He puts this stupid grin on my face, and I haven't been able to wipe it off for more than a year now.
Greg proposed to me on April 5 this year—almost exactly a year after we had our first date. We quarantined separately with our respective kids in New York and New Jersey, and after the two weeks of quarantine, I went to see Greg at his house on the morning of April 5.
There is a swing out in front of his house, and Greg told me that one of his sons had to show me something outside. Greg and I were sitting on the swing and the kids all came out. All of a sudden Greg's youngest son held up a boombox and there was a song playing that I'd sent to Greg on our third date—Ed Sheeran and Taylor Swift's Everything Has Changed.
Greg made me turn around to face the street, and a procession of cars was driving past, with every car showing a different word on a sign. It spelled out "JANET WILL YOU MARRY ME, YES OR NO?" He had contacted people from both of our families to do a drive by procession.
The moment I saw my children were part of it and had accepted this, I began to cry. I looked over at Greg and he knelt down and asked me to marry him. It was just beautiful, and of course I said yes. Sadly, the rest of the family had to stay across the street, so we had to wave our thank yous!
After that, we were thinking about where we were going to get married, when one weekend Greg suggested we marry on the 50 yard line at Montclair State University. I just thought it was an amazing idea. I loved the thought of taking it back to where our relationship sort of started, as homecoming king and queen.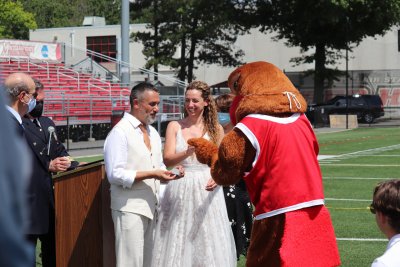 Montclair State really bent over backwards to make the wedding work for us. They wanted to help with chairs and tents and even wanted their mascot to be a part of it—so he became our ring bearer.
We married August 1 with about 65 guests. We managed to do it all socially distanced thanks to the way the college had helped us to set everything up. They gave us a podium and a PA system, and the local Chief of Police who officiated our wedding did an amazing Star Wars themed monologue, because Greg is a huge Star Wars fan. We went to a restaurant in an airline hangar for the wedding breakfast so we had lots of space.
I remember stepping back on to that field again, 28 years after being crowned homecoming queen, about to marry the homecoming king. My 88-year-old dad walked me "down the aisle" and told me he was so proud and happy. Then, to see Greg waiting for me, standing there surrounded by everyone we love was just overwhelming. I realized that this was what getting married should feel like, because I was finally with the right person. Stepping on to that football field, I just had this feeling of "this is where my life begins."
It's tough finding that right person, but I would say to people not to settle. Put yourself out there, but know what your core values are and find someone who has similar values. I think it's important to know what you want, and what you don't want, and to stay true to that.
Love exists for everyone, so don't lose hope—it took me 27 years to find the right person.
Janet and Greg Dabice live in New Jersey with their seven children. They married in 2020, 28 years after they were crowned homecoming king and queen at Montclair State University.
All views expressed in this piece are the writer's own.
As told to Jenny Haward.