'Homecoming' Recap: What Happened in the First Season of the Amazon Prime Video Show?
Homecoming Season 2 drops onto Amazon Prime Video on May 22, with a new set of episodes that go deeper into the covert operations of the Geist Group, a shady wellness corporation established in the first installment.
In Season 1, Julia Roberts plays Heidi Bergman, a therapist at Geist's Homecoming facility. This centre helps veterans not only manage their post-traumatic stress disorder, but actually claims to be able to cure it.
This therapy has a number of steps. The patients engage in therapy with people like Heidi, do improvisations that allow them to prepare for situations in civilian life, and take an experimental medication.
We meet Bergman in two different timelines: In the past, where she is working at Homecoming and befriending her patient Walter Cruz (Stephan James), and in the present, where she is working as a waitress in her home town and can remember very little about her time at the facility.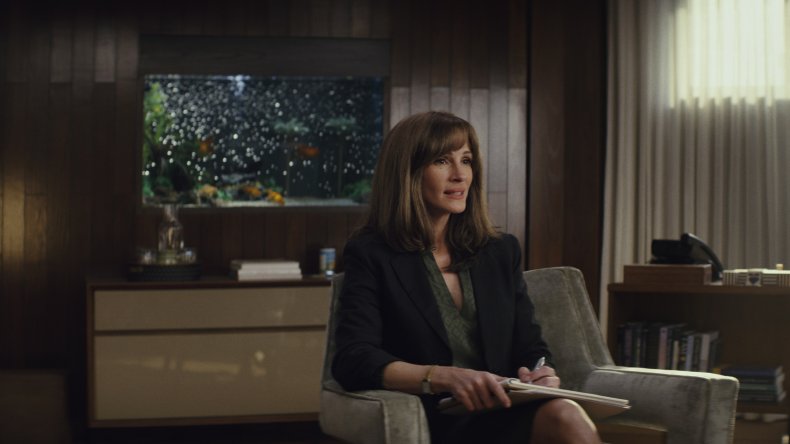 In the past timeline, she begins to notice something weird might be going on. In an early session with Cruz, he tells her a story about "Titanic Rising," a fake movie sequel his troop dreamed up as a prank on one of their comrades. However, in a later session she jokes about this and he seems to have no memory of it.
Digging deeper into the mystery, she finds out that the talk therapy and roleplaying sessions are all a smokescreen for what is really going on. Geist is developing a memory-erasing medication that helps soldiers forget their traumatic memories not to get them ready for civilian life but to redeploy them into the military.
Finding this out, she gives Cruz an overdose of the meds which forces him to be sent home and out of harm's way. She also doses herself with the medication so that she too can move on from her time in the program.
However, when she reconnects with former co-worker Colin Belfast (Bobby Cannavale), she starts to remember what happened and goes on the hunt for Cruz. She finds him, but he seems to have no memory of her. However, he then seems to leave her a sign that he remembers their time together as he leaves a piece of cutlery in the diner they are in askew. When she was his therapist, he would deliberately move objects around to wind up the straight line-obsessed Heidi, so this seems to suggest he remembers the program.
James is set to return in Season 2, so viewers will then get to find out exactly what he knows, and discover if he is able to expose the Geist Groups' true intentions in a way that Heidi could not.
Homecoming Season 1 is streaming now on Amazon Prime Video; Season 2 is coming on May 22.