'Homecoming' Season 2: How the New Season Links to the First One
Homecoming Season 2 is coming to Amazon Prime Video on Friday, May 22. The first season focused on therapist Heidi Bergman (played by Julia Roberts) working in the Homecoming Transitional Support Centre, treating post-traumatic stress disorder in veterans.
Bergman is gone from Season 2, which focuses on Jackie (Janelle Monae), a woman who wakes up in a fishing boat with no memory of how she got there.
Though Homecoming's latest episodes have a new character at their center, some characters from the first season return to link seasons 1 and 2. Prime among them is Stephan James' Walter Cruz. A patient at the Homecoming Facility in Season 1, Season 2 sees the character out of the facility. He crosses the path of Jackie when he gets involved in a new program.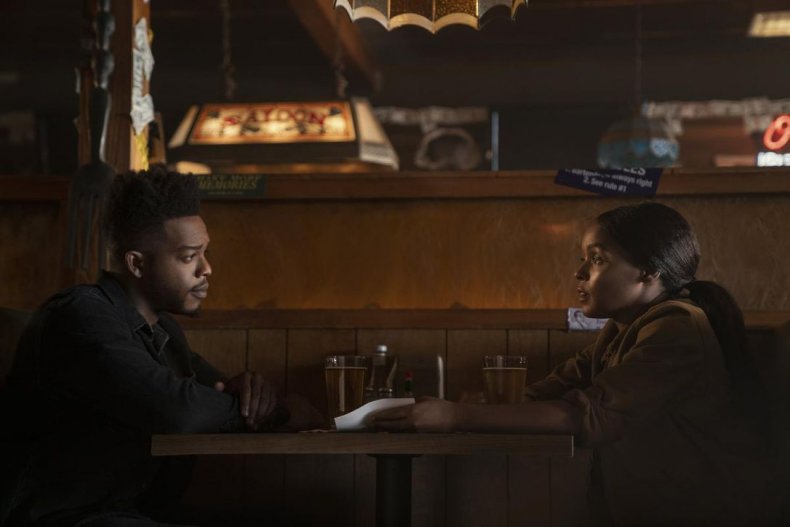 James said of his role in the show during a TCA press tour: "Season 1 was so interesting to me, we didn't get to see the full scope of Walter Cruz and now he's introduced to you as who he really is. It brings an identity and humanity to Walter that was missing in the first season. We're not in the confines of this facility, it's Walter on a new journey and mission to figure out what happened to him."
Cruz is not the only character to return. Hong Chau's Audrey Temple also comes back in Season 2, at which point she has had a promotion and is working her way up the ranks of Geist Group, the wellness corporation behind the Homecoming facility.
As this suggests, Season 2 will extend its reach from just the Homecoming facility to the Geist Group's entire business. This leads to the introduction of another character in the new episodes: Leonard Geist, the founder of the company, played by American Beauty star Chris Cooper.
At the TCA event, Homecoming co-creator Michael Bloomberg said: "Season one came out of the podcast, this season is much more expansive in terms of locations. We're not as contained in the facility."
He also noted that Season 2 is set after the events of Season 1 and deals with the fallout from them. In the finale of the last season (spoilers ahead) Heidi finally finds Walter after she doped them both with memory-erasing drugs. He cannot remember her when they meet until right until the end, when he leaves a sign that can be interpreted as a signal that he actually remembers what happened at Homecoming. Exactly what he knows, however, viewers are sure to find out in the new season.
Homecoming Season 2 is released by Amazon Prime Video on Friday, May 22.