Homeland Security Deputy Secretary Cuccinelli Criticized for Asking Twitter Where to Find Coronavirus Information
Homeland Security Acting Deputy Secretary Ken Cuccinelli came under fire for asking Twitter if others had trouble accessing Johns Hopkins University's COVID-19 coronavirus map Monday.
"Has the Johns Hopkins map of the coronavirus stopped working for other people, or just me?" Cuccinelli wrote, including a link to the map. "I just tried again, and it looks like Johns Hopkins put the information behind a membership wall of some kind. Seems like bad timing to stop helping the world with this (previously) useful resource. Here's hoping it goes back up soon."
Cuccinelli's tweets garnered hundreds of replies, with the vast majority displaying disbelief that a government official would ask the public where to find information on the coronavirus.
"Thanks for inspiring confidence. Shouldn't YOU GUYS have a map of this? Shouldn't the CDC? You know who they are, right? Isn't there anyone in charge of response to this? Or did someone colossally stupid eliminate that position?" columnist Max Burbank asked.
"There is literally an ENTIRE FEDERAL AGENCY working for you that you could ask to provide you and all Americans with the latest information on the Coronavirus," historian L.D. Burnett wrote.
Professor Howard Forman expressed disbelief at Cuccinelli's original tweet, but did provide a list of alternate resources from the World Health Organization and the Centers for Disease Control and Prevention.
The Johns Hopkins University coronavirus map appears to be working normally, as of 5 p.m. ET Monday. However, other Twitter users confirmed that the site was asking for a login earlier in the day. The official Center for Systems Science in Engineering at Johns Hopkins Twitter account said that its site's dashboard was down earlier Monday due to high traffic.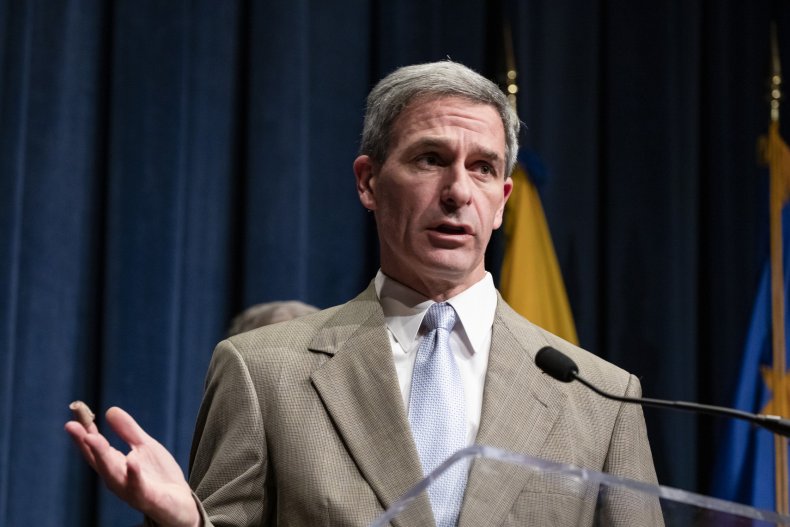 The outbreak of COVID-19 started in Wuhan, China, but has spread to every continent but South America and Antarctica. Worldwide, over 78,800 people are confirmed to have been infected, with most cases—roughly 77,042—in China, according to WHO. As of February 23, 2,445 have died from the disease in China, and an additional 17 have died outside of the country.
South Korea has the second-most cases of COVID-19, according to a new report. In the country, there are over 700 confirmed cases, with seven dead. President Moon Jae-in has raised the country's threat level to "grave," the highest level since 2009, after an influenza outbreak that killed over 260. The increased threat level allows the government to limit public transportation, lock down cities, close schools and block flights to and from the country.
"The COVID-19 incident faces a grave turning points," Moon said. "The next few days will be crucial. The government will raise the alert level to the highest level of 'grave' according to experts' recommendations and drastically strengthen our response system."