Homeland Security Launching Program to Test DNA of Some Migrant Families in Effort to Prevent 'Recycling' of Children to Speed Up Asylum Claims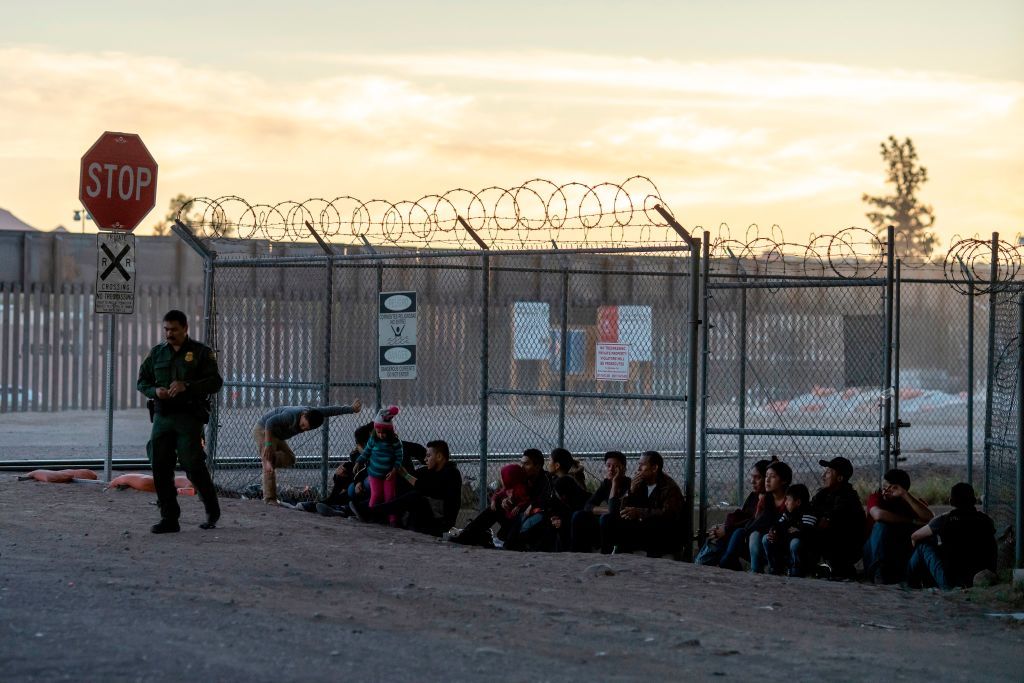 A new pilot program by the Department of Homeland Security looks to reduce the amount of family fraud reportedly occurring along the U.S.-Mexico border.
According to a report from the Arizona Daily Star, the Yuma sector of the border saw more than 700 cases of individuals claiming to be family members since October 2018. But, the newspaper said, the claims were a small percentage compared with the 24,200 members of migrant families that have been apprehended in the area from October to March 2019.
Federal officials told the Star that approximately 3,100 fraud cases had occurred border-wide since April 2018.
Some cases uncovered by the Star's investigation included two Mexican men paying $260 each to obtain Guatemalan birth certificates for a Guatemalan man and a Guatemalan minor who shared the same last name. The men entered the U.S. at the San Luis port of entry said they were looking to travel to Nashville, Tennessee, to find work, but after the certificates were determined to be false the men were both sentenced to serve 30 days in federal prison.
Another case saw a man, Maynor Velasquez Molina, charged with human smuggling after he paid a Guatemalan family $130 to use its 8-year-old son and pretend he was his own child. Velasquez also paid another $130 to have a birth certificate forged for the child. Four days later, agents determined the child was not Velasquez's son.
Velasquez told Homeland Security Investigation agents that "he had looked for a child in Guatemala to cross the United States/Mexico international border, as he was told it was easier to get into the United States with a child," the Star said, citing a report written by a special agent.
Last week, another case of family fraud was reported in the El Paso sector, and it was discovered the child had been used by migrants on two other occasions, the El Paso Times reported.
According to Border Patrol, smuggling groups "recycle" the children to profit from the fraud.
"These groups have no concern for the welfare or safety of the children and family groups being smuggled to the Southwest Border. The U.S. Border Patrol has continuously warned about the existence of this type of illicit activity and exploitation of minors," Border Patrol said in a statement.
The use of children to ease the immigration process prompted the announcement of a new pilot program from President Donald Trump's administration where families who cross into the U.S. will be tested using Rapid DNA detection to determine that those individuals presenting as families are indeed related.
According to CNN, which first reported the news, the testing process used would generate results in about 90 minutes.
The program is expected to launch soon at two or three locations along the U.S.-Mexico border and run for a few days.
"This pilot will help us determine whether this technology can strengthen our investigative processes and potentially rescue more children from dangerous situations," a DHS official told The Washington Post, speaking on the condition of anonymity.
But the program has generated concern as some children and adults who believe they are crossing with blood relatives might be separated if test results don't reveal a familial relationship.
"We have one case of a child who said, 'That's my dad,' but didn't know he was the stepfather. That's very different from being smuggled by a human trafficker," Jennifer Podkul, senior policy director at Kids in Need of Defense told The Post, adding that families with unconventional relationships—such as legal guardians, step and adopted children—could be separated.
DHS officials said that DNA testing would be just one way of determining a relationship among individuals claiming a familiar tie. Other reports have indicated that interviews with family memers can reveal fraud when answers to questions were inconsistent.
There were also no plans to bank or share the DNA gathered, Immigrations and Customs Enforcement acting Deputy Director Derek Benner told CNN.
"This is part of a larger investigative process. This is not screenings, this is not just random application of this, this is a pilot designed to assess the usefulness of this technology in an investigative process," Benner said.