'Over My Dead Body' Will Trump Admin Get Undocumented Immigrants' DMV Information, N.Y. Governor Andrew Cuomo Says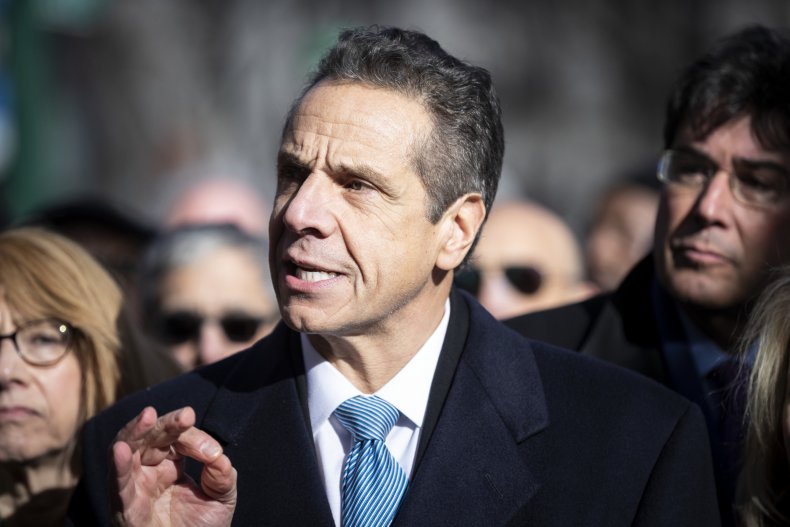 New York Governor Andrew Cuomo is seeking to end the impasse between his state and the U.S. Department of Homeland Security, which had suspended participation in expedited security check programs for New York residents over a law protecting undocumented immigrants.
Speaking on radio station WAMC Friday, Cuomo floated a compromise where department officials would be able to access the state's Department of Motor Vehicles database, but with the social security field redacted.
New York's 2019 Green Light law allows undocumented residents to obtain a driver's license and prevents immigration agents from accessing the database absent a court order.
DHS responded to the law in early February by terminating enrollment in the travel programs for New Yorkers, claiming that the Green Light law's restricted access prevents the department from verifying applicants' eligibility.
The affected programs—Global Entry and other Trusted Traveler benefits—are membership services that provides expedited passage through security and customs lines at airports.
Because social security numbers are available to citizens and permanent residents, entries in the DMV database lacking social security information could be used to identify an undocumented resident.
"I would give them anything but the social security numbers," Cuomo said Friday. "The social security numbers are the indicator of documented or undocumented. And I will never give them the social security numbers in the DMV database. Over my dead body will I do that."
Shortly after DHS announced its decision, New York Attorney General Letitia James filed a federal lawsuit seeking to block the move, calling it a "political weapon."
"New Yorkers will not be held hostage by an Administration intent on restraining the sovereign rights of states, while it simultaneously enacts discriminatory policies across the country," she said.
James and others have contended that the federal government has access to all the information it needs to verify eligibility for Global Entry.
BuzzFeed recently obtained a draft internal memo purporting to outline ways DHS could punish New York for restricting DMV database access. In the memo, a senior department official wrote that, were it to choose to obtain New York's information indirectly through more cooperative states, it would send a "message" that other states could decide to withhold information "without a consequence."
A DHS spokesperson told BuzzFeed that acting Secretary Chad Wolf "did not consider the draft recommendations in his decision making."
Around 80,000 New Yorkers are in the process of joining the travel programs and will be immediately denied access, according to DHS. As current enrollees see their memberships expire, an additional 175,000 residents will be kicked out by the end of 2020.
Update: In response to a request for comment, a DHS spokesperson pointed Newsweek to the following tweet: