Homeland Security Office 'Rife With Offensive and Racially Hostile Behavior,' Federal Agency Rules
The Department of Homeland Security's Virginia investigative office is "rife with offensive and racially hostile behavior," according to a recent ruling by the Equal Employment Opportunity Commission, a federal agency that investigates civil rights abuses in the workplace.
The July decision, obtained by Newsweek, found that a supervisor at the Norfolk, Virginia, office called black and Hispanic employees "monkeys" and that another agent had racist photos on his phone of a black child inside of a fried-chicken bucket.
The Commission ruled that employees of the office must undergo racial harassment training, and that the office should possibly punish the two employees found guilty of the hostile behavior. The Department of Homeland Security plans to appeal the ruling.
The decision was made after Special Agent Albert Whitney filed an official complaint with the commission. Ultimately, the EEOC ruled that Whitney did not experience racial discrimination, but that some of his coworkers did. He is also currently appealing that decision.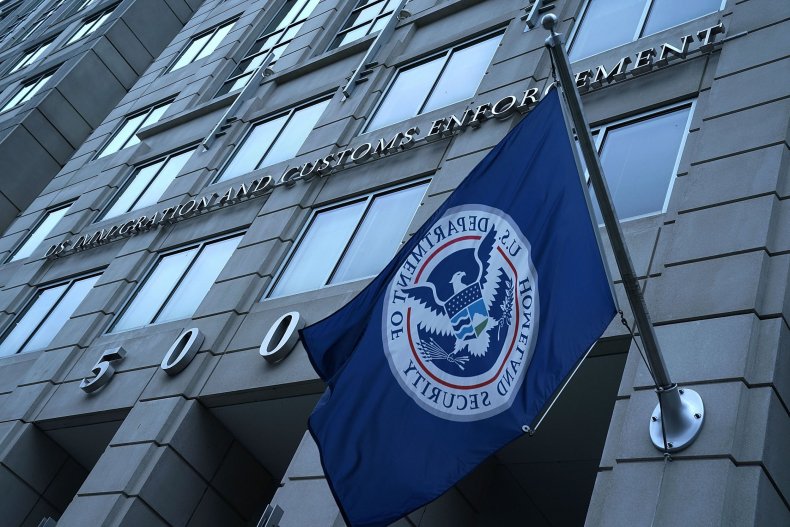 Whitney's attorney, Neil Bonney, told the Virginian-Pilot, that he appealed partially because he didn't like the way Homeland Security had swept the ruling under the carpet. "I don't want them to be able to whitewash it," he said. "I want them to have to come out and explain why these things are happening."
Homeland Security Investigations is a part of Immigration and Customs Enforcement (ICE). The agency focuses, among other things, on cross-border criminal activity, including human rights violations and immigration.
In his complaint, Whitney claimed that his supervisor forced a black agent to carry a 40-ounce bottle of malt liquor while undercover at a concert. The same supervisor allegedly made crude comments about two black and Hispanic agents as they approached at a private party. "There comes the two monkeys and their white wives," Whitney alleged he said.
The controversy is not the first time that the Department of Homeland Security and ICE, which have been on the front lines of the overtly anti-immigrant policies of the Trump administration, has been accused of racism.
The department came under intense scrutiny this year for forcibly separating migrant children from their parents, caging them in special facilities, to deter immigration.
In a White House press briefing, Homeland Security Secretary Kirstjen Nielsen also defended the actions of white nationalists who had killed a woman in Charlottesville, Virginia, saying, "It's not that one side is right and one side is wrong."
And Ian M. Smith, a Department of Homeland Security (DHS) analyst who attended a number of high-level immigration policy meetings at the White House, resigned in August after being confronted about his ties to neo-Nazi groups.
"The Department of Homeland Security is committed to combating all forms of violent extremism, especially movements that espouse racial supremacy or bigotry," DHS spokesman Tyler Q. Houlton said in a statement to The Washington Post. "This type of radical ideology runs counter to the Department's mission of keeping America safe."