Homeland Security Secretary Alejandro Mayorkas Self-Isolating After COVID Exposure
Department of Homeland Security Secretary Alejandro Mayorkas is currently under self-imposed quarantine after a COVID-19 exposure. On Monday, Mayorkas came into contact with a department official who later tested positive for COVID-19.
Mayorkas has canceled all upcoming events and is working virtually for the time being. He's also postponed a "State of Homeland Security Speech" that was scheduled for this upcoming Thursday.
"Secretary Mayorkas has a virtual schedule this week after coming into close contact with a DHS official who later tested positive for COVID-19," DHS spokesperson Marsha Espinosa said in a statement. "The Secretary is fully vaccinated, has no symptoms, and has tested negative twice. Official DHS contact tracing is underway. These recommendations have been informed by the Office of the DHS Chief Medical Officer and are taken in an overabundance of caution."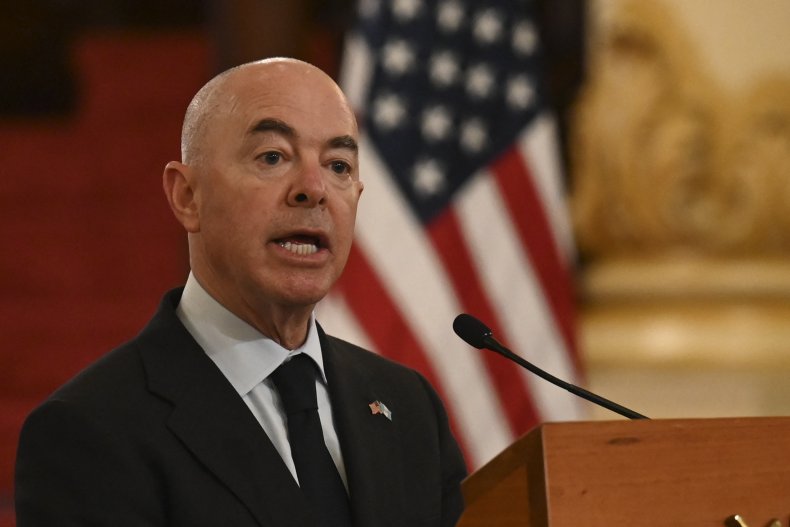 Mayorkas has been vocal about encouraging Americans to get the COVID-19 vaccine. In June, Mayorkas, along with FEMA Administrator Deanne Criswell, both spoke about the importance of preventing the spread of COVID-19.
"We want to encourage people to roll up their sleeves and get the COVID-19 vaccine," said Mayorkas. "The vaccine is safe and effective. It's free and accessible to everyone over the age of 12."
"Together, we must build a more disaster-resilient nation," Criswell added. "That starts with one getting a vaccine today, and to take the simple and easy steps to get ready for hurricanes, wildfires, and other disasters."
Every vaccine saves a life. And together, we can end the COVID-19 pandemic. So, make a plan, find a location and go to vaccines.gov to sign up and get your vaccine," Mayorkas concluded.
On February 2, Mayorkas, a former federal prosecutor and DHS official, was nominated to become President Joe Biden's homeland security secretary. Mayorkas is the first Latino in U.S. history to fulfill the position.
The Delta variant of COVID-19 is spreading rapidly in the United States, "specifically amongst unvaccinated populations," according to the latest report from the CDC. At this time, the Delta variant accounts for over 75 percent of recent cases of COVID-19 in the U.S. Cases continue to surge throughout the country.