Homeland Security's Mission Is to Defend America, Not a Partisan Agenda | Opinion
The deployment of personnel from the Department of Homeland Security (DHS) in Portland, Oregon, has caused widespread concern and controversy. Officers of the Federal Protective Service, Customs and Border Protection, and Immigration and Customs Enforcement have been filmed and photographed using aggressive tactics to detain, arrest and collect intelligence on individuals who allegedly threatened federal property or monuments.
President Donald Trump and Acting Homeland Security Secretary Chad Wolf have defended these actions as necessary to confront the "anarchists and agitators," restore public order and overcome the resistance of local politicians. But as former DHS officials who served in administrations from George W. Bush to Donald Trump, we are increasingly concerned by the department's politicization and departure from its original mission.
The Trump administration's continued reorientation of DHS toward supporting political agendas and priorities that do not align with more vital Homeland Security missions like cybersecurity, election security, border security, counterterrorism and keeping the country safe from pandemic disease will weaken our national security.
The range of much more serious threats facing the country right now is broad, notably COVID-19 and the aggressive campaigns by Russia, China and Iran to keep the United States off-balance and further polarize our country. DHS has a significant role in confronting these threats—especially on the cybersecurity side. The department also leads many important federal initiatives that help ensure the security, in the physical and virtual domains, of the upcoming elections, and it needs to give this responsibility sustained attention over the next several months. Last year, DHS published a document that outlined its approach toward tackling terrorism in the United States, a move that experts welcomed, given the rise in white supremacism over the past few years. Finally, the department has to play a greater role in the response to COVID-19 for the foreseeable future.
This repurposing of finite Homeland Security resources is a short-sighted effort that will deliver marginal operational results at best, while creating unnecessary risks in the face of more pressing concerns. One stark example of this is the use of officers from Customs and Border Protection's Border Patrol Tactical Unit (BORTAC).
One of the most elite border security units in the world, BORTAC operators are trained to take on highly armed drug cartels trying to smuggle illegal narcotics at U.S. borders. They are also trained to track down dangerous murderers trying to escape ordinary police in the country's most rugged terrain, or a riot at a high-security federal prison. The use of BORTAC personnel and other highly armed DHS officers confronting what video shows as nonviolent protesters in Portland is a major diversion from their primary focus and a heavy-handed approach against a low-level issue that could be better managed through less forceful measures.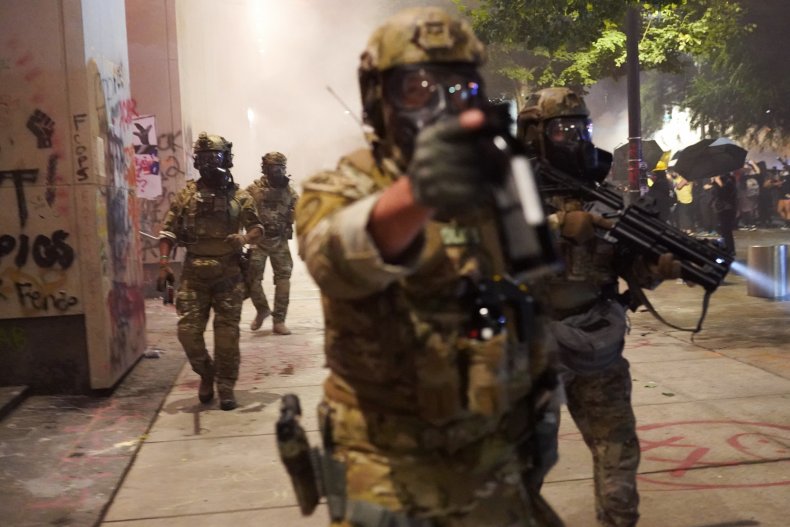 The response to these protests in Portland should be left to state and local law enforcement in partnership with community leaders and elected officials. Already, the Oregon governor and Portland mayor stated they do not want federal officers in Portland. If DHS officials are not satisfied with Portland's response, the solution is discussions between officials, not sending federal officers into the streets. We need DHS elements like BORTAC on our borders, helping keep America safe and doing the job they are trained, equipped and organized to do.
DHS needs the support of the American people, and sending heavily armed DHS officers into the streets of U.S. cities, over the objections of state and local officials, is not an effective way to earn it. Throwing frozen water bottles at police is illegal, just as peaceful protesting for racial justice is a protected constitutional right. Most Americans understand these two points.
When Trump tried to use the uniformed military to intimidate protesters on the streets of Washington, D.C., dozens of former military leaders spoke out to say this was not an acceptable use of our men and women in uniform. It violated the traditions of the military. The Department of Homeland Security may not have as long a history, but the Customs Service (1789) and the Coast Guard (1790) both predate the Bill of Rights (ratified 1791). Just as Secretary of Defense Mark Esper and General Mark Milley came to recognize that our military should not be used for political purposes, neither should the men and women who wear DHS uniforms.
Javed Ali is a Towsley Foundation policymaker in residence at the University of Michigan's Gerald R. Ford School of Public Policy and had several roles in the U.S. government in counterterrorism and national security, including the DHS in the mid-2000s as a senior analyst. Tom Warrick is a nonresident senior fellow at the Atlantic Council and has over 35 years of professional experience in Washington, D.C., on national security issues, including senior roles at the Department of State and DHS.
The views expressed in this article are the authors' own.