Homeless Families File Class-Action Lawsuit Against NYC Mayor as Public School System Shuts Down for Second Time
A group of homeless families in New York City have filed a class-action lawsuit against Mayor Bill de Blasio, charging his administration with failing to provide adequate Wi-Fi access for thousands of students who have been forced to attend school remotely.
The suit, filed in the U.S. District Court for the Southern District of New York on Tuesday, argues that homeless students have been denied the ability to enter and participate in virtual classrooms amid the coronavirus pandemic.
"[These students] lack access to the kind of reliable internet that would enable them to participate meaningfully in school—indeed, to enter school at all—because the City has failed to provide it," the suit reads.
The families, represented by the Legal Aid Society and Milbank LLP, are seeking a preliminary injunction ordering the city to equip all shelters housing school-age children with reliable internet access by no later than January 4, the first day of school after the winter break.
The suit also calls on de Blasio to release a comprehensive plan for the installation and asks for compensatory damage for individuals.
"The mayor has said they're planning to install Wi-Fi networks to enable access for everyone in shelters, but they're not giving us anywhere near the specificity of the plan that would to allow us to feel confident that that's going to happen in a timely way," Susan Horwitz, supervising attorney of the Education Law Project at the Legal Aid Society, told Newsweek.
Technology issues have been a critical concern for many families living in shelters since de Blasio first ordered the shutdown of city schools back on March 15, as the coronavirus outbreak swiftly overtook the city.
The closure of schools affected more than 1 million students, including an estimated 114,000 homeless students, according to the suit.
De Blasio's decision to once again shut down the public school system on November 18 has made the digital divide a matter of major concern in terms of educational access.
"At the time of this filing, New York City's public schools remain closed and remote learning is the only means for children to receive an education," the suit reads.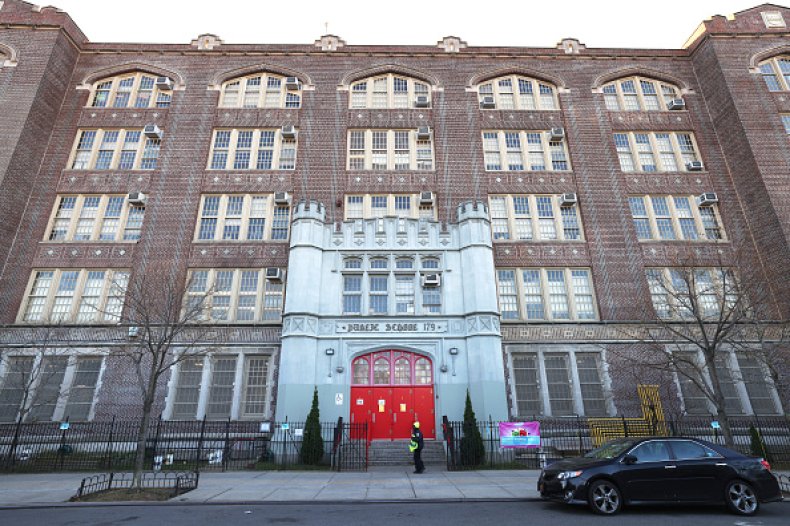 The mayor has mentioned a vague plan about the city's plan for Wi-Fi installation across 27 "priority" shelters. He said the goal is to have these sites completed by the summer, which would mean no reliable access for these students for the entire 2020-2021 school year.
"I spoke with one family last week with a child who is a senior in high school, and that's absolutely in the forefront of his mind—whether he's going to be able to graduate or not," Horwitz said.
"There's always a fear among the parents that we've talked to that kids are falling behind and won't be able to get to where they should be, whether that's graduation or whether its moving from fifth grade to sixth grade, from elementary to middle, or middle to high school," she said. "Whatever that transition is going to be, there's a lot of fear."
"Ultimately, an education delayed is an education denied," the suit reads. It argues that de Blasio's failure to provide homeless students with internet access violates the equal protection clause of the Constitution's 14th Amendment.
The suit also alleges that such inaction violates the New York Constitution, the New York State Education Law and the McKinney-Vento Homeless Assistance Act. The latter seeks "to eradicate the barriers to education that arise when a child suffers from homelessness and to ensure that homeless children can enroll in, attend, and succeed in school."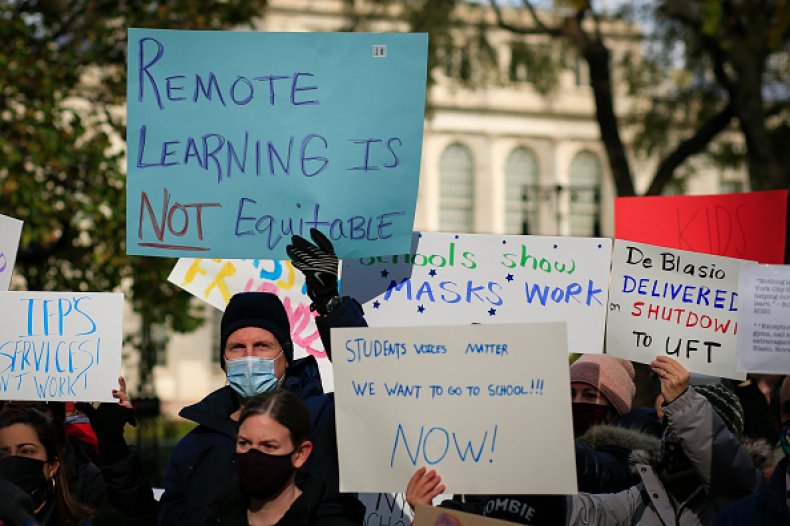 Technology issues for homeless students were first raised in the spring when New York City went into lockdown. After the city's Department of Education distributed over 300,000 tablet devices equipped with cellular plans for students who could not attend school virtually, reports emerged that some shelters were located in cellular dead zones.
"From the very beginning, and that was the biggest driver to me, the city had known since practically the day they handed out that first group of thousands of iPads that they weren't working for everybody, but they didn't do anything at all," Horwitz said.
Rather than installing Wi-Fi in these shelters, the city responded by changing the cellular provider on these tablets. But students were still unable to get a reliable internet connection, making it difficult to engage in class.
Horwitz is skeptical that any of these issues would have been addressed without legal action.
"In the fall, the only reason why the changing cell companies came up was because we threatened to sue them," she said. "I'm not at all confident that they would have done anything had we not made that threat."
The challenge for homeless families to get access to schooling becomes even more complicated for those who face educational neglect proceedings.
The New York City Board of Education requires schools to "look into" excessive absences by students, but many of these children's nonattendance is largely based on their inability to access a virtual classroom.
"Already they're at such an enormous disadvantage for being successful in school because of the conditions that they live in," Horwitz said. "Now, we're adding the biggest barrier of all, which is literally not being able to go to school because you have to do it online."
Newsweek reached out to de Blasio's office for comment but did not hear back before publication.