Trump Said $3 Billion in Grants Will Take Care of Homeless Through Pandemic. Experts Say It's Not Enough
Donald Trump touted nearly $3 billion in grants to support homeless people as "taking care of our Nation's most vulnerable citizens" during the COVID-19 pandemic—but experts advocating for those living destitute say much more money is needed.
Last week, the U.S. Department of Housing and Urban Development (HUD) announced a further $2.96 billion of funding to support the homeless, and those at risk of becoming so, was being allocated.
This comes in the form of Emergency Solution Grants (ESG) to "support homeless Americans and individuals at risk of becoming homeless because of hardships such as job loss, wage reduction, or illness due to COVID-19."
Similar grants amounting to $1 billion were previously handed out, having been agreed in the CARES Act, taking the total spend to near $4 billion.
On June 9, Trump tweeted: "I am allocating $2.96 BILLION in Emergency Solutions Grants to support homeless Americans and those at risk of becoming homeless because of job or wage loss, or illness due to COVID-19. We are taking care of our Nation's most vulnerable citizens."
Following this, groups advocating to support the homeless told Newsweek much larger sums are needed.
Steve Berg, VP of programs and policy for the National Alliance to End Homelessness, told Newsweek while the money from the CARES Act was substantial it fell far short of what was required to support the more than half a million people who are homeless across the United States. According to the National Alliance to End Homelessness, more than half a million people were homeless in the U.S. As of last January.
He suggested that a further $11.5 billion would be necessary to support the existing homeless population through the crisis, based upon research
On the around $4 billion allocated so far by the CARES Act, he said: "It's a substantial amount of money, but I wouldn't say that it's enough. We appreciate that, but feel like more is necessary."
He said money was needed to "reconfigure the homeless shelter system," due to the COVID-19 pandemic and to get the most vulnerable out of such settings altogether. Further measures must also be engaged in a bid to prevent further numbers falling into homelessness.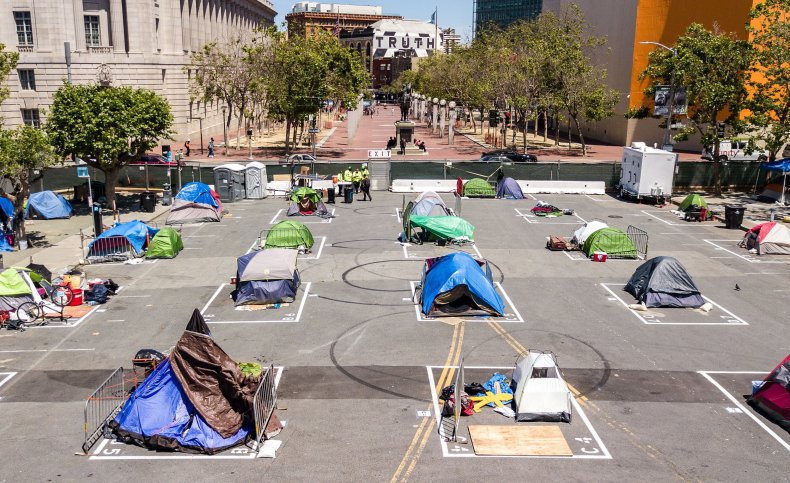 "There are millions of people who are not going to have the money to pay rent who are in danger of becoming homeless," Berg said, suggesting $100 billion dollars needed to be spent in assisting people to pay rent, to reduce the number of people at this risk.
"People in the last few years are becoming more aware that money for some place to live is a basic human need. So much of the messaging around keeping people safe was stay home, stay home, stay home.
"Then there's people living on the streets. For people who don't think about homelessness much it's a very stark observation. That this basic public health response is completely irrelevant to this group of has opened a lot of people's eyes."
He said the HEROES Act, which has been approved by the House, went some way to addressing the issues raised, though that it could go further.
Berg said now he will "wait and see" as to what is encompassed in plans from the Senate, in which the GOP majority has said the HEROES Act has no chance of passing.
Lydia Stazen, executive director at the Institute of Global Homelessness, said: "In a pandemic where home is the primary strategy for preventing the spread of the virus, homelessness funding must be prioritized."
She also said analysis indicated around $11.5 billion more was needed to assist homeless people during the outbreak, attributing this figure to a study from academics at the University of Pennsylvania, University of California and Boston University.
In an emailed statement, she told Newsweek: "Other communities around the world in which the Institute of Global Homelessness works have effectively ended street homelessness as a result of this pandemic (Scotland, England, and parts of Australia).
"These communities did so through close collaboration between government and NGOs and healthcare, with a singular focus on getting everyone off the street and out of shelters and into individual accommodation (e.g., hotels, motels).
"As a result, they have seen much lower infection rates among people who are homeless than we now see in the U.S. Further, these communities are now using this opportunity and increased government funding to move people out of their temporary accommodation and into permanent options with support services including education and employment."
The pandemic could be used as a moment to spur change around tactics to address homelessness, she said.
"It is my hope that the U.S. will also use this pandemic to radically transform the way we address homelessness, and reverse the rise in homelessness we have seen here over the past three years. Other communities and countries have done it; we can too."
Newsweek has contacted the White House and HUD for comment.
The comments come as coronavirus cases continue to rise through the U.S., with more than 2 million confirmed, according to Johns Hopkins University figures.
The graphic below, from Statista, shows the worst hit states as of June 15.