Homeless Iraq War Vet's Service Dog Killed After Arrest for Panhandling
A homeless Iraq War veteran's service dog was allegedly tased by police while her owner was being arrested for panhandling, leading to a series of events that ended in the dog's death.
Gastonia, North Carolina police officers encountered veteran Joshua Rohrer and his dog Sunshine, who was trained to help him cope with post-traumatic stress disorder caused by his time in the Army National Guard, after responding to a call about alleged panhandling.
Witnesses told Charlotte news station WCNC that they saw police officers get physical with Rohrer soon after they arrived at a median on October 13 where the veteran and his dog had been sitting.
"The officer asked him for his ID," witness Justyn Huffman said. "He wasn't moving fast enough so he tried to reach into his pocket to get his ID. They slammed him up against the car. They put cuffs on him."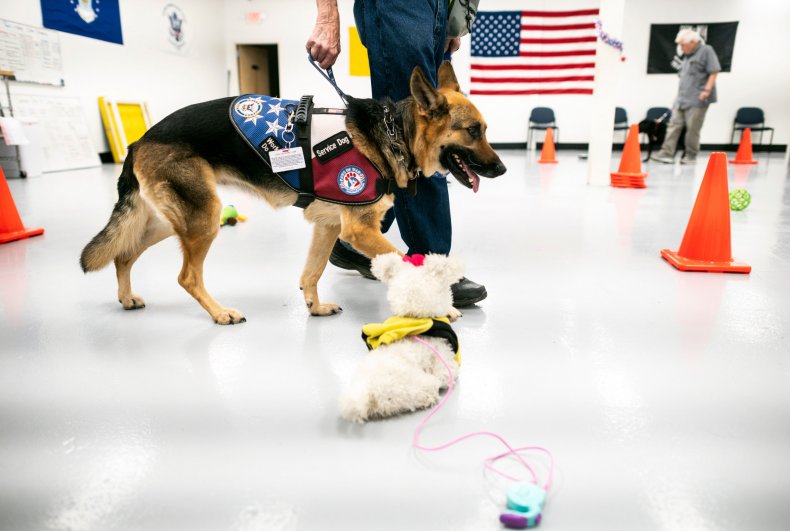 Huffman and two other witnesses said that Sunshine sprung to action and bit one of the officer's boots. An officer allegedly fired a stun gun at Sunshine, striking the dog and causing her to run away with one of the prongs still hanging off her body.
"We're out here screaming, 'Don't shoot the dog! Don't shoot the dog!'" said Huffman. "[Rohrer] said, 'My dog! My dog!'...They took him to the back of the police car and slammed him on the pavement."
Police released audio from the 911 call that led to the encounter. In the call, a woman can be heard asking a dispatcher if it's "legal for [an] adult to be standing on the intersection with a dog asking for money," complaining that the situation was "bullcrap" and accusing Rohrer of "using the dog to get money."
Rohrer, who served in Iraq and Kuwait from 2004 to 2005, told Military Times that he had not been panhandling but had accepted money that someone gave him without him asking for it. He said that the police then "aggressively" confronted and arrested him.
"I was just standing there, waving at people, when this lady waved me over and offered me money," Rohrer said. "I was accused of falsely using my dog to get money from people and asking people for money but that's not true."
Rohrer was charged with panhandling and resisting arrest. Rohrer's Veterans Affairs advocate Dave Dowell managed to track down Sunshine while her owner was in jail. However, the dog escaped from Dowell soon after, running away a second time.
Rohrer was released from jail the following day and began an extensive search for his service dog. After about two days, he made the horrifying discovery that Sunshine had been struck by a car and killed. Dowell told Military Times that the news made Rohrer despondent and suicidal.
"She was just doing her job," Rohrer said of the way police handled Sunshine. "The cops started yelling at her and me, telling me to get her to settle down but they wouldn't allow me to physically get control of her...They laughed at me...I begged them to bring her to me or to give her to an officer to take with them but they wouldn't listen, they didn't care."
"I cannot function without a service dog and they stole that from me," he added. "I don't know how I'm going to recover from this."
In a statement obtained by Newsweek, the Gastonia Police Department said that it "continues to review all the facts and circumstances surrounding Mr. Rohrer's arrest." The department added that it was "determining if the actions of all officers involved in Mr. Rohrer's arrest followed Gastonia Police Department policies and procedures."
Update (10/27, 8:51 p.m.): This article has been updated to include a statement from the Gastonia Police Department.