Homeless Man Set on Fire While Sleeping Under Trump Tower
An elderly homeless man is fighting for his life after an attacker reportedly hurled flammable liquid over him and set him on fire as he slept.
The 75-year-old was asleep near a loading dock beneath Trump Tower in the Near North Side area of Chicago, Illinois, when he was attacked early on Wednesday. He suffered burns to almost half his body, according to local news channel Fox 32 which spoke to police.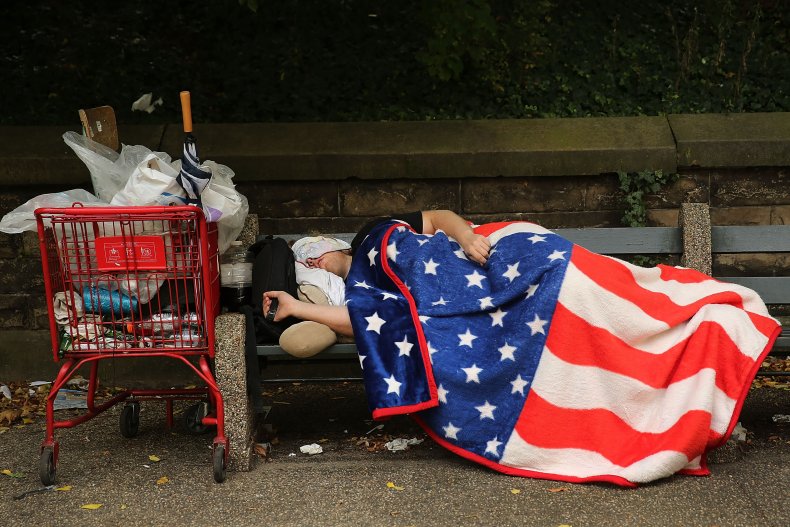 The attacker fled the scene on foot and a security officer from a nearby building used a fire extinguisher to put out the flames and call for help at around 2:50 a.m. on the 400 block of North Lower Wabash Avenue.
The victim suffered serious burns and is being treated for his injuries at Northwestern Memorial Hospital. His condition was listed as critical, according to the news station.
No suspects have been arrested over the attack, but Area Three detectives from Chicago Police Department are investigating.
Newsweek has asked the police for more information.
The incident comes just months after a string of attacks against homeless people in New York City in March, which investigators believe were linked to similar attacks in Washington D.C. earlier that same month.
New York Police Department revealed they were searching for a serial shooter who was caught on video killing a sleeping homeless man in Soho and injuring another in the early hours of Saturday March 12. In a video obtained by the New York Post, the suspect, who was dressed in black and wearing a ski mask, can be seen approaching the man before kicking him multiple times and opening fire.
The attacks in Washington D.C, took place on March 3, March 8, and March 9. Two victims were injured, while the third was shot and stabbed to death, before his tent was set on fire.
In a joint statement at the time, New York Mayor Eric Adams and D.C. Mayor Muriel Bowser, said: "The rise in gun violence has shaken all of us and it is particularly horrible to know that someone is out there deliberately doing harm to an already vulnerable population. We are also calling on unsheltered residents to seek shelter."
Authorities offered a $55,000 reward for information leading to the arrest of the suspect.
Gerald Brevard, 30, of Southeast D.C. was arrested in connection with the attacks on March 15 and subsequently charged with first-degree murder, assault with a dangerous weapon, and assault with intent to kill. He is still awaiting trial.