Homeless Man Hands Out Resumes to Passersby, Gets Hundreds of Job Offers
A homeless man in California received hundreds of job offers after he handed out resumes to strangers last week.
On Friday, David Casarez, 26—a homeless web developer—got dressed in a professional shirt and tie after waking up from his park bench in Mountain View. He then took his sign and a bunch of printed CVs to a nearby highway and waited.
"Homeless. Hungry 4 success," his sign read. "Take a resume."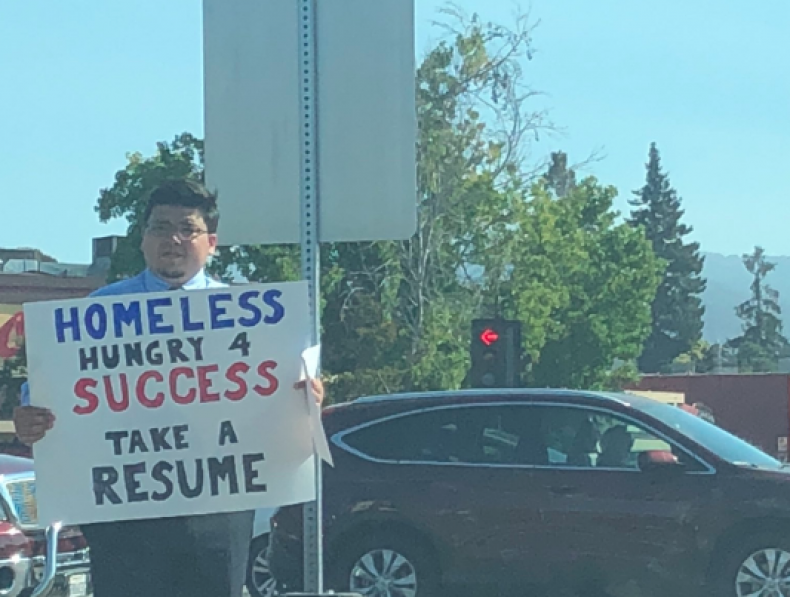 Later that day, Jasmine Scofield, a passerby, snapped a photo of Casarez and shared it on Twitter, alongside a snap of his resume. "Today I saw this young homeless man asking for people to take a resume rather than asking for money. If anyone in the Silicon Valley could help him out, that would be amazing," she wrote. "Please RT so we can help David out!"
Soon after, the post went viral, and by the next afternoon, Casarez had received over 200 job offers from potential employers ready to help him out.
"Google reached out to me," he told the New York Post. "So many other companies. Pandora. A bunch of startups. A product manager from Bitcoin.com was wondering if I could work remotely if I want to relocate to Tokyo.
"I was thinking you know, like this was like my last stop. If this didn't work, I'd go back home and give up on my dream."
On Monday morning, Scofield's post had received over 132,000 retweets and more than 211,000 likes.
"He came to Silicon Valley with a dream to be successful in tech and has a lot to offer the community," Scofield told KRON. "He's sleeping in parks and still trying to get freelance work, interviews, and applications in."
According to his resume, Casarez graduated from Texas A&M with a bachelor's degree in management information systems. He has also worked in software development at General Motors in Austin for three years. When he arrived in Silicon Valley last September, the Texas native said he had underestimated the cost of living and competitiveness of job hunting.
Casarez lived in his van up until June, when it was repossessed. After that, he began sleeping on a park bench in Mountain View, California.
"I'd been living in my car for more than a year," he said. "No one was hiring. I had an interview with Apple in January, but the job was filled internally."
Casarez added: "It's been happening very quickly, and I'm in shock. I wasn't expecting that kind of response. It kinda blew up."