Homeless Man Killed When 3 Different Hit and Run Drivers Strike Him, Drag His Body Half Mile
A homeless man in Los Angeles, California was killed on Thanksgiving after three separate hit and run drivers struck him, dragging his body a half mile.
Police say Jihad Muhammad, 62, was killed around 8:40 p.m. on November 28, after being fatally injured in a sequence of collisions while standing in the street outside of a crosswalk.
He was initially hit by a white car described as "possibly an Audi A5." As he was lying motionless, a second vehicle struck the man. Police describe the second car as a "possible white Cadillac Seville."
A member of the public was then attempting to help Muhammad when a third car, which police say may have been a "white/gray Ford Focus," also collided with the man. The third collision resulted in Muhammad's body being dragged by the car for a considerable distance. The person who was attempting to help him then called 911.
After allegedly dragging Muhammad for 13 blocks, the driver of the third vehicle, described as an elderly black woman "approximately 70 years old," was spotted on surveillance video pulling into a gas station and up to a gas pump before getting out and looking under her car at the man's body. A young passenger also exited at this point and seemingly saw Muhammad's body. The driver then re-entered her car and moved it backwards, dislodging the man's body before quickly driving away.
"At the point she backs up, there's no doubt that they confirmed there was a human being," Detective Ryan Moreno told KABC. "She probably didn't realize what she hit. We're pleading with her, just turn yourself in."
Not long after the car left, Muhammad was pronounced dead at the scene by the Los Angeles Fire Department.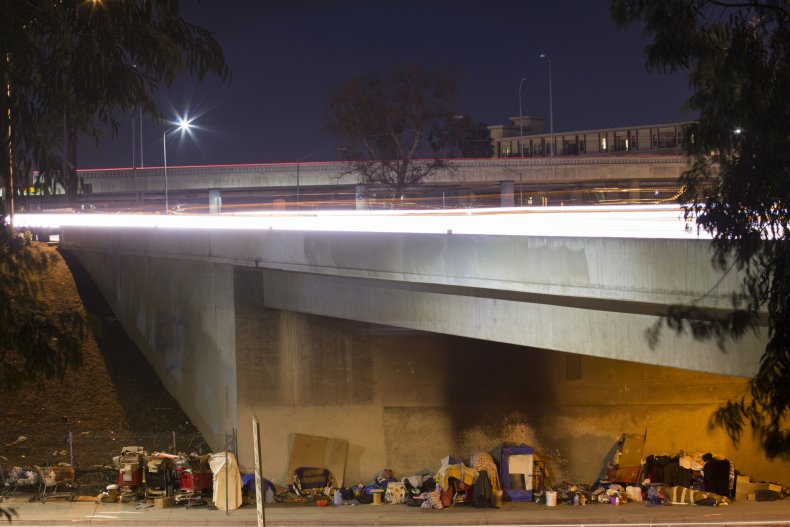 Muhammad reportedly survived a bout with cancer five years ago before his fortunes worsened, forcing him to become homeless. He sometimes went by the nickname "T-Shirt" due to an extended history of designing and selling t-shirts.
Friends of Muhammad say he suffered the death of his mother a year ago. They made a makeshift memorial to the man at the site of the collision.
"He's been down on his luck," Moreno told KTLA. "He's been living out on the streets. But he's pretty well-known and well-liked in the neighborhood."
None of the three drivers involved stopped or called to report the incident and they are being sought in connection to the death. Police say that by leaving the scene, those involved in what might have otherwise been considered an accident are now part of a criminal investigation. Authorities are offering a $50,000 reward for information that leads to an arrest and conviction or resolution in the case.