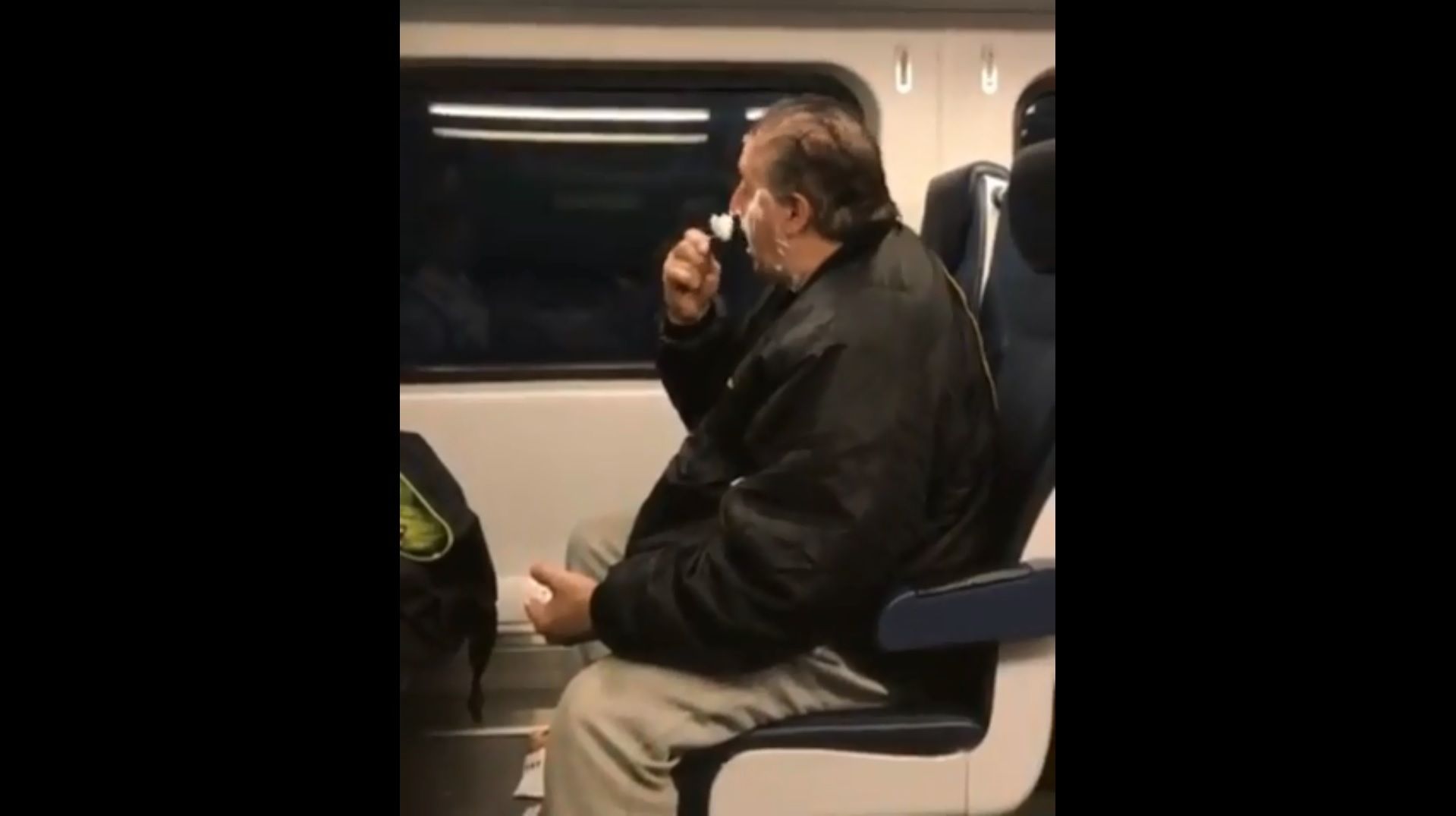 A man who was derided online after footage of him shaving on a train went viral has asked for public understanding, explaining that he had just spent several days in a homeless shelter and wanted to clean himself up.
Anthony Torres, 56, spoke to the Associated Press after a fellow passenger on the train, Peter Bentivegna, uploaded the video of Torres onto Twitter. In the video, Torres is seen sat by himself on an evening New Jersey Transit train, his face slathered with foam, steadily applying the razor. The recording of Torres went viral, being watched more than 2.4 million times by Monday and prompting disdain and admonishment from some viewers.
"I never thought it would go viral, people making fun of me," Torres told AP. "I don't want to say that I'm homeless, let everybody know. That's why I was shaving."
"My life is all screwed up," he said. "That's the reason I was shaving on the train."
Torres says that he had been staying in a homeless shelter in New York City up until Thursday, when he contacted his family for help. After receiving money from one brother for a train ticket, he was on his way to southern New Jersey to stay with another sibling, Thomas Torres. Anthony wanted to look as presentable as possible before he arrived, but had not had the chance to shower.
Thomas contacted the media after seeing the video go viral, wanting to give some context to the recording. The Torres family grew up poor on a farm in Hammonton, New Jersey, and, according to Thomas, Anthony has experienced an especially hard time and can sometimes be oblivious to how his actions will be perceived.
"When he did what he did, that to him was normal," Thomas said of the shaving incident. "He's not that kind of person that does it because of spite or because he wants the attention."
In 2017, America's homeless population rose for the first time since the recession—a stark reminder that the homelessness crisis that began in the 1980s shows no signs of abating. Causes range from wages flat-lining to house prices soaring in certain parts of the country.
Bentivegna, who uploaded the viral video of Torres, has since deleted his Twitter account.