Homeless 'More at Risk' in the Face of Coronavirus Outbreak, Expert Warns
The National Coalition for the Homeless has warned that homeless communities could be "more at risk for poor health outcomes" if affected by the coronavirus outbreak.
Publishing an advisory on the outbreak on Wednesday, the NCH warned that "as with "any public health or natural disaster emergency, those who are unhoused are often more at risk."
In an interview with Newsweek on Monday, Megan Hustings, the managing director of the NCH said that, already, there are poor health outcomes for anyone who doesn't have a home for a period of time."
"The life expectancy for someone who is homeless for a long time is up to 20 years less than someone who is housed for their whole lives," she said.
However, in the case of a public health emergency, such as the one that the international community is facing now, Hustings said that homeless members of society are particularly at risk of serious health consequences should they contract coronavirus.
"This is a community of people who don't have easy access to health care...as well as not having access to hygiene facilities," Hustings explained.
With the homeless often forced to stay at overcrowded shelters, while also having having limited access to health care and hygiene facilities, as well as not having the option to "just stay home when they're feeling sick," Hustings said the situation could easily become dire for already vulnerable members of society.
Hustings said it was important to point out that "there aren't any confirmed cases right now within the homeless community."
However, she said that the NCH wanted to raise awareness around the specific challenges the homeless community faces in the case of a public health emergency like the coronavirus outbreak.
According to the John Hopkins University's online global tracker of confirmed cases of coronavirus, there have so far been 86 cases identified in the U.S., with two cases in King County, Washington, resulting in deaths.
Meanwhile, worldwide, there has been a total of 89,253 confirmed cases, with the majority in China, where the disease first started in Wuhan, with 3,048 of the cases identified proving fatal.
Noting that the symptoms of coronavirus include fever, cough and shortness of breath, the NCH's advisory outlines a number of recommendations from the U.S. Centers for Disease Control (CDC) that "homeless folks should know":
Avoid close contact with people who are sick.
Avoid touching your eyes, nose, and mouth.
Attempt to stay at home or in another respite or healthcare facility when sick.
Cover your cough or sneeze with a tissue, then throw the tissue in the trash.
Clean and disinfect frequently touched objects and surfaces using a regular household cleaning spray or wipe.
Follow CDC's recommendations for using a facemask
The NCH also advises that people "wash your hands often with soap and water for at least 20 seconds, especially after going to the bathroom; before eating; and after blowing your nose, coughing or sneezing."
"If soap and water are not readily available," the organization says, "use an alcohol-based hand sanitizer with at least 60% alcohol."
Hustings said that while advocacy groups and shelters are doing all that they can to help provide resources to homeless community members, governments at all levels should be doing more to ensure that the homeless have access to health care, sanitation and housing, not just during a public health crisis, but at all times.
"For us, it doesn't take an outbreak for us to think that homelessness is already at a critical point. We don't believe anyone should live without a home. Housing really and truly is a civil right," Hustings said.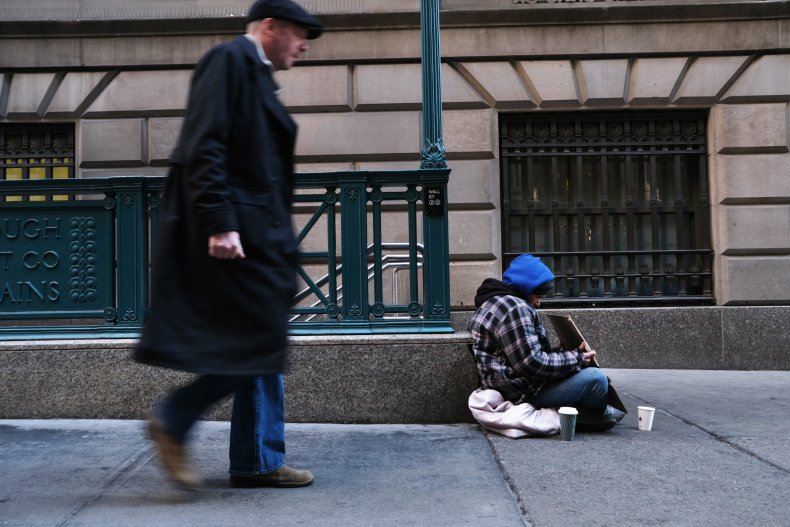 The NCH managing director also stressed that anyone seeking to stigmatize homeless communities "for not having access to hygiene facilities" amid a public health crisis should look into the root causes of homelessness.
"There's a deep misunderstanding of what causes homelessness. There is this underlying misconception that it's a personal failing; that people choose to be homeless," she said. "The reality couldn't be further from that."
"Homelessness is caused by an economic system that's failing some of its members. No one who is given the opportunity to have safe, decent, affordable and permanent housing is going to turn it down," Hustings said. "No one is going to choose homelessness over that."
"To blame a victim for not having access to hygiene facilities, is quite frankly, immoral and that's not the way we treat our community members," she said.
The Health and Human Services Department did not immediately respond to a request for comment for this article.