Homeless Occupying Washington Hotel Facing Eviction Over Inability to Pay Room Bills
Homeless residents of western Washington are occupying a Travelodge Motel near the Port of Tacoma, where local activists booked 16 rooms last week. Members of Tacoma Housing Now, an advocacy group whose work focuses on ending homelessness in the city, secured the rooms with an initial payment for one night's stay on Christmas Eve.
They have not compensated the inn since then, although organizers say upwards of 40 individuals experiencing homelessness remained in the rooms originally booked on Tuesday. An employee at the Travelodge, located in Fife, a suburb of Tacoma, told Newsweek the staff counted 16 people still occupying rooms late Tuesday afternoon. The employee could not confirm whether this number was lower than it had been during previous days.
His estimate differs from those published by Tacoma Housing Now and several local news outlets, which reported upwards of 40 occupants present at the motel. Earlier Tuesday, the advocacy group thanked supporters and donors for helping to protect 43 people residing at the Travelodge in one of numerous updates shared to Twitter.
Activists intend to continue using the motel's rooms as "emergency pandemic housing," one member of the advocacy organization is heard saying in a video accompanying a News Tribune report covering the initiative. The Tribune is a daily newspaper based in Tacoma. However, Shawn Randhawa, the Travelodge Motel's manager, warned that continued occupation of the inn would inevitably cause it to cease operations.
"I have no business now," Randhawa told the Tribune. "I'll be forced to close [the motel], and there will be 10 more people unemployed."
Tacoma Housing Now believes government officials, in Tacoma and Fife, should subsidize its initiative using COVID-19 relief funds and prevent those occupying the Travelodge from being evicted. On Tuesday, the organization announced that one of its members, and one individual occupying the motel, tested positive for the respiratory disease. The group is now asking for a moratorium on any planned evictions until free COVID-19 tests are provided to everyone involved in the occupation.
"If anyone tests positive, the only rational response would be to keep them where they are," wrote Tacoma Housing Now in a press release.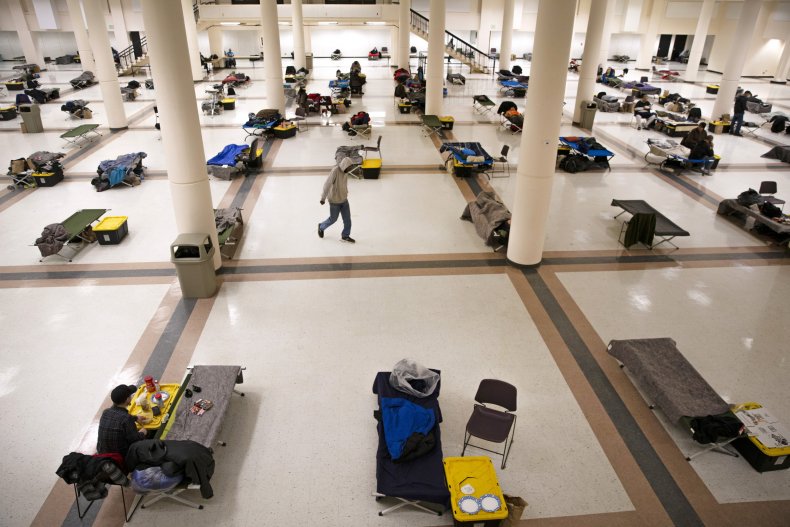 City officials declared homelessness, and the conditions affecting those experiencing homelessness in Tacoma, a public health emergency in 2017. Almost three years later, county workers reported the incidence of homelessness increased by nearly 30 percent between 2019 and 2020. Calls for additional government resources became louder during the pandemic, given the increased risks of contracting COVID-19 for individuals who do not have access to shelter. At least five people experiencing homelessness have died in the Tacoma area this winter.
Fife police reportedly plan to work with local agencies that can provide temporary shelter to the individuals currently occupying the Travelodge Motel. Hyun Kim, the city manager in Fife, told KOMO, a radio station licensed to Seattle, that his colleagues will meet to determine "what we can do to get these folks that are staying here...the help they need."
In comments emailed to Newsweek Tuesday night, Kim said the city's primary goal was to find "appropriate accommodations" for the individuals occupying Fife's Travelodge. At the same time, he underscored officials' concern about how the motel's continued occupation would ultimately affect its staff.
"As much as the city and community are concerned with the plight of the homeless, we do not feel that this group's [Tacoma Housing Now] stated goal is served well in their actions that lead to gainfully employed individuals losing their jobs," Kim said. "It will be the responsibility of the individuals to move to alternative housing locations or check out. Barring compliance, the city will move to enforcement."
Rebecca Parson, a lead organizer at Tacoma Housing Now, told Newsweek that Kim previously indicated the city's intentions to provide those occupying the Travelodge with vouchers to allow for their ongoing stay. However, when the public official arrived at the motel alongside Fife police on Wednesday, his housing assistance proposals required the group to vacate. While counterprotesters gathered at the Travelodge to call for an end to the occupation, Kim said he knocked on each motel door to inform those inside that they had to leave or risk arrest otherwise.
No arrests were made, and individuals were not forcibly removed from their rooms at the motel, Kim said. Still, a majority of the people who sought shelter at the Travelodge did not receive alternative housing offers that seemed viable and declined to accept them as a result. According to Parson, most returned to the camps where they had been sleeping before the motel occupation.
Fife's city manager proposed two options for housing assistance when he approached the Travelodge on Wednesday. The first, coordinated with the nonprofit Low Income Housing Institute, was to offer some members of the occupying group shelter in the institute's tiny house development in Tacoma. Many of the individuals involved in the Travelodge occupation did not meet the development's criteria for tenancy.
Kim's second proposal offered local shelter beds to the motel's occupants, which Parson said they likely declined because of apprehension about coronavirus transmission in congregate indoor settings. She estimated that 35 of the 43 individuals involved in the Travelodge occupation were again unsheltered on Thursday.
Newsweek reached out to the Fife Police Department for comment but did not receive a response in time for publication.
This story was updated on December 31 to reflect updates related to the Travelodge occupation and to include Hyun Kim's and Rebecca Parson's comments.