Homeless and Skipping Meals: Kroger Employee Survey Reveals Shocking Wages, Conditions
Kroger employees are food insecure, can't afford to pay for groceries, and some can't afford to pay rent.
Revealing data was presented as part of a survey of over 10,000 Kroger employees called "Hungry at the Table," conducted this past summer and published January 11 by Economic Roundtable.
The survey, labeled by its authors as the "largest independent survey of retail workers that has ever been conducted in the United States," was conducted at the request of United Food and Commercial Workers locals 7, 21, 324, and 770 "to provide reliable, evidence-based analysis about the working and living conditions of Kroger workers."
The Economic Roundtable reports said that Kroger, the fourth largest private employer in the U.S., had 465,000 employees as of 2020. It is the largest supermarket chain in the United States; it ranks No. 17 in revenue at about $132.5 billion; and it earned about $4.05 billion in operating profits in 2020.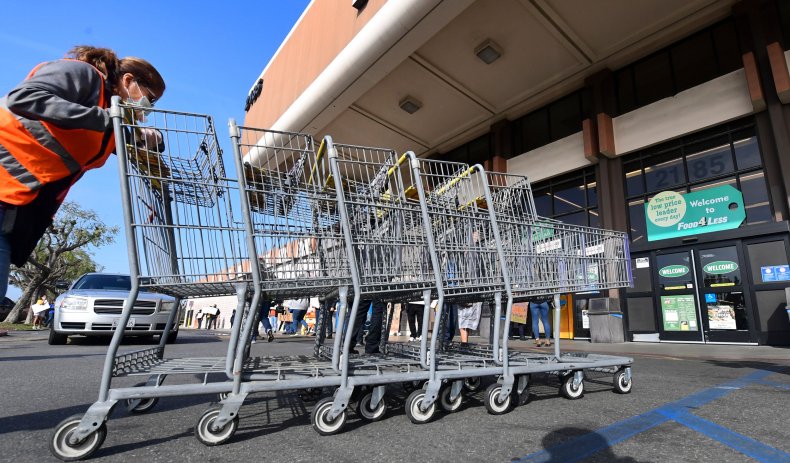 Approximately 36,795 Kroger workers from three regions—the Puget Sound region of Washington, the state of Colorado and Southern California—were requested to participate. However, completed surveys were only received from 10,287 workers for a 28 percent response rate.
Kroger entities Ralphs and King Soopers each represented about 29 percent of survey respondents, according to local UFCW membership records, with Fred Meyer following suit with 21 percent of respondents.
Over three quarters of respondents claimed to be food insecure, according to the U.S. Department of Agriculture's definition.
"These workers cannot afford balanced and healthy food," authors Daniel Flaming, Peter Dreier, Patrick Burns and Aaron Danielson said. "They run out of food before the end of the month, skip meals and are hungry sometimes. Those with children report they go hungry to provide food and other essentials for their children. Kroger workers' exceptionally high rate of food insecurity is seven times greater than the U.S. average."
They add that while employees worked through the duration of the ongoing COVID-19 pandemic and risked their own health to keep stores thriving, their depression and anxiety reportedly increased. Meanwhile, Kroger has a company increased its own profits and revenues while stock buy-back options also experienced an uptick.
About 86 percent of respondents said Kroger was their lone source of employment and income. On average Kroger workers make $29,655 annually, or approximately $16,100 less than an annual living wage if the company paid $22 per hour.
Other data reported in the survey include:
Nine out of 10 Kroger workers report that their wages have not increased while basic expenses like food and housing have increased;
Forty-four percent of workers are unable to pay for rent;
Thirty-nine percent say they are unable to pay for groceries;
Fourteen percent are currently or have been homeless within the past year;
Among workers ages 21 to 29 years, 53 percent are unable to pay rent;
More than 40 percent of workers reported having to borrow money from family or friends to pay for basic expenses;
Thirty-six percent of workers say that they worry about being evicted.
"Front-line essential grocery store workers are not earning enough to pay for the most basic expenses and are experiencing food insecurity, homelessness, and the impact of stress with heavy workloads," a spokesperson for UFCW 324 told Newsweek. "Our members have been addressing and fighting for change. A company of its size, profits and assets can afford to do better. Kroger should be a leader in setting standards that allow those who sell food to put food on their table."
On January 10, King Soopers and City Market filed unfair labor practice charges against UFCW Local 7 "for refusing to bargain in good faith," adding that Local 7 allegedly rejected mediation services "to help aid in a peaceful resolution."
"After three days of refusing repeated requests to return to the negotiating table, Local 7's Kim Cordova has now rejected a reasonable request for mediation to work together toward a contract that will put more money in our associates' pockets," said Joe Kelley, president of King Soopers and City Market on the company's website. "If Local 7 does not want to negotiate then they should at least have the decency to allow our associates to vote on the current proposal. Our associates should be treated fairly and transparently and should have the opportunity to decide what is best for them and their families. Right now, Local 7 is using our associates' livelihoods as pawns in their political gamesmanship."
One day later, Kelley said in a press release that King Soopers/City Market proposed, by email, "a last, best and final offer" to UFCW Local 7 regarding an alleged $170 million over three years that includes wage investments plus ratification bonuses for all associates, in addition to more investment in healthcare benefits that would not threaten premiums that have remained stagnant for the past 12 years.
In an email to Newsweek, Kroger spokesperson Kristal Howard called the UFCW-commissioned report "one dimensional" and said many of the survey's claims were "misleading."
"We care deeply about our associates and show it through many actions like the continued investment of hundreds of millions annually to increase wages and rewards and provide affordable health care benefits, as well as our commitment to offering an opportunity culture where our associates can thrive and advance, no matter where they're at in their career," Howard said.
She said that since 2017, the company has increased its national average hourly rate of pay 22 percent, from $13.66 to $16.68. Howard said wage increases are in addition to a benefits package that includes market competitive wages, health care, retirement savings, and on-demand access to mental health assistance, career advancement opportunities, industry-leading tuition assistance, scholarships, volunteer opportunities, grocery discounts, and other perks and rewards.
"It's worth noting the average tenure of a Kroger associate is 7-plus years, and we employ every generation (uniquely, our associates range in age from 14 to 95 years old)," Howard said.
"One of the most worrisome claims" made in the report, she said, alluded to more than two-thirds of Kroger workers struggling to afford food, housing or other basic needs due to low wages and part-time work schedules.
She cited a commission study that the company conducted, which compares compensation to not only grocery industry peers but the retail industry overall. The report refers to economic contributions of stores in communities in four Western states: California, Colorado, Oregon and Washington.
"We provide hundreds of thousands of people with first jobs (think baggers, cashiers, stockers, etc.), second chances, retirement employment, college gigs, etc.," Howard said. "Kroger also was one of the few employers who could provide employment to individuals during 2020 and 2021 as many companies in the hardest-hit sectors like restaurants, hospitality and food service furloughed or dismissed workers. In 2020 alone, Kroger hired more than 100,000 additional workers."
Update 1/13/2021 5:07 p.m. ET: This story has been updated to include a comment from UFCW 324.