Federal Judge Allows St. Louis to Begin Clearing Homeless Encampment Over Objections of Advocates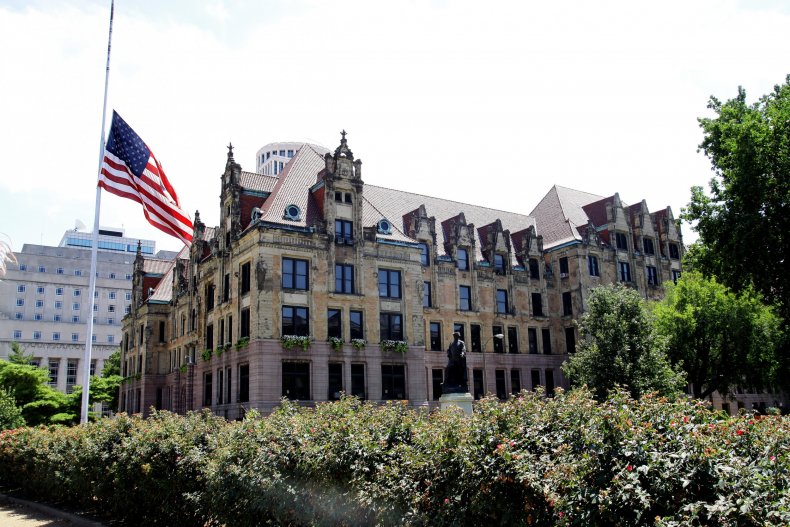 A federal judge on Saturday gave the go-ahead for city officials in St. Louis to start clearing a homeless encampment due to concerns over COVID-19 transmission.
U.S. District Court Judge Sarah E. Pitlyk denied a request from Ranata Frank, a homeless woman residing at the Market Street encampments across from City Hall, to temporarily block planned removals as the case was being litigated.
ArchCity Defenders, a non-profit civil rights group, represented Frank and sought to have the case classified as a class-action lawsuit representing all of the encampment's homeless residents.
The group told Newsweek in a statement that it could not comment on pending litigation, but that it stands by "the lived experiences of those who are currently homeless in St. Louis."
"They have heard these promises of shelter from City of St. Louis government time and time again and historically those promises are empty," the group added.
The city said it needs to clear the encampment and relocate homeless residents to nearby hotels in order to protect public health.
On Wednesday, Dr. Frederick Echols, the city's health commissioner, posted a notice requiring homeless residents inhabiting the Market Street park to vacate the premises. Echols called their encampment a "serious health threat" due to the potential for COVID-19 transmission.
He described the conditions there as unsanitary, referencing the unavailability of hand-washing stations and substance misuse.
Asked about whether the City of St. Louis intends to begin clearing the encampment following Pitlyk's decision, Robert Dierker, one of the city's attorneys, said in a statement to Newsweek Sunday that progress is being made. He also added that "the campers are getting exactly what the City offered without a lawsuit. The Court made it clear that no injunctive relief was warranted."
ArchCity lodged a class-action complaint on Friday, accusing the city of violating prohibitions on cruel and unusual punishment under the Eighth Amendment of the U.S. Constitution. These prohibitions have been construed by courts to include an individual's unavoidable status, such as being homeless.
Plaintiffs have to meet a relatively high bar to obtain a temporary restraining order blocking enforcement of a government policy. One of the most important criteria for satisfying that hurdle is the likelihood that a plaintiff will ultimately succeed once the case is fully tried.
Pitlyk—who was rated "not qualified" by the American Bar Association after President Donald Trump nominated her to the federal bench late last year—decided that Frank would ultimately be unable to show the city's actions infringe on her civil rights.
A federal appeals court in Oregon recently dealt with a case involving the criminalization of homelessness. In a landmark ruling, that court determined that the City of Boise, Idaho, could not arrest homeless residents merely for occupying public land when there were no reasonable alternatives, such as available shelter space.
Though not binding on her decision, Pitlyk found that the Boise case did not offer a meaningful comparison to Frank's. She noted that Echols had testified there were nearly 100 beds available for the approximately 50 individuals still residing at the encampment. Pitlyk also accepted the city's contention that it did not intend on arresting homeless residents hesitant to comply with the relocations.
In its brief, ArchCity sharply disputed these claims. It submitted testimony from Tashero Williams, a homeless resident of a Market Street encampment, claiming that a police officer threatened him with arrest if he didn't relocate.
The group also submitted testimony from Tim Huffman, a professor at Saint Louis University, who said that the city did not have enough available bed space to meet demand. Huffman said that St. Louis has a 515-bed capacity in its shelter system, with demand "roughly twice that number."
Further hearings in the case are scheduled to be held on May 12.
Updated May 3, 2020, 3:35 PM ET, to include a statement from Robert Dierker, an attorney for the City of St. Louis.